Pedroia sets Red Sox infield mark with fourth Gold Glove
Veteran wins second straight, posts best fielding percentage by Boston second baseman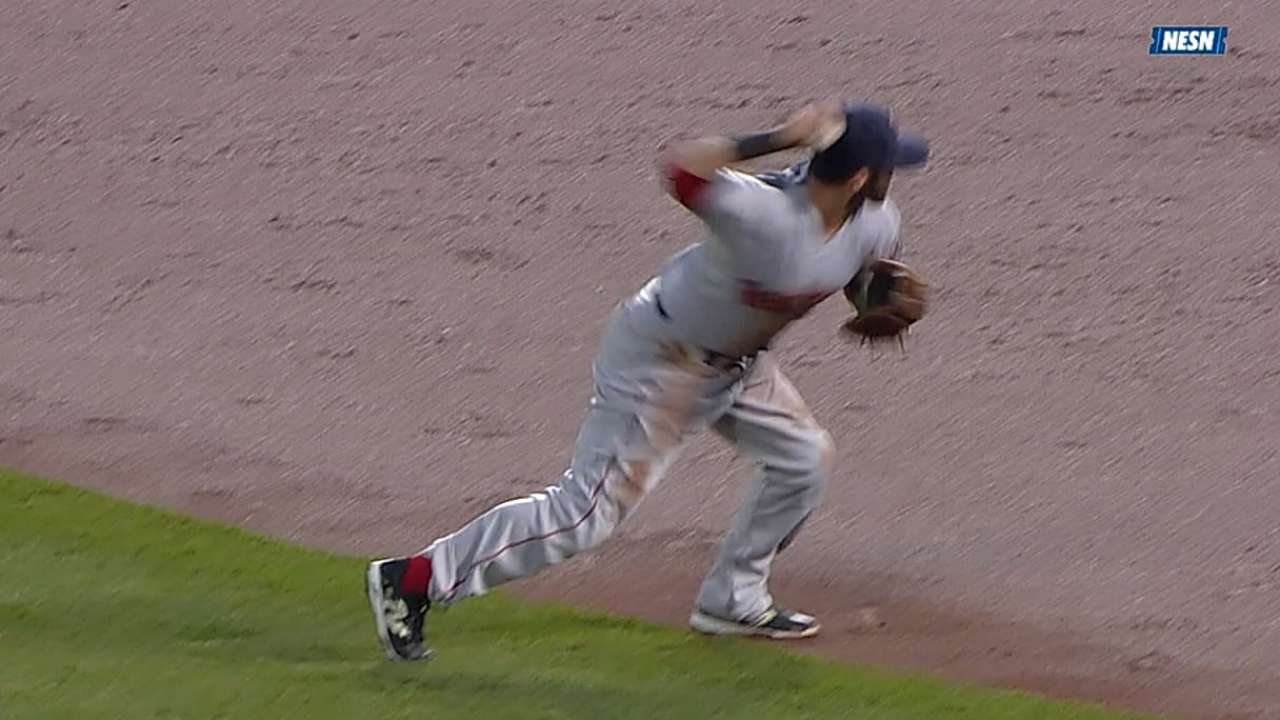 BOSTON -- Dustin Pedroia was spectacular on defense in 2014 -- not to mention nearly flawless -- and he received recognition for his efforts on Tuesday by being named the American League's Rawlings Gold Glove Award winner at second base.
It was the second consecutive Gold Glove Award for Pedroia, and his fourth in his eight seasons as the starting second baseman for the Red Sox.
The four Gold Glove Awards are the most ever by a Red Sox infielder.
Over 135 games -- 133 of which were starts -- Pedroia made just two errors. His .997 fielding percentage was the best in Red Sox history for a second baseman.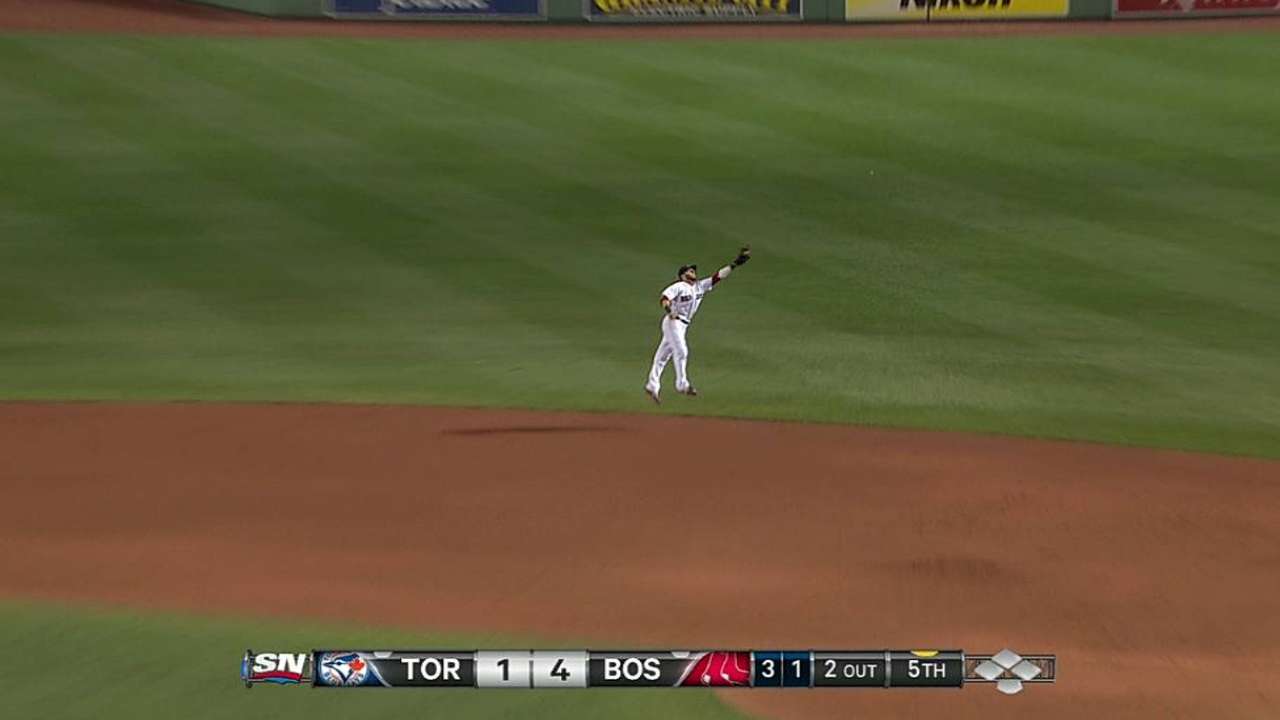 "I really feel like he impacted his position more than anybody else has impacted any position in baseball," Red Sox infield instructor Brian Butterfield said by phone. "I think he's the defensive player of the year. I think until the day they take the uniform off him, he's always going to be looking for ways to get better."
Pedroia has a genuine passion for defense.
"I just try to take care of the ball and make sure if we have an opportunity to get an out, we better make sure we get it. And if we have a chance to turn a double play, we have to," Pedroia told ESPN2 after winning the award.
And in typical Pedroia fashion, he wanted to share the credit for his accomplishment.
"There's a lot of people that play a part in it," Pedroia said. "Obviously our infield coach, Brian Butterfield, our first baseman, Mike Napoli. Shortstop and third base, as well. We try to take pride in playing team defense and making sure we position ourselves the best we can to make plays. It's a credit to all of those guys helping me out and me helping them out."
Red Sox center fielder Jackie Bradley Jr. and left fielder Yoenis Cespedes were both finalists for a Gold Glove Award, but they lost out to the Orioles' Adam Jones and the Royals' Alex Gordon, respectively.
Butterfield was thrilled to see Pedroia get noticed again for his defensive prowess.
"When I vote for the Gold Glove, I look at a lot more than just flash and flair and all the things that make 'SportsCenter,'" said Butterfield. "There's so much that goes into it. You can see how guys prepare, the way they play, the way they back up bases, the way they get their uniforms dirty. And for me, he is the benchmark for all defenders in our league."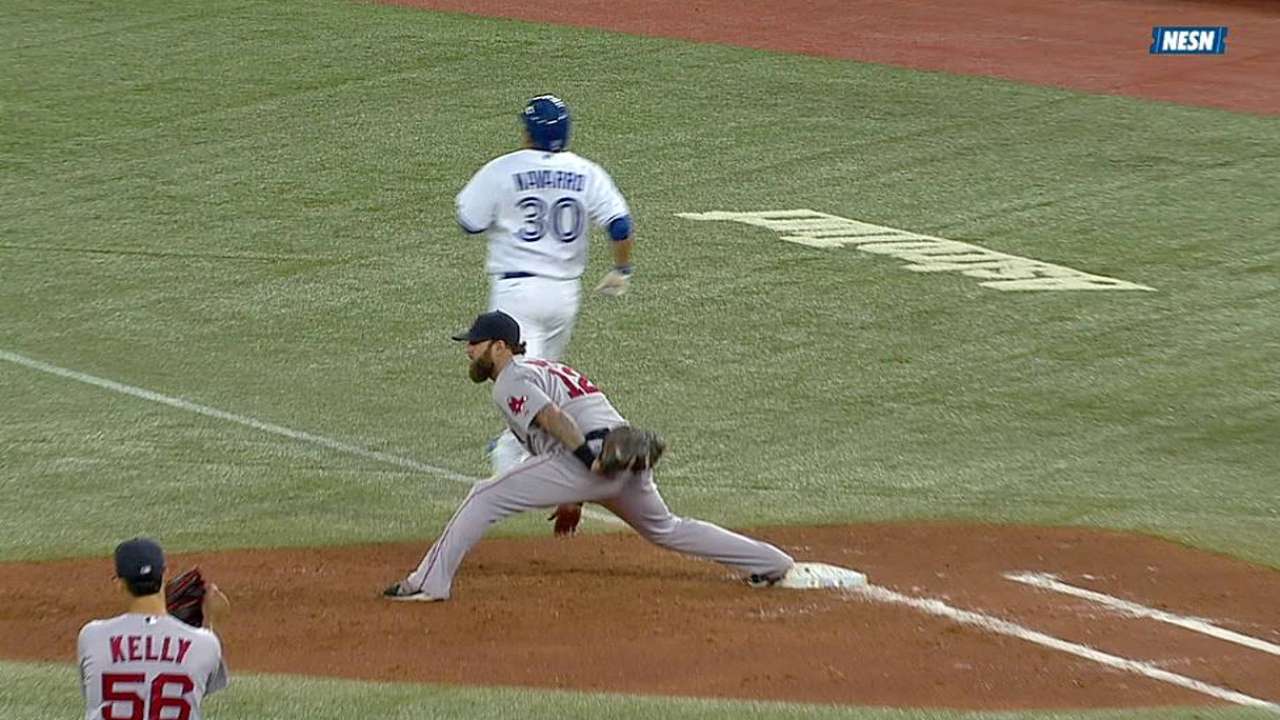 Though Pedroia has plenty of athletic ability, that is just one reason why he is an elite defender.
"When we do our stuff in Spring Training, and we introduce it or talk about it as a team out on the field, there you see No. 15 front and center," Butterfield said. "He's front and center right next to the person talking. It makes you feel good. It's the same way if manager John [Farrell] is addressing the club or [bench coach] Torey [Lovullo]. It doesn't matter.
"There's No. 15 front and center where everyone on the team sees him. I think it creates an atmosphere where other people see him and say, 'Well, this guy is really intense and really attentive to what we're doing, so I better get in line too.'"
Since the award's inception in 1957, only three other Red Sox players have totaled as many as four Gold Glove Awards, all in the outfield: Dwight Evans (eight), Carl Yastrzemski (seven) and Fred Lynn (four).
Pedroia also led AL second basemen in putouts per nine innings (1.87) and range factor per nine innings (4.94) this past season. According to Fangraphs, he also topped all Major League second basemen in Ultimate Zone Rating per 150 games (20.4).
Pedroia should receive strong consideration for the Rawlings Platinum Gold Glove Award, which recognizes the top defender in both the American and National League. That award will be announced on Friday.
Ian Browne is a reporter for MLB.com. Read his blog, Brownie Points, and follow him on Twitter @IanMBrowne. This story was not subject to the approval of Major League Baseball or its clubs.