Inbox: What's Castillo's spot in the lineup?
Beat reporter Ian Browne answers questions from Red Sox fans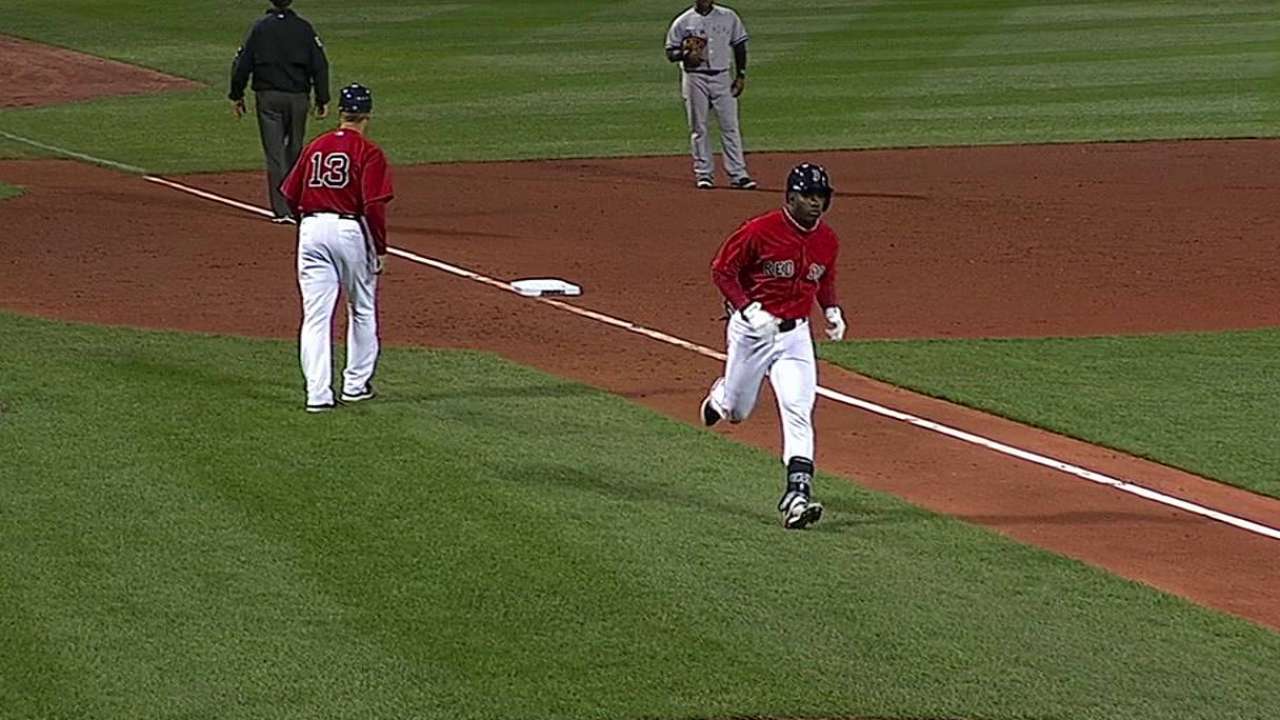 Where would Rusney Castillo fit in the Red Sox's lineup if they pick up Pablo Sandoval? Would he be comfortable in the leadoff spot?
-- Jack C., Sudbury, Mass.
I'm not sure how the presence of Sandoval would impact Castillo, since one of them is a third baseman and the other one is an outfielder. Castillo has often hit in the leadoff spot, so he would be comfortable there. The question is whether he would get on base enough to justify that spot in the batting order.
Do you think that the Red Sox signed Castillo and hired Chili Davis as hitting coach in part to make fellow Cuban Yoenis Cespedes feel more comfortable and make it more likely he will sign with Boston after the 2015 season?
-- Garrett M., Spring Valley, Calif.
It sounds like a great theory, but I don't think the Red Sox would base major organizational decisions around the happiness of one player. They signed Castillo because they identified him as a well-rounded talent who might come at a pretty reasonable price compared to a traditional free agent. And though Davis worked with Cespedes in Oakland, the Red Sox felt strongly that he was the best available hitting coach out there because of his enthusiasm and ability to connect with young players.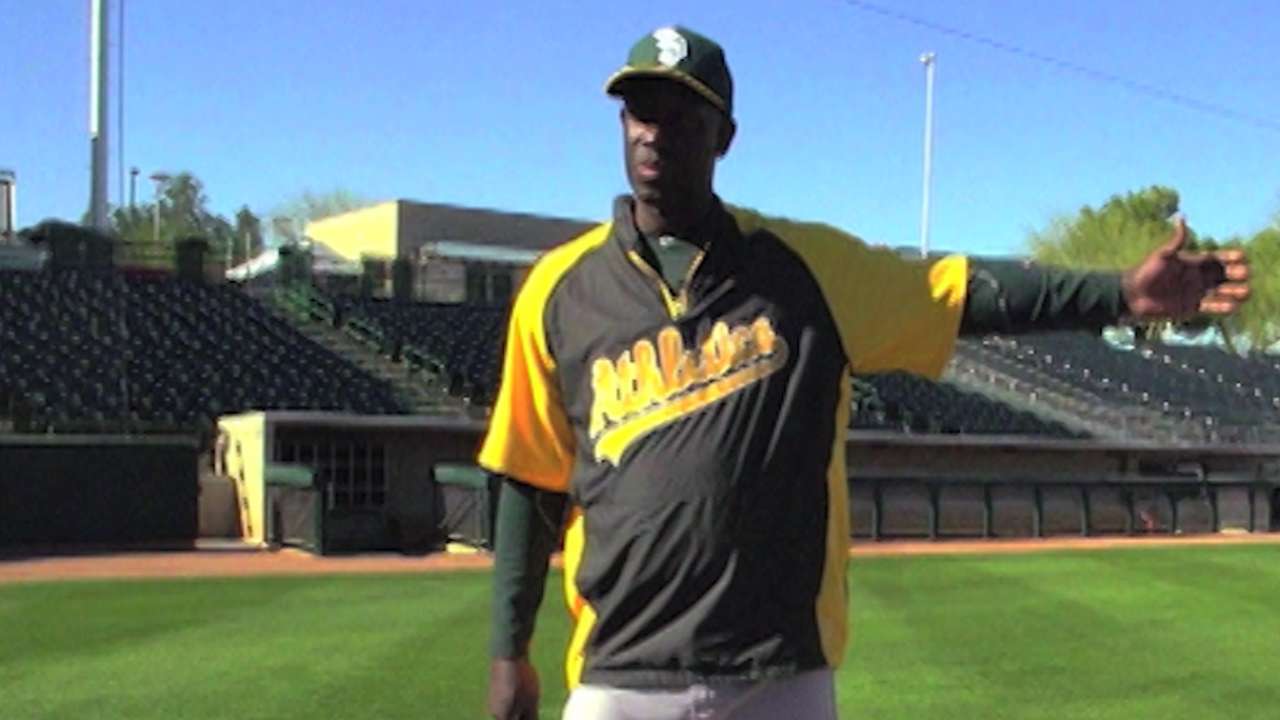 Why is everyone acting like Sandoval is the second coming? His average, OPB, slugging and OPS have all declined in the last three years. The only statistic going up is strikeouts. He is a good defender, but certainly not elite. Why the rumored huge payday and length of contract?
-- Kevin C., Lynn, Mass.
Sandoval is obviously a hot commodity based on what he did in the postseason not just this year, but throughout his career. He clearly looks like a guy who enjoys the limelight, which would make Boston a strong fit. He is also a switch-hitter, and the Red Sox need a left-handed bat and more production than they've been getting at third base. As for the rumored payday and length of the contract, they are all rumors at this stage of the offseason. I wouldn't put too much stock in them until the market starts to develop.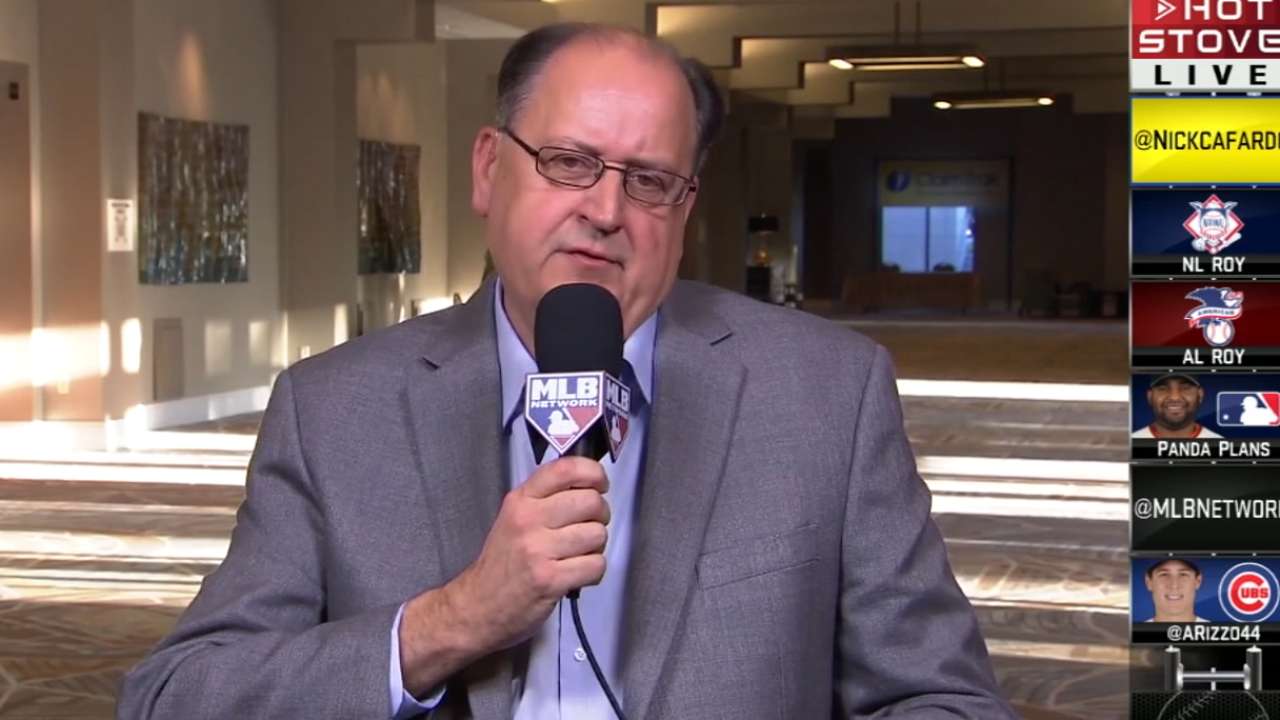 A huge part of the 2013 championship was fueled by high character/clubhouse veterans. The Red Sox have young talent all over the field. But I feel like they could use a few veterans to guide the clubhouse. Could a Jonny Gomes reunion be in the future?
-- Steve J., Ridgewood
Gomes was a great fit for the '13 team, and even last year before he got traded. But the way the current roster stands, there is no room for him in an already crowded outfield. The chemistry the Red Sox had in 2013 was for the ages, and they needed it given the makeup of that team. In other words, it wasn't a team loaded with talent, so the character probably helped them overachieve. The next Red Sox title contender might have to focus on a deeper and more talented roster, and hopefully the chemistry falls into place from there.
Click here to submit an Inbox question
How is Shane Victorino's trade value? Are the Sox willing to let him go? Is a comeback imminent?
-- Belmonte J., Spain
Victorino's trade value probably isn't at an all-time high, considering two of his last three seasons have been disappointing either for performance or health. He is owed $13 million for next season, and then he becomes a free agent. The best course of action for the Red Sox is to see how Victorino looks in Spring Training and determine whether there is still a spot for him in the outfield. If there isn't enough playing time available, they then might explore dealing Victorino once other teams get a chance to scout him during Grapefruit League action. From what I've been told, he should be fully ready to go for the start of Spring Training.
What's the possibility of Sox trading Cespedes for Johnny Cueto? Both are free agents after 2015, earn about the same amount of money and the Sox could use the pitching while the Reds could use the hitting/outfielder.
-- Camp Hill, Pa.
That is not an outlandish proposal. In fact, it sounds a lot like the deal that sent Lester to Oakland for Cespedes. If the Red Sox were to make a deal like that, they would have to have production lined up from somewhere else. Otherwise, they'd be right back in the same predicament they were when they traded Lester to get Cespedes.
I have never understood why the Sox traded Andrew Miller. Isn't he the type of seventh- and eighth-inning pitcher all teams need?
-- Rich O., Falls Church, Va.
The reason the Red Sox traded Miller was pretty straightforward. They were not in a pennant race, and he was about to become a free agent, and they were able to trade Miller for a well-regarded pitching prospect. The Red Sox could conceivably re-sign Miller this winter, just as they likely would have attempted if they hadn't traded him. Nothing changed, except for Miller getting to pitch in a pennant race at the end of the season, and the Red Sox getting a prospect in exchange.
Does Will Middlebrooks have any options left? Can he play in Triple-A this year?
-- Winter Park, Colo.
Middlebrooks has options left for the next two seasons, so more time in the Minor Leagues is certainly a possibility. Middlebrooks will do his very best to prevent that from happening.
Daniel Nava has proven himself to be a valuable member of the Red Sox. With the current surplus of outfielders, do you think the Sox will keep Nava or use him in a trade package for a starter or third baseman? I'd hate to see him leave Boston.
-- Andrew C., Bedford, Nova Scotia
Nava is a useful piece for the team, but it's just a matter of whether he fits. He could be a nice trade chip to help fill another need. Nava is eligible for arbitration this winter, so the Red Sox might try to trade him before that.
Will Henry Owens and/or Blake Swihart be ready for the 2015 season?
-- VPD, Rapid City, S.D.
I don't think either player will be ready for the start of the season, because I think both could use a little more development in the Minors. But I certainly expect Owens and Swihart to surface at Fenway at some point during '15, and both should get extended looks in Spring Training.
Ian Browne is a reporter for MLB.com. Read his blog, Brownie Points, and follow him on Twitter @IanMBrowne. This story was not subject to the approval of Major League Baseball or its clubs.