Despite rumors, Cherington wants to keep Cespedes
Red Sox general manager knows he will need patience with pitching market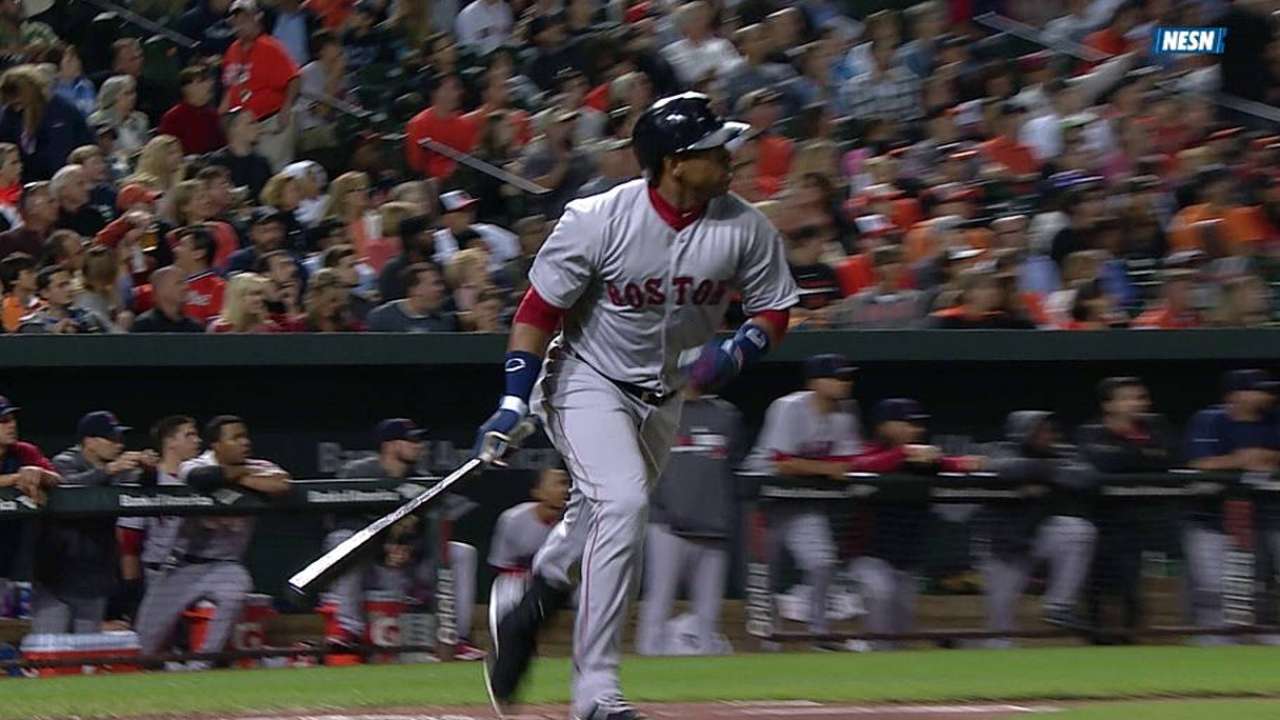 BOSTON -- Considering that power hitters are getting harder to find these days, Red Sox general manager Ben Cherington seems almost amused by the outside perception that he is looking to trade Yoenis Cespedes.
"I understand why, in a place like Boston, when a guy has one year left [on his contract], there's going to be some [speculation], and we have some numbers in that area, I guess I understand why there's speculation out there," Cherington told reporters at the General Managers Meetings on Tuesday.
"But that doesn't mean it's based in any sort of evidence. We're happy to have him. We felt like as we were building a lineup for next year, adding that power element in the middle of the lineup was critically important to us. So now that we have it, we're not really anxious to give it away. We believe he's very important in 2015, and 2015 is very important to us."
And it's vital for the Red Sox to have as many power threats as possible going into next season, particularly when you consider the severe decline of their offense in 2014.
One of the main reasons the Red Sox traded Jon Lester for Cespedes back in July is because they needed another threat in the middle of the lineup. By trading him this winter, they'd have to go out and find another slugger.
"It's harder and harder to find power," Cherington said. "We don't really want to go into next year without a power element in our lineup aside from David [Ortiz]."
One obvious reason there has been so much speculation surrounding the status of Cespedes is that the Red Sox have a glut in the outfield. Cespedes, Jackie Bradley Jr., Shane Victorino, Daniel Nava, Allen Craig and Mookie Betts are all in the mix.
"I think we have enough good options that that will come together in Spring Training," Cherington said. "We'll figure it out. I feel confident that, given what we have now, we've got a chance to just get better overall production from the outfield next year than we did this year. Obviously that's a priority and a need. And I don't think we really have to make the decision quite yet as to exactly who's playing where or who's in what spot."
One of Cherington's main missions this winter is to add to the starting rotation. However, it might not happen quickly.
"I can't really get a feel for it yet," Cherington said. "We're just still getting a lot of information. Talking to teams, talking to agents. I would be surprised if we do anything this week, but hopefully we'll leave this week with more information and a better sense of what's possible at least. And then start working toward putting some of that into action in between now and the Winter Meetings."
While the Red Sox have largely stayed away from long-term contracts since unloading Adrian Gonzalez and Carl Crawford to the Dodgers in August 2012, they might have no choice but to extend themselves in length to bring in a top pitcher like Lester, Max Scherzer or James Shields.
"I think we've always said we have a preference toward those [shorter-term deals], but it's never been a hard policy," Cherington said. "We've made some exceptions, and I'm sure there will another exception. So it's a case-by-case thing. If all the boxes are checked, I'm sure there will be a longer-term deal that makes sense just as we've done on some of those in the past."
Ian Browne is a reporter for MLB.com. Read his blog, Brownie Points, and follow him on Twitter @IanMBrowne. MLB.com reporter Paul Hagen contributed to this story from Phoenix. This story was not subject to the approval of Major League Baseball or its clubs.