Red Sox prospect Coyle goes yard in AFL win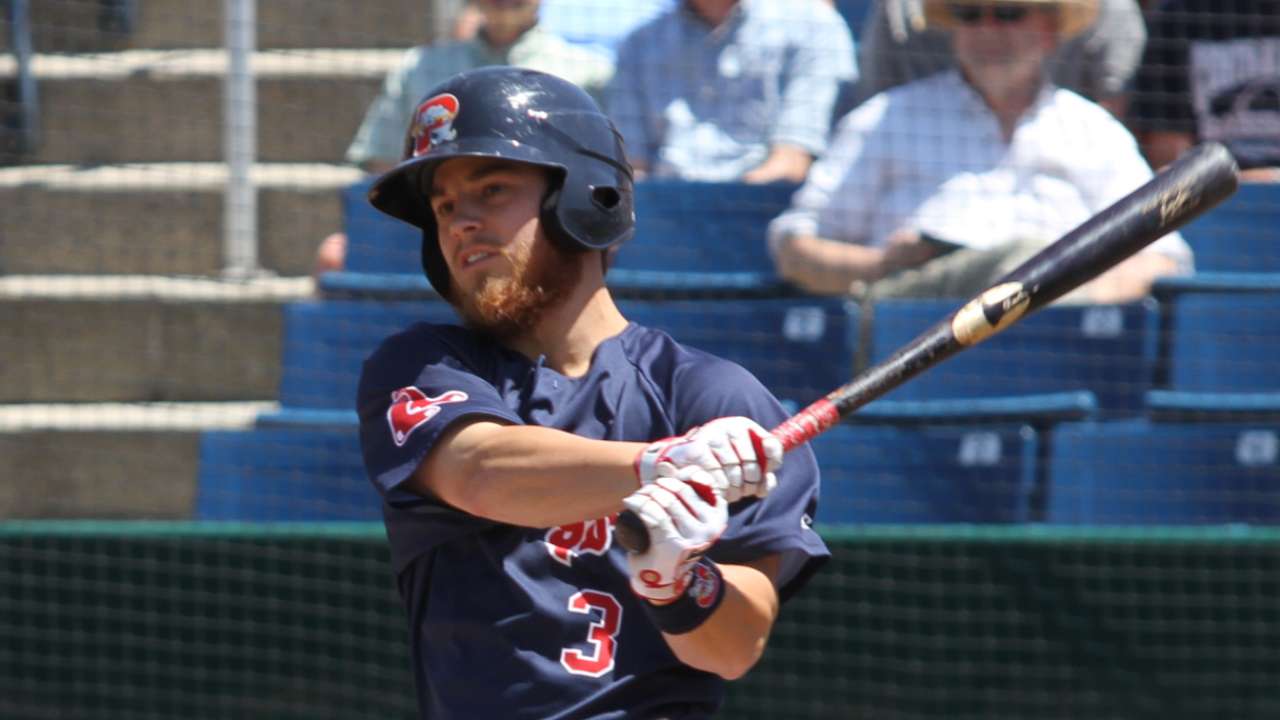 In the early stages of its game Tuesday against Mesa, Surprise had relied on its pitching to hold a slim lead. But after the Solar Sox scratched out a run in the sixth, the Saguaros found the game tied heading into the late innings.
Surprise's offense quickly reasserted itself against right-hander Roberto Osuna. Catcher Pat Cantwell hit a one-out double and second baseman Sean Coyle followed with a two-run home run to retake the lead.
This time, there would be no comeback. The Saguaros defeated the Solar Sox, 5-1. It was Mesa's fifth straight loss in the Arizona Fall League.
"It's big when you score runs and your pitcher comes out and gets a shutdown inning," Coyle said. "It's also big when you come back and get ahead again."
Cantwell and Coyle both showed patience in their at-bats, as they fell behind Osuna, the Blue Jays' No. 5 prospect. Coyle said they both stuck with their approach at the plate even with two strikes and got pitches they could drive for extra-base hits.
"The whole at-bat I was looking for something to hit, to hit hard," Coyle said. "Pat did a good job getting something to hit in the at-bat before me. I tried to sit on something over the plate and stay within myself on a two-strike count."
Coyle, Boston's No. 13 prospect, finished the game 2-for-4 with a double, three runs and two RBIs. He has collected six hits in his last three games to snap out of a slump that has plagued him most of the fall.
Coyle went 8-for-51 with 21 strikeouts and seven walks in his first 15 games in the AFL. He said he was struggling to find his swing, but now feels much more comfortable at the plate.
"I was grinding through my at-bats earlier," he said. "I was fouling off a lot of good pitches to hit. Now I'm hitting more pitches instead of wasting them. My swing is here and I can trust my swing."
Once Cantwell and Coyle got things going in the seventh, the rest of the Saguaros followed. They scored four runs in the final three innings and finished the game with 13 hits, including six that went for extra bases. All but one of their starters collected at least one hit and four had multi-hit games.
First baseman Patrick Kivlehan, the Mariners' No. 6 prospect, went 3-for-4 with a double and a run. Left fielder Nick Williams, the Rangers' No. 4 prospect, finished the game 2-for-4 with a double and an RBI.
The late offensive outburst allowed the Saguaros to capitalize on their solid pitching Tuesday. Right-hander Sam Wolff started for Surprise and threw three scoreless innings. Five relievers followed to hold Mesa to one run on five hits and one walk in six innings.
First baseman Dan Vogelbach, the Cubs' No. 10 prospect, went 2-for-4 to lead Mesa's offense and left fielder Jon Berti scored its lone run.
Coyle said Surprise's pitching staff did a good job of throwing strikes and putting the Solar Sox in bad spots to hit.
"They were keeping guys off balance and getting ahead of guys," he said. "They did a good job forcing some contact and letting the defense work for them."
With the victory, Surprise drew even with Peoria in the West Division race. Peoria entered the day with a half-game advantage in the division, but lots its lead as it tied with Salt River, 4-4, in 11 innings Tuesday. The division winner will play Salt River, which clinched the East Division on Monday, in Saturday's AFL Championship Game.
Surprise and Peoria appear to be on a crash course for a de facto division championship game Thursday, the final day of the regular season, when the Saguaros play host to the Javelinas.
The Saguaros know how important their final game will be, but Coyle said they can't afford to look ahead yet.
"We only have a couple games left, but we have to take it game-by-game," he said. "This clubhouse is hungry. It's November and we're out here and we're not trying to go home without a ring. These guys definitely want to win. We want to take something home."
Teddy Cahill is a reporter for MLB.com. Follow him on Twitter at @tedcahill. This story was not subject to the approval of Major League Baseball or its clubs.