Red Sox revisit long-term deals, but due diligence key
Boston has appeared reluctant after Crawford, Adrian, but Sandoval seeking multiyear offer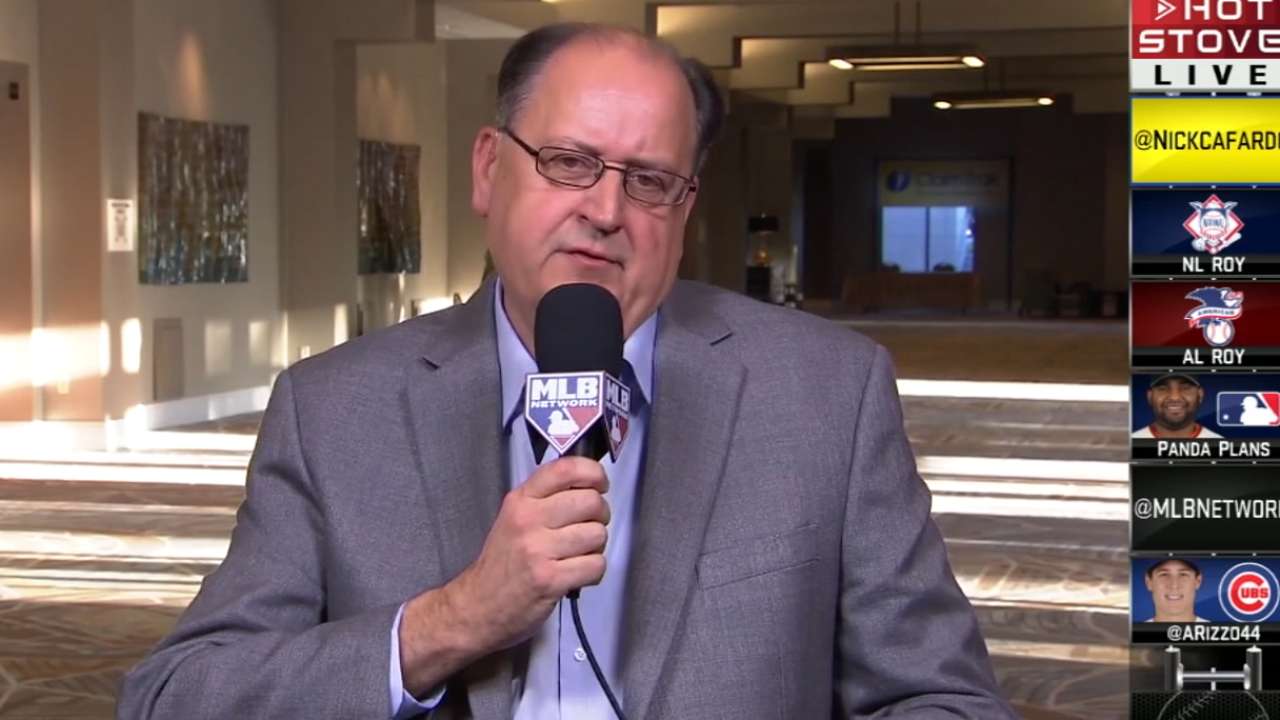 If the Red Sox are successful in signing free-agent third baseman Pablo Sandoval, they will likely have to change their recent course of avoiding contracts of longer than three years.
Coming off a last-place finish in 2014 -- the second Boston has had in the last three years -- general manager Ben Cherington will explore all avenues to improve his franchise quickly, including long-term contracts to the right free agents.
There's a perception that Cherington -- as well as team ownership -- have been reluctant to go down the long-term road with traditional free agents ever since the ill-fated signing of Carl Crawford four years ago.
By the summer of 2012, the Sox not only traded Crawford to the Dodgers, but added in Adrian Gonzalez to the deal, a player they traded for after the 2010 season and then signed to a seven-year extension.
It was obvious that Crawford and Gonzalez never embraced the intense market that is Boston, and the Red Sox will try to do as much research as possible with Sandoval and other free agents before striking a deal.
"We try to do a lot of the same stuff we've always done as far as the due diligence, trying to get to know the guys as best as we can," Cherington told a small group of Boston media members at the General Managers Meetings in Phoenix on Wednesday.
"I think the question of whether a guy wants to be there is important and not always easy to get the answer to, but you try to get the answer to it. We know the economics are always going to play a big role, but are there times you can sort of talk a guy into being in a place purely with money? Maybe."
In hindsight, that's exactly what happened with Crawford, who has been candid about admitting his mistaken motives in signing with Boston.
"And I'm not sure that always leads to the best outcomes. But it's a tough thing," Cherington said. "You don't know for sure until they're there, but we do the best we can to figure out which guys have a chance to thrive and succeed."
Considering the way he has embraced pressure moments and his outward enthusiasm for the game, Sandoval would probably be a far better fit in Boston than players like Crawford and Gonzalez, who are more private by nature.
"I think the other end of it is part of it is trying to find out what's important to a guy -- but part of it is on us to provide a structure and help a guy transition and feel comfortable," said Cherington. "Part of it is up to the player and part of it is up to us to try to help a guy be comfortable."
One of the values in bringing back Jon Lester, another prime free agent, is that the Red Sox could avoid all the background checks and the meet-and-greets.
"Sure, it's one less thing to have to spend a lot of time on. I don't know that it's a major factor pushing the needle either way when you actually get into economic terms and things like that," said Cherington. "That's going to drive it more than anything. But that is a layer of comfort, certainly. [Andrew] Miller's the same thing -- guys we know."
Cherington confirmed he spoke with Lester's representatives -- Sam and Seth Levinson -- at the GM Meetings on Monday. But it didn't sound as if there were any hard negotiations.
"No, met with them kind of socially and talked about all kinds of things. I expect that the conversations will continue," Cherington said. "They've got to go through their thing. We still feel like the relationships are in place to be able to have those conversations."
Cherington also spoke with Gustavo Vazquez, who represents Sandoval, during his time in Phoenix.
"He's one of many that we're talking to. I'd rather not comment on exactly who we might meet and who we might not, but he's one guy we have interest in," Cherington said.
Ian Browne is a reporter for MLB.com. Read his blog, Brownie Points, and follow him on Twitter @IanMBrowne. This story was not subject to the approval of Major League Baseball or its clubs.