MLB.com Columnist
Jim Callis
Top performances, prospects from 2014 Fall League
A team-by-team breakdown of who impressed and how each club's top player fared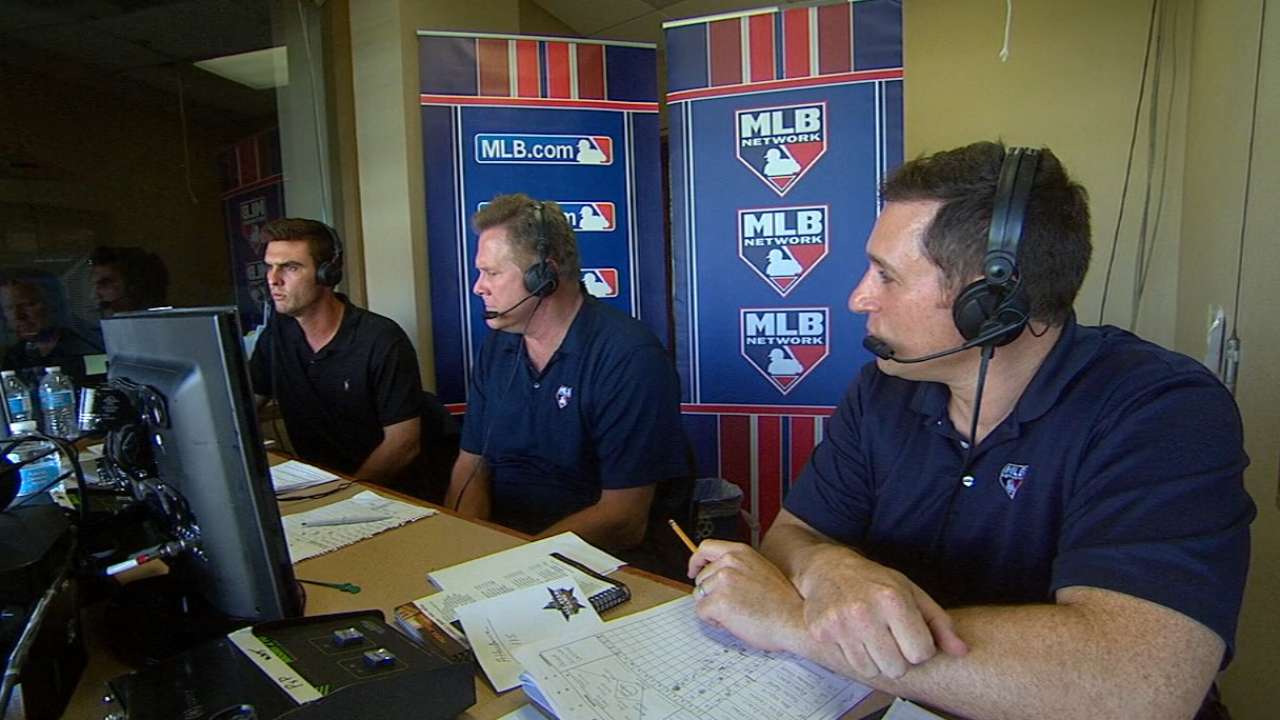 SCOTTSDALE, Ariz. -- The Arizona Fall League is known as baseball's finishing school because it has graduated a ton of talent to the Major Leagues since it began play in 1992. The AFL has produced 212 All-Stars, including 35 in this year's Midsummer Classic, 25 Rookies of the Year, 13 MVPs and five Cy Young Award winners.
Based on the quality of the talent in the AFL this year, more big leaguers and stars are on the way. The league wrapped up its 23rd season on Saturday, with the Salt River Rafters outlasting the Peoria Javelinas, 14-7, for their fourth title and first since 2011.
The wild championship game featured some of the league's top performers coming through one more time. Rafters outfielder Eddie Rosario (Twins), who lost the batting title in his last at-bat of the season, went 4-for-5 with a double, homer, two runs and two RBIs. The Javelinas' Justin O'Conner (Rays), who already had made a name for himself as the strongest-armed catcher in the league, provided two homers and strong defense behind the plate.
Twenty-three of MLBPipeline.com's Top 100 Prospects saw action in Arizona this fall, highlighted by four of the Top 10: Salt River outfielder Byron Buxton (Twins, No. 1), Peoria shortstop Francisco Lindor (Indians, No. 4), Mesa Solar Sox shortstop Addison Russell (Cubs, No. 5) and Rafters right-hander Archie Bradley (D-backs, No. 9). Buxton got hurt in the AFL for the second straight year, this time breaking his left middle finger while attempting to make a diving catch.
Scottsdale Scorpions first baseman Greg Bird (Yankees), who won the Joe Black MVP Award, shared the league home-run title with Surprise Saguaros outfielder Hunter Renfroe (Padres). They each hit six homers and, for good measure, added another long ball in the Fall Stars Game.
Saguaros outfielder Jesse Winker (Reds) won the Eye Promise Vizual EDGE PRO batting-title award, hitting .338 and finishing second in the AFL in on-base percentage (.440) and slugging (.559). On the mound, Rafters right-hander Mark Appel (Astros) regained his form after some regular-season struggles, pitching in the mid-90s with his fastball and posting a 2.61 ERA in seven starts.
Below are the development highlights from the AFL's 23rd season for all 30 big league organizations -- spotlighting the top performers and the top prospects (as determined by MLBPipeline.com's Prospect Watch rankings):
ANGELS
Best Performance: Left-hander reliever Chris O'Grady shared the lead in wins (3), while posting a 1.42 ERA and limiting opponents to a .125 average. His mid-80s fastball and upper-70s slider are nothing special, but AFL hitters didn't square him up.

Best Prospect: Kaleb Cowart has struggled the last two years in Double-A and his woes continued in Arizona, where he batted .185/.224/.259. He did make some nice plays and demonstrated a strong arm at third base.
ASTROS
Best Performance: Taxi-squad member Joe Sclafani hit .370/.431/.543, which easily would have won the batting title if he had enough plate appearances to qualify. A potential utility man capable of playing the infield and outfield, he makes contact from both sides of the plate and has good instincts.

Best Prospect: Appel helped put a strange regular season behind him by compiling a 24/8 strikeout-to-walk ratio and .167 opponents' average in a league-high 31 innings. He pitched well in six of his seven starts -- consistently delivering mid-90s fastballs and mid-80s sliders, while flashing a good changeup.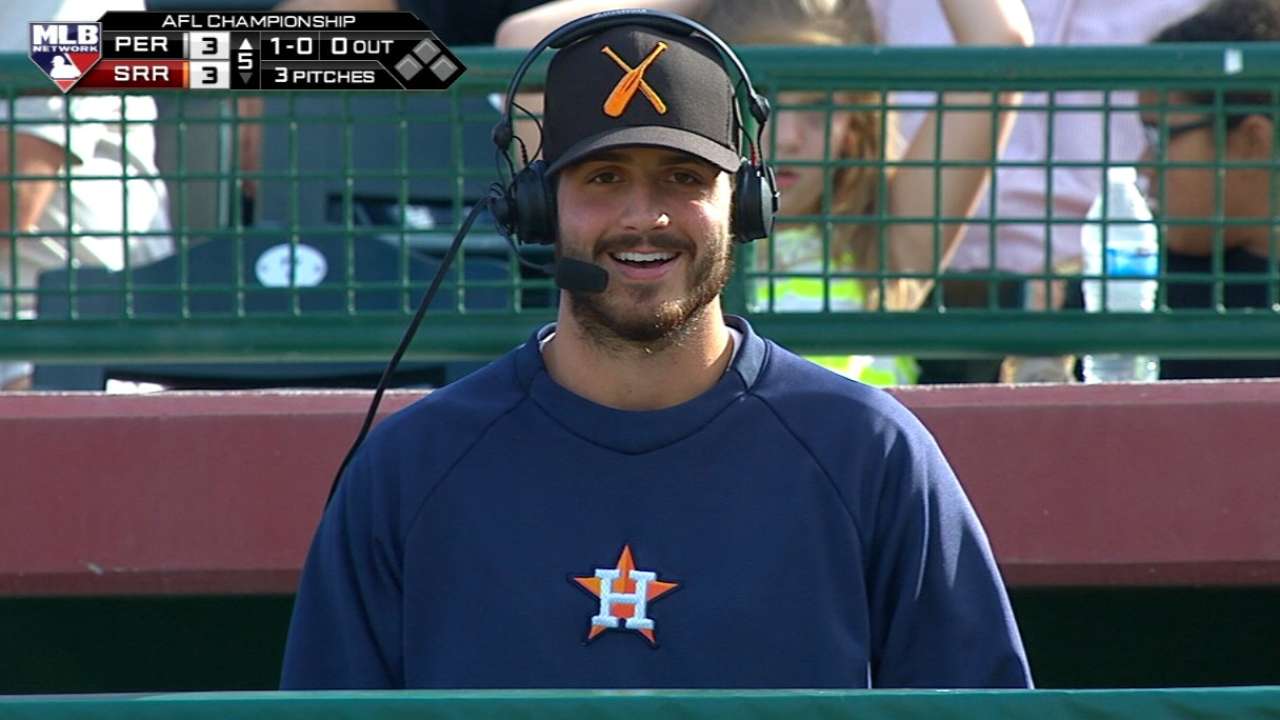 ATHLETICS
Best Performance: First baseman Matt Olson hit .257/.435/.686 with four homers in 11 games before hurting his shoulder in an infield collision. His power and plate discipline are for real, as he led the Minors with 117 walks and ranked third with 37 homers this year.

Best Prospect: Shortstop Daniel Robertson contended for the AFL batting title before slumping late and finishing at .301/.398/.356. He may wind up at second or third base, but should have enough bat and power to profile at either position.
BLUE JAYS
Best Performance: Second baseman/outfielder Jon Berti hit .292/.418/.431 with three homers and six steals in as many attempts. Solid speed and athleticism are his best attributes, giving him the versatility to become an effective utility man.

Best Prospect: Dalton Pompey, who's expected to start in center field for Toronto next year, showcased perhaps the broadest array of tools in the league. He batted .257/.358/.371 and finished third with nine steals.
BRAVES
Best Performance: Right-hander Aaron Northcraft recorded a 2.42 ERA and held opponents to a .205 average over six starts. He doesn't have a plus pitch, but keeps hitters off balance by mixing his fastball, slider and changeup.

Best Prospect: Northcraft, whose low, three-quarters delivery adds life to his offerings.
BREWERS
Best Performance: Left-handed reliever Michael Strong recorded a 1.98 ERA, two saves and 14 strikeouts in 13 2/3 innings. He isn't especially physical at 6 feet and 195 pounds, but he can run his fastball up to 94 mph and backs it up with a hard curveball.

Best Prospect: Outfielder Tyrone Taylor posted a .271/.315/.306 slash line and was the AFL's toughest player to strike out, with one whiff every 13.3 plate appearances. His biggest assets are his speed, center-field defense and line-drive hitting.
CARDINALS
Best Performance: Right-hander Tyrell Jenkins' comeback from shoulder surgery has been slow, but he started to show some encouraging signs with a 2.22 ERA and 18 strikeouts in 24 1/3 AFL innings. More important, he ran his lively fastball up to 96 mph and showed flashes of a plus curveball.

Best Prospect: Right-handed reliever Sam Tuivailala, who was drafted as an infielder, was one of the hardest throwers in the league. With a fastball that sits in the mid-90s and reaches triple digits, he topped the AFL with five saves and had a 1.42 ERA with 13 strikeouts in 14 innings.
CUBS
Best Performance: A taxi-squad member activated only twice a week, outfielder Bijan Rademacher batted .350/.404/.525, with four steals in 11 games. Though he threw in the low-90s as a lefty in junior college, Chicago made him a full-time outfielder because he has a feel for hitting and average power potential and speed.

Best Prospect: Russell hit just .196/.260/.348 before departing halfway through the year -- though he did homer twice in his final three games. As a shortstop with solid or better tools across the board, he's one of baseball's elite prospects.
D-BACKS
Best Performance: Acquired from the Yankees in July for Martin Prado, Peter O'Brien was one of the league's most dangerous sluggers, hitting .256/.393/.512, with five homers. His power and arm strength are formidable tools, though his defense remains problematic at catcher and first base.

Best Prospect: Bradley's 7.13 ERA, 12/11 strikeout-to-walk ratio and .364 opponents' average were ugly. But his main concern was logging innings, after he missed time with elbow issues during the regular season. He operated at 92-95 mph with his fastball, while working on adding a cutter/slider and refining his changeup.
DODGERS
Best Performance: Outfielder Scott Schebler batted .310/.352/.524 and tied for third in the AFL with five homers. He has led his leagues in extra-base hits and total bases in each of the last two seasons, and he could develop at least average tools across the board -- with the exception of his arm.

Best Prospect: After a rough AFL performance in 2013, shortstop Corey Seager played much better the second time around, batting .281/.354/.472 with a league-best 10 doubles. The 2014 Minor League leader in hitting (.349) and doubles (50), he'll produce for average and power but will likely have to move to third base.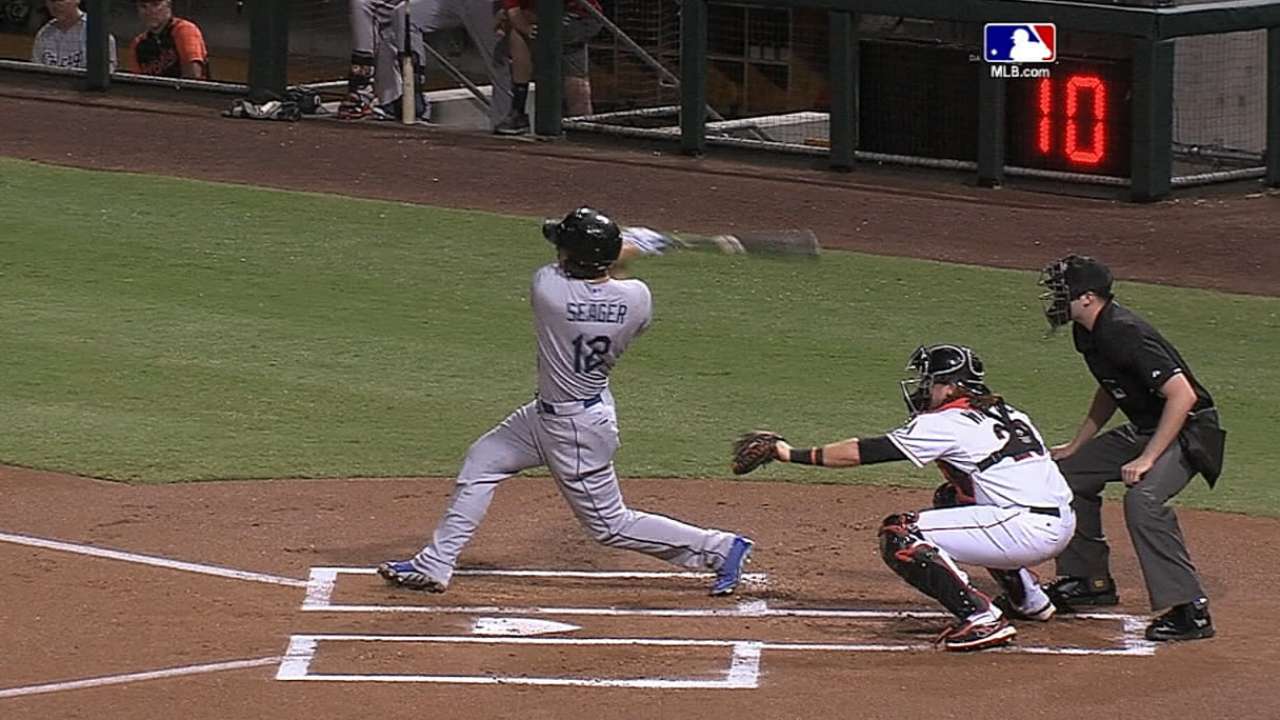 GIANTS
Best Performance: Opponents batted just .119/.140/.119 against left-handed reliever Steven Okert, who had a 17/1 K/BB ratio over 12 innings. He can push his fastball to 97 mph and wipe out lefties with his hard slider.

Best Prospect: Finesse right-hander Clayton Blackburn threw strikes as usual (zero walks in 11 2/3 innings), but got hit hard to the tune of a 5.40 ERA in six relief appearances. He was focused more on adding a slider and a splitter to his repertoire than his results.
INDIANS
Best Performance: Right-handed reliever Grant Sides posted a 1.59 ERA -- with more strikeouts (13) than baserunners (12) -- in 11 1/3 innings. He has a mid-90s fastball and a hard slider, but his control needs more work.

Best Prospect: The best infield defender in the AFL, Lindor is also a switch-hitter with some pop and excellent instincts in all phases of the game. After hitting .265/.324/.429 with three homers, he could take over at shortstop for Cleveland early next season.
MARINERS
Best Performance: First baseman/outfielder Patrick Kivlehan topped the AFL with 22 RBIs and hit .280/.387/.473, with four homers. The former Rutgers defensive back has above-average, raw power and continues to erase skepticism about his ability to translate it into game production.

Best Prospect: D.J. Peterson has the most advanced bat in Seattle's system, yet hit just .190/.290/.288 in the AFL. Nevertheless, there are plenty of concerns about his ability to stay at third base and few worries about his ability to hit for power and average.
MARLINS
Best Performance: Austin Nola hasn't hit much in three pro seasons, but he batted .298/.441/.426 and struck out just twice in 59 plate appearances. He was also one of the AFL's better defenders, seeing action at second base and shortstop.

Best Prospect: Right-hander Anthony DeSclafani posted numbers similar to Appel's, with a 2.67 ERA and a 24/4 K/BB ratio in 27 innings over six starts. Part of Miami's blockbuster Jose Reyes /Mark Buehrle trade with the Blue Jays, DeSclafani attacks hitters with a 90-95-mph fastball and 82-86-mph slider.
METS
Best Performance: The son of former All-Star Lee Mazzilli, L.J. Mazzilli hit .306/.433/.469. He's an offensive-minded second baseman with gap power and a sound approach.

Best Prospect: Outfielder Brandon Nimmo has average or better tools across the board, but they didn't shine through in Arizona. He hit .202/.306/.238 and didn't resolve the questions about his power -- tallying three extra-base hits (all doubles) in 84 at-bats.
NATIONALS
Best Performance: Continuing his comeback from Tommy John surgery, catcher Spencer Kieboom hit .324/.390/.471 in 10 games. He's a quality defender, with a knack for making consistent hard contact at the plate.

Best Prospect: Fellow backstop Pedro Severino has one of the strongest arms among Minor League catchers and has Gold Glove upside. He's more of a work in progress at the plate, as his .250/.292/.341 AFL performance attests.
ORIOLES
Best Performance: Right-hander Zach Davies tied for the league high with three wins and ranked among the leaders in innings (25 2/3), strikeouts (23) and opponents' batting average (.205). His best pitch is a sinking changeup that he sets up with an 86-90 mph fastball and an average curveball.

Best Prospect: Davies, who signed for $575,000 as a 26th-round pick out of an Arizona high school in 2011.
PADRES
Best Performance: Renfroe's home runs left AFL ballparks as fast as anyone's. He led the league in extra-base hits (16), total bases (58) and slugging, while batting .284/.345/.569 and sharing the league home-run crown. Also noteworthy was speedy taxi-squad shortstop Trea Turner, who went 14-for-35 (.400), with seven steals in nine games.

Best Prospect: With his prodigious power, strong arm and good speed for a 6-foot-1, 200-pounder, Renfroe epitomizes the right-field profile.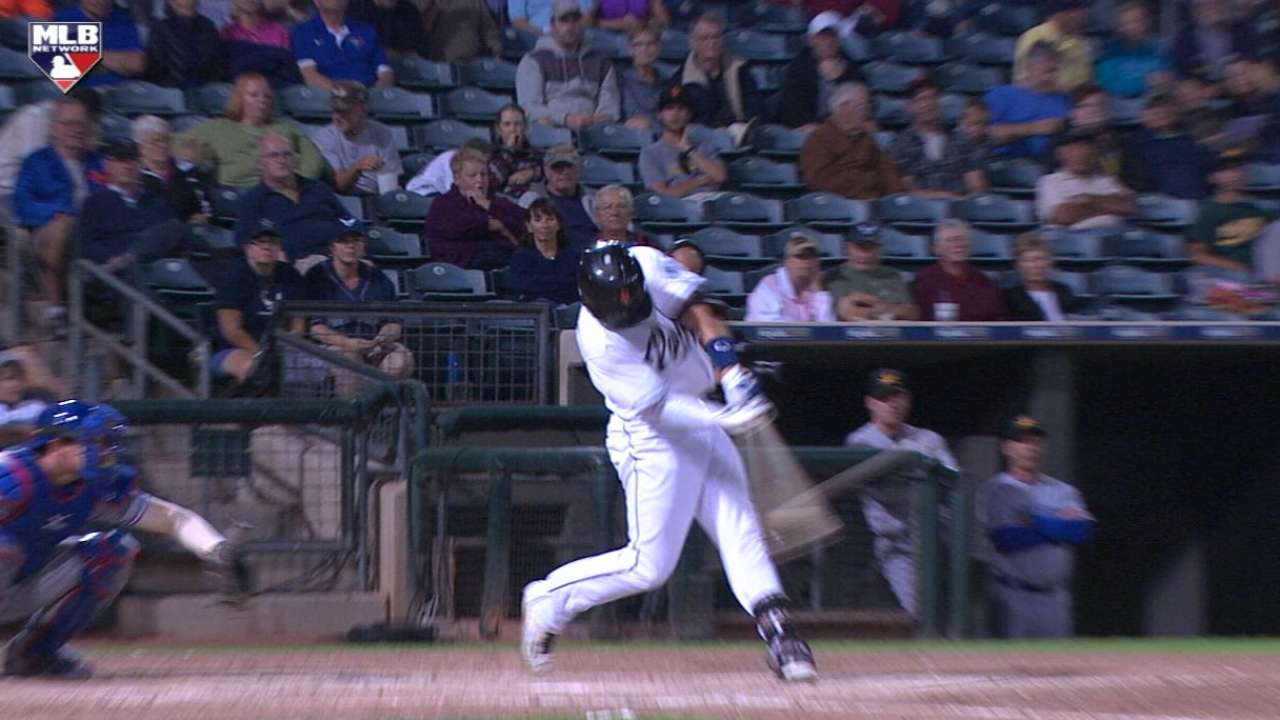 PHILLIES
Best Performance: Center fielder Roman Quinn was the league's fastest player and used his speed to finish first in steals (14 in 16 tries) and second in runs (19). He batted .250/.361/.359 and displayed newfound plate discipline with 16 walks, which ranked fourth.

Best Prospect: Quinn, who has also used his quickness to make a nice transition from shortstop. He covers the gaps well and has a stronger arm than most center fielders.
PIRATES
Best Performance: Left-hander Joely Rodriguez won three games to tie for the league lead, and posted a 2.38 ERA with 22 strikeouts in 22 2/3 innings. Clocked as high as 97 mph in the past, he worked with more of an average fastball during the regular season and in the AFL.

Best Prospect: Right-hander Tyler Glasnow wasn't as dominant as usual -- as he posted a 3.72 ERA over 19 1/3 innings, though he did strike out 20. While he still featured his explosive mid-90s fastball, Pittsburgh had him concentrate on refining his curveball.
RANGERS
Best Performance: Right-handed reliever Josh McElwee has shown a knack for missing bats with deception and fringy stuff, and that continued in the AFL. He posted a 1.93 ERA, with a 20/4 K/BB ratio in 14 innings.

Best Prospect: Outfielder Nick Williams is known for his electric bat speed and utter lack of patience at the plate. Both were on display -- as he batted .277/.296/.420, with 32 strikeouts and one walk in 115 plate appearances.
RAYS
Best Performance: O'Conner is known for his defensive prowess, so it was no surprise he led the league by erasing 50 percent of basestealers. But he also displayed more consistency at the plate than ever before, hitting .303/.361/.439 -- with just six strikeouts in 72 plate appearances.

Best Prospect: O'Conner has a cannon for an arm, as well as above-average raw power.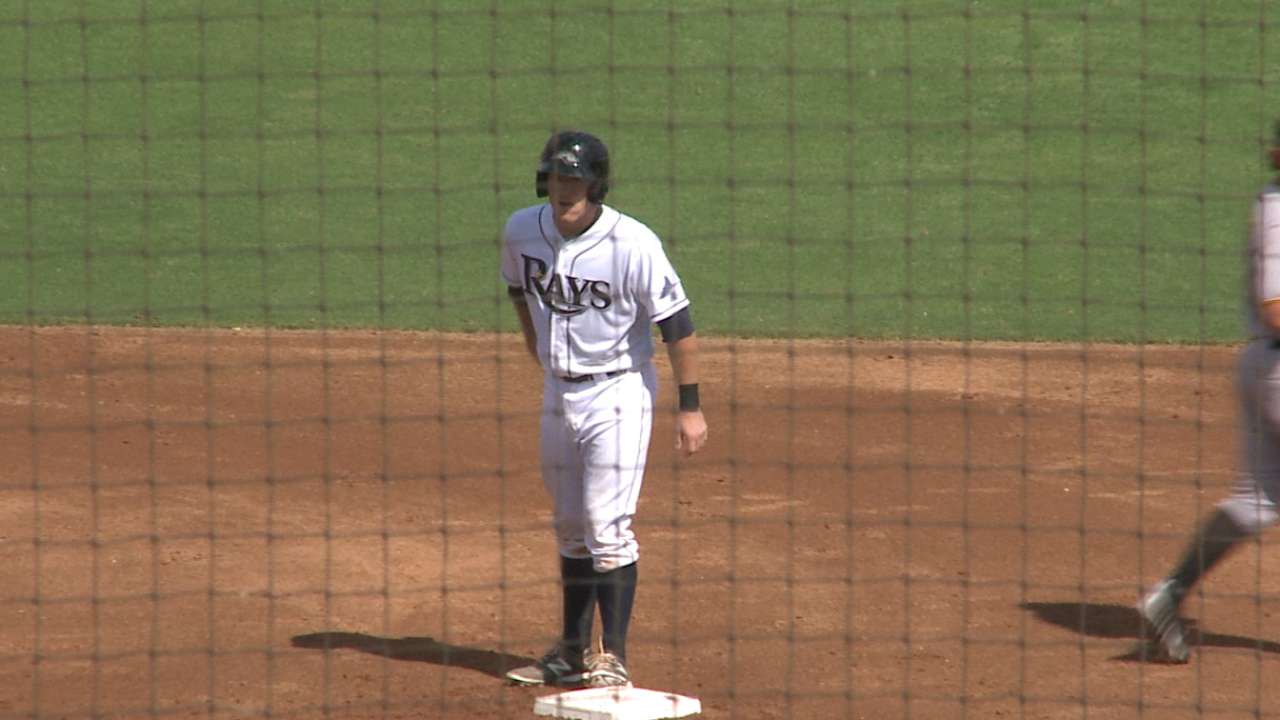 RED SOX
Best Performance: Scouts always have preferred Deven Marrero's defense to his offense, but he stood out in both areas in Arizona. He led the league in on-base percentage, while batting .328/.443/.414 and making all the plays at shortstop.

Best Prospect: Marrero, though that's because Cuban center fielder Rusney Castillo's age (27) makes him ineligible for our Prospect Watch rankings. Combining well above-average speed with solid pop, Castillo hit .278/.333/.361 in eight games before straining a muscle in his right thumb.
REDS
Best Performance: Though he was banged up, Winker put up impressive offensive numbers. Another standout was Cuban right-hander Raisel Iglesias, who held the opposition to one hit in 24 at-bats, thanks to a 92-94-mph fastball and one of the best curveballs in the league.

Best Prospect: Winker is one of the best pure hitters in the Minor Leagues. Most of his value comes from his bat. But that's fine, because he should produce for average and power while drawing plenty of walks.
ROCKIES
Best Performance: Left-hander reliever Ken Roberts shared the ERA title with a perfect 0.00 mark in 14 1/3 innings, and held righties to a .138 average with no extra-base hits. He gets groundouts with his 87-90-mph sinker and can be tough on lefties with his mid-70s curveball.

Best Prospect: Trevor Story has decent tools across the board and is capable of playing shortstop, second base and third base. He batted .256/.340/.419, and tied for second in the AFL with nine doubles.
ROYALS
Best Performance: The fifth-overall pick in the 2012 First-Year Player Draft, right-hander Kyle Zimmer had the most impressive start of the season, striking out 11 over five scoreless innings against Glendale on Oct. 13. He reached the upper 90s with his fastball and had plenty of power on his curveball. But he worked just one more AFL inning before leaving to have exploratory shoulder surgery.

Best Prospect: Shortstop Raul Adalberto Mondesi has better all-around tools than Lindor and has youth on his side, but he continues to scuffle while being pushed very aggressively by Kansas City. Just 19, Mondesi hit .233/.233/.342, with five steals. He commited six errors in 13 games at short.
TIGERS
Best Performance: Outfielder Steven Moya showed off his trademark power by tying for third with five homers, while hitting .289/.327/.544. He fits the right-field profile with his pop and strong arm, though plate discipline (29 strikeouts, six walks in 98 plate appearances) remains a concern.

Best Prospect: After a September callup, left-hander Robbie Ray joined Glendale for four brief starts. He had a 2.45 ERA and 13 strikeouts in 11 innings, reaching 97 mph while still searching for a reliable breaking ball.
TWINS
Best Performance: Rosario settled for second place in hitting and steals (10), while compiling .330/.345/.410 numbers. He boosted his stock, after serving a drug suspension and batting .237 in Double-A. He showed pure hitting ability, but still left questions about whether he has enough power for a corner outfielder.

Best Prospect: The best prospect in all of baseball got hurt in Arizona for the second straight year. Five-tool center fielder Buxton hit .263/.298/.311, with five steals in 13 games, before he sustained his injury.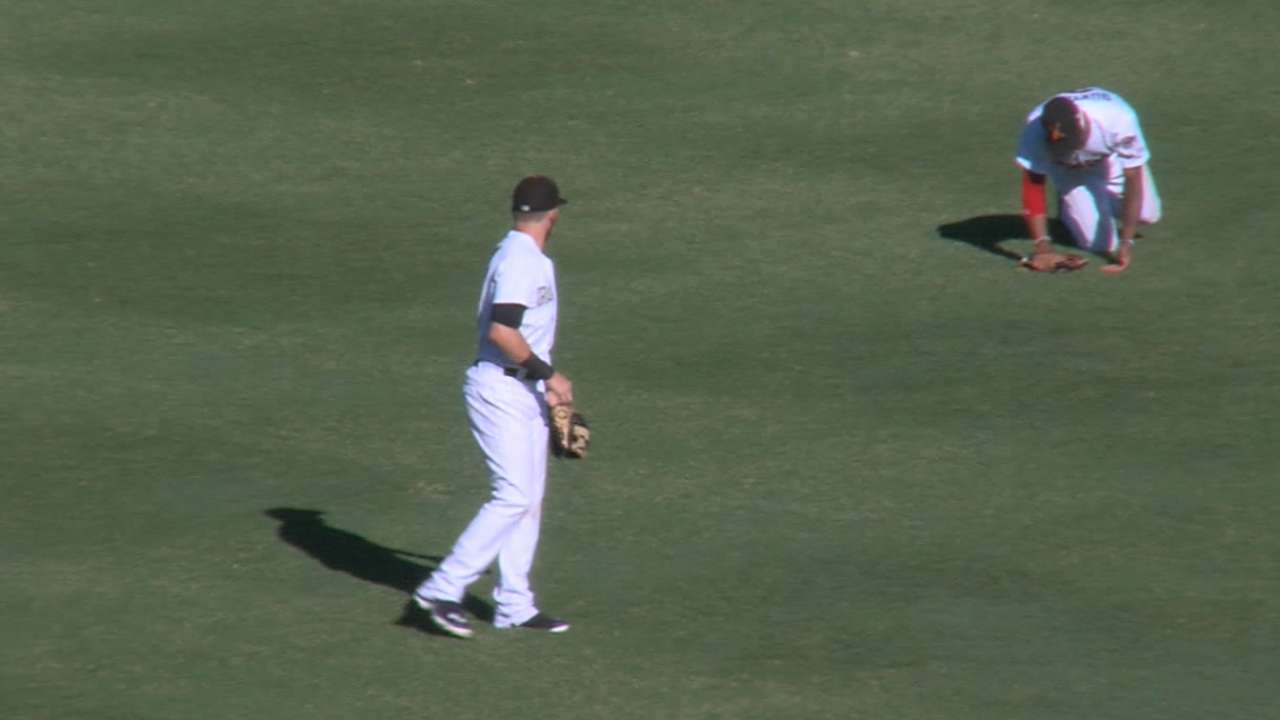 WHITE SOX
Best Performance: After breaking his pitching hand in an off-field incident and not starting his 2014 season until mid-July, right-hander Chris Bassitt made up for lost time with a 0.69 ERA and 22 strikeouts in just 13 innings. Normally a starter, he worked in the mid-90s with his fastball as a reliever.

Best Prospect: Tim Anderson displayed quick-twitch athleticism, while batting .301/.343/.430 with six steals. He still needs to tighten his strike zone and improve his defensive consistency, but few shortstops can match his tools.
YANKEES
Best Performance: Bird was one of the most selective and productive hitters in the league. He batted .313/.391/.556, while ranking first in homers (six) and runs (21), and second in hits (31), RBIs (21) and total bases (55). His power and patience are for real, and he left a lasting impression with a mammoth homer that traveled at least 450 feet in the Fall Stars Game.

Best Prospect: The most physically imposing player in the league at 6-foot-7 and 230 pounds, outfielder Aaron Judge hit .278/.377/.467, with four homers. Besides his obvious power, he also stood out with his patience and his strong arm.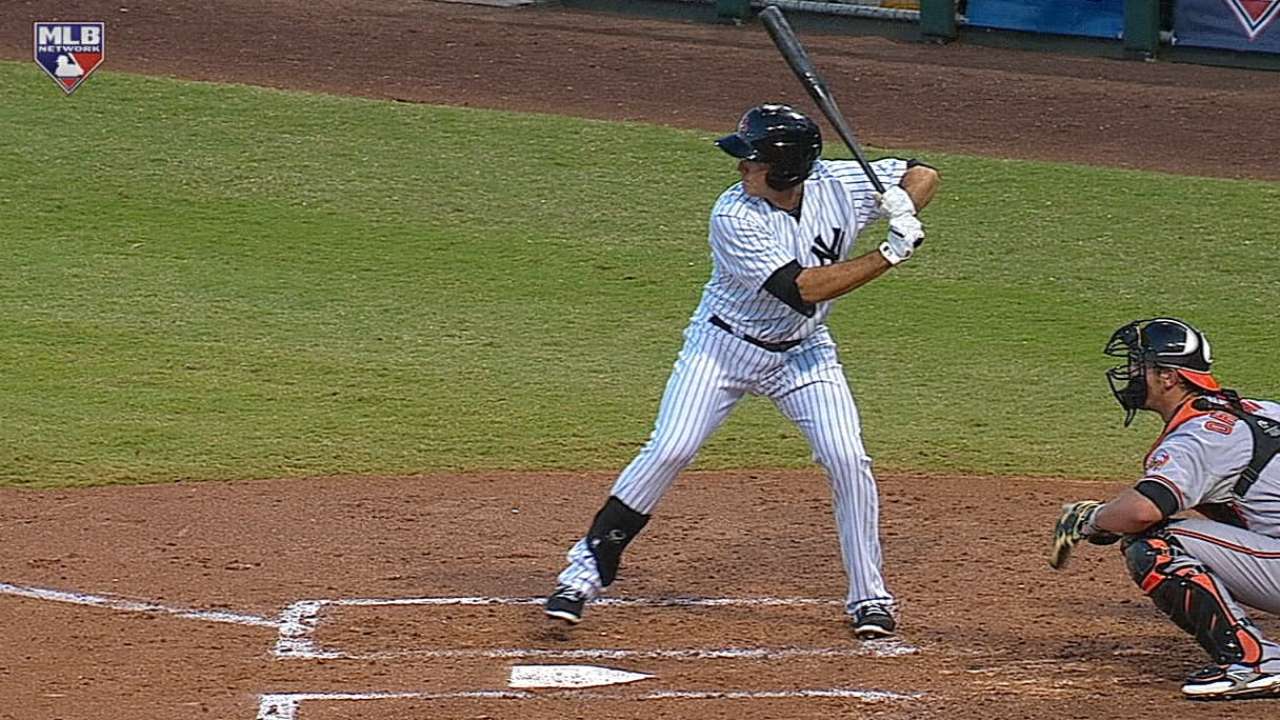 Jim Callis is a reporter for MLB.com and writes a blog, Callis' Corner. Follow @jimcallisMLB on Twitter. This story was not subject to the approval of Major League Baseball or its clubs. This story was not subject to the approval of Major League Baseball or its clubs.