MLB.com Columnist
Jim Callis
Pipeline Perspectives: Castillo, Syndergaard the next ROYs
Big rookie seasons projected for Red Sox outfielder, Mets righty in 2015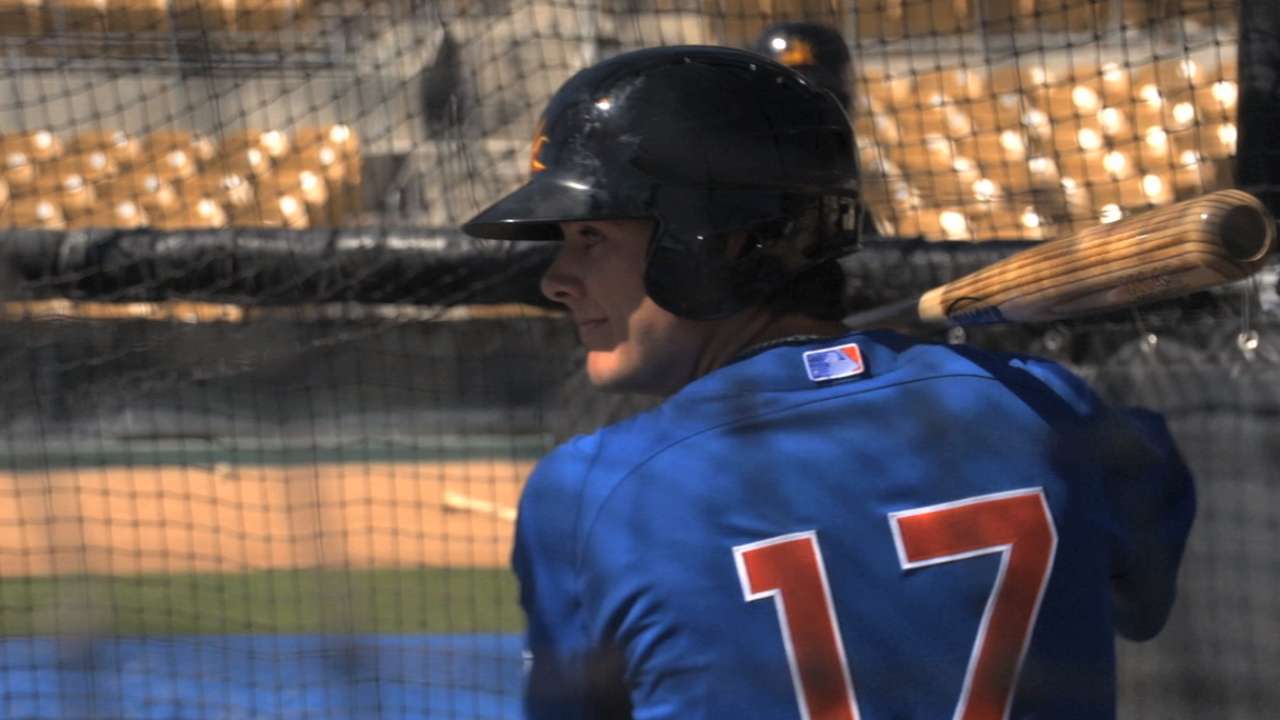 There's a good amount of subjectivity regarding baseball prospects. With the evaluation of talent being in the eye of the beholder, finding consensus is often difficult. Even Jim Callis and Jonathan Mayo of MLBPipeline.com don't always see eye to eye. They discuss their viewpoints regularly in a feature called Pipeline Perspectives. Submit a topic for them to debate.
On the heels of the Baseball Writers' Association of America announcing its award winners for the 2014 season last week, our latest task at Pipeline Perspectives is to predict the 2015 Rookie of the Year Award winners.
My colleague, Jonathan Mayo, has chosen Cubs third baseman Kris Bryant and Indians shortstop Francisco Lindor, who aren't exactly the boldest choices. They just happen to be the highest-ranked prospects in MLBPipeline.com's Prospect Watch rankings who figure to get regular playing time in the Major Leagues next season.
My picks are more original than that, though they do exude a strong sense of déjà vu. After Cuban defector Jose Abreu and Mets right-hander Jacob deGrom won the rookie awards in 2014, I believe that Cuban defector Rusney Castillo and Mets right-hander Noah Syndergaard will follow them in 2015.
The Red Sox certainly have that expectation for Castillo after giving him a seven-year, $72.5 million contract in August. That's the largest guarantee ever for a Cuban amateur, though Yasmany Tomas is expected to break that record any day now.
After signing, Castillo got a crash course in U.S. pro ball by playing in the postseason in the Double-A Eastern League and Triple-A International League, before heading to Boston. In 10 games for the Red Sox, he batted .333 with two homers and three steals, giving a sneak preview of the power/speed combination the club hopes it's getting. Boston tried to get Castillo more at-bats in the Arizona Fall League, but he left after eight games when he strained a muscle in his right thumb.
At this point, Castillo looks like a lock to start in center field for the Red Sox. He doesn't offer the Gold Glove-quality defense of Jackie Bradley Jr., but he should be an above-average outfielder and has a higher offensive ceiling and floor than Bradley.
While he was in Cuba, Castillo was known primarily for his well-above-average speed. He got significantly stronger after defecting, and now packs 186 pounds on his 5-foot-8 frame without having lost any of his quickness. Castillo offers impressive bat speed from the right side of the plate and is capable of hitting .270 with 15 homers and 25 steals in his first full season in the Major Leagues.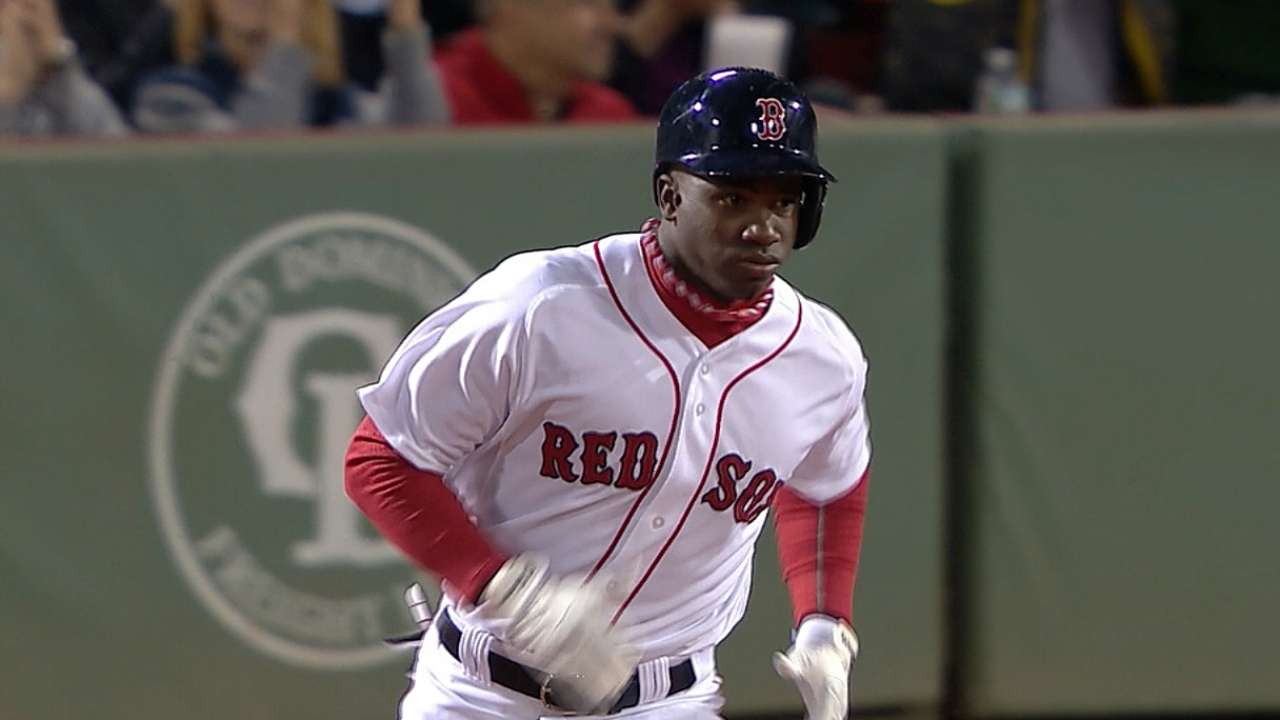 He doesn't have as clear a path to a regular big league role as Castillo, at least not at the moment, but Syndergaard should claim a spot in the Mets' rotation even with Matt Harvey returning from Tommy John surgery. New York could trade some pitching for some needed offensive help, and Syndergaard is too talented to send back to Triple-A for a second season.
A supplemental first-round pick by the Blue Jays out of a Texas high school in 2010, Syndergaard joined the Mets in the R.A. Dickey trade two years later. Among the game's elite pitching prospects, no one combines stuff and pitchability better than Syndergaard.
Unlike most young pitchers his size, the 6-foot-6, 240-pound Syndergaard repeats his delivery easily. That gives him better command than most 22-year-olds, enhancing his premium stuff. Syndergaard regularly pitches at 95-97 mph with his fastball and can crank it up into triple digits, and the run and sink on his heater make it even more effective.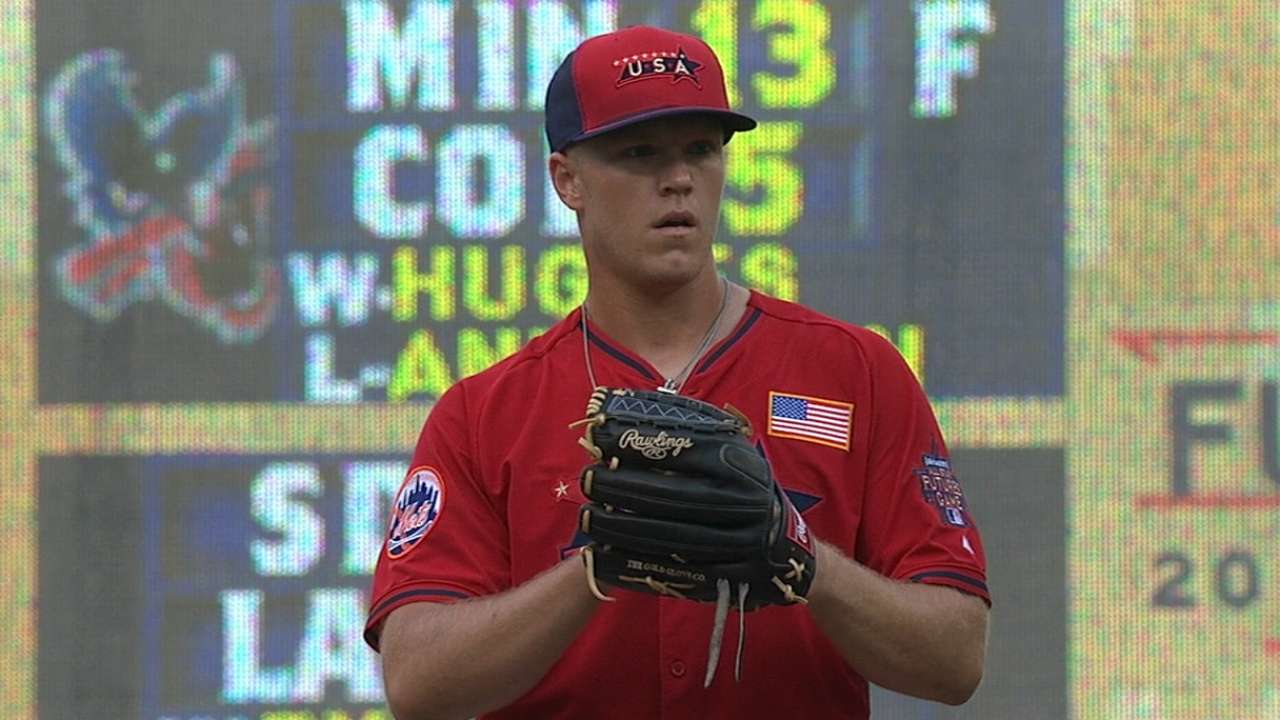 Syndergaard also has precocious feel for his changeup, which can make hitters look silly when they're geared up for his fastball. His hard three-quarters breaking ball gives him a third plus pitch at times, though it's his least consistent offering.
Like deGrom, Syndergaard didn't post a glittering ERA in his first exposure to Triple-A Las Vegas and the Pacific Coast League, neither of which are known for being hospitable to pitchers. He went 9-7 with a 4.60 ERA in 26 starts this year, though he did lead the PCL in strikeouts (145) and finish second in strikeouts per nine innings (9.8).
After pitching at Las Vegas in 2013, deGrom returned there for the first six weeks of this season before arriving in Citi Field. Syndergaard may have to take the same path before making a similar big league impact. He'll give the Mets their second straight National League Rookie of the Year Award winner, while Castillo will allow Cuba to claim back-to-back winners in the American League.
Jim Callis is a reporter for MLB.com and writes a blog, Callis' Corner. Follow @jimcallisMLB on Twitter. This story was not subject to the approval of Major League Baseball or its clubs.