MLB.com Columnist
Bernie Pleskoff
Castillo brings solid bat, great speed to Red Sox outfield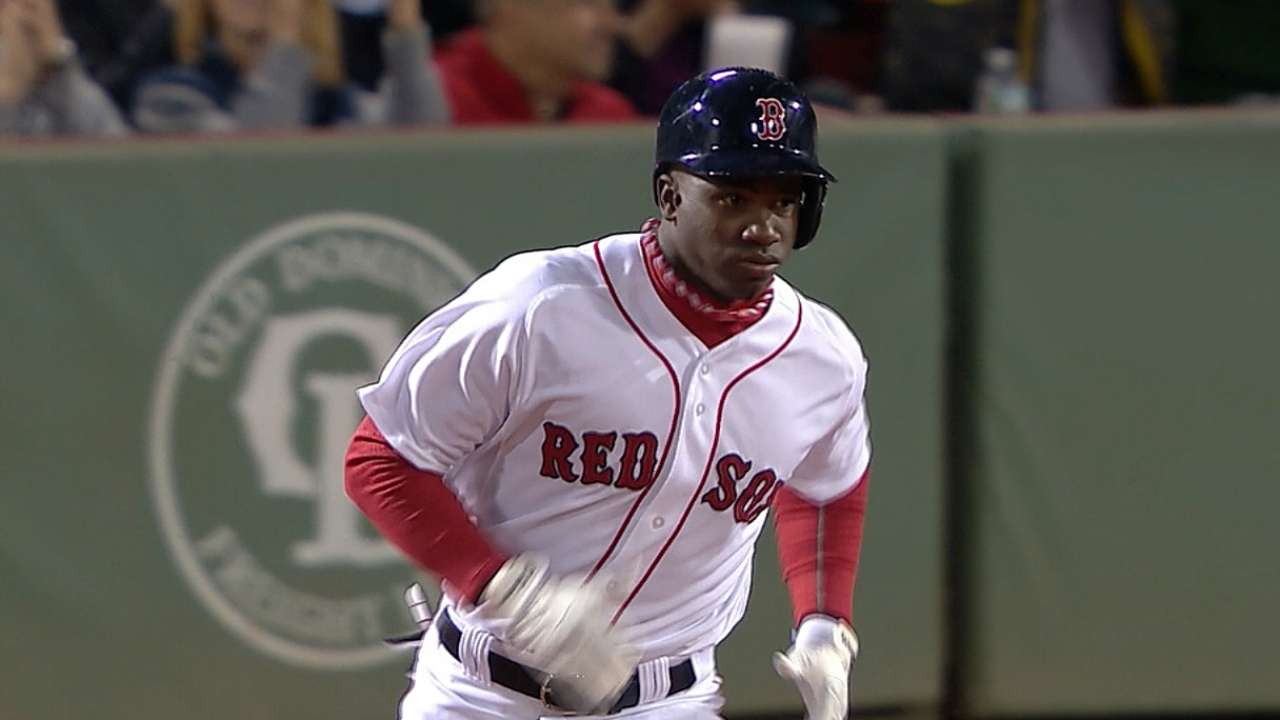 I was fortunate to get plenty of looks at exciting Boston Red Sox outfielder Rusney Castillo before he hurt his thumb and left the Arizona Fall League in late October.
Following Castillo's defection from Cuba and after establishing residency in the Dominican Republic, the Red Sox signed him as an international free agent this past August. He is signed through 2020.
Castillo played baseball for Los Tigres, the team of his hometown Ciego de Avila in central Cuba. He played second base, third base and in the outfield for Los Tigres. Initially, he didn't see a great deal of playing time for the club, but he hit .349 as a rookie. He had a big season in 2010-11, getting increased playing time and hitting .320 with 22 home runs and 95 RBIs in 107 games. He was also a member of the 2011 Cuban Baseball World Cup and Pan American Games teams.
Along with current Chicago White Sox star slugger Jose Abreu, Castillo was named to the All-Star team when he played center field for the Cuban team in the 2011 Baseball World Cup. He led the tournament in hitting. He continued to play baseball in international tournaments, but was not a part of the 2013 Cuban Baseball World Cup team. It is said he was being suspended for getting caught attempting to defect.
Castillo had only 41 at-bats in the Red Sox Minor League system. He had 12 hits and batted .293 across three levels. He played for the Gulf Coast Rookie level team, the Double-A Portland club and finished with Triple-A Pawtucket.
Castillo made his big league debut Sept. 17, 2014, getting one hit in four at-bats against the Pittsburgh Pirates. The right-handed hitter had just turned 27. Batting seventh, he played at the side of fellow Cuban outfielder, Yoenis Cespedes.
Castillo is only 5-foot-8 and 186 pounds. Speed is his most advanced tool. In the 10 games he played for Boston this past season, he stole three bases without being caught. He finished the season with a .333 batting average in 40 plate appearances. His 12 hits included a double and two home runs. Each of his appearances was as a center fielder.
Watching him hit in Arizona, I noticed a very disciplined approach at the plate. He doesn't have much movement prior to the pitch and is a patient hitter with a good feel for the strike zone. He has quick hands to the ball and has a short, measured stroke. He doesn't have much loft in his swing. I didn't see him try to muscle the ball with a lengthened, aggressive stroke. His overall hitting mechanics are sound. More a line-drive gap hitter than anything else, I think he will get his share of Major League doubles. I haven't seen much home run power, and looking ahead, I don't project that to develop. He makes good contact and knows his capabilities and limitations. I think he can be an aggressive baserunner, taking advantage of his speed to steal bases when needed.
In the Arizona Fall League games I scouted, other than his very efficient and effective use of speed, Castillo showed the talent to play center field. He has a very good ability to read the ball off the bat and take the quickest and most direct route to the ball. His outfield instincts are well refined. He shows a "take charge" approach with an ability to close outfield ground and get to the gaps quickly. He has a strong, accurate throwing arm.
At the time of his departure from the Surprise Saguaros of the Arizona Fall League, Castillo was hitting .278 with three doubles and no home runs. He had driven in one run in the eight games in which he played. He walked three times and struck out only six times in his 39 plate appearances. He made one error in center field.
Plans for Castillo to get additional offseason at-bats playing in the Puerto Rican Winter League were in doubt after he was jammed by a pitch in Arizona and suffered a strained adductor muscle in his right thumb, but signs are now pointing toward him being able to join Criollos de Caguas later this month.
Bernie Pleskoff has served as a professional scout for the Houston Astros and Seattle Mariners. Follow @BerniePleskoff on Twitter. This story was not subject to the approval of Major League Baseball or its clubs.