Holt past concussion, looking ahead to 2015
Symptoms gone for Red Sox's versatile, confident super-utility man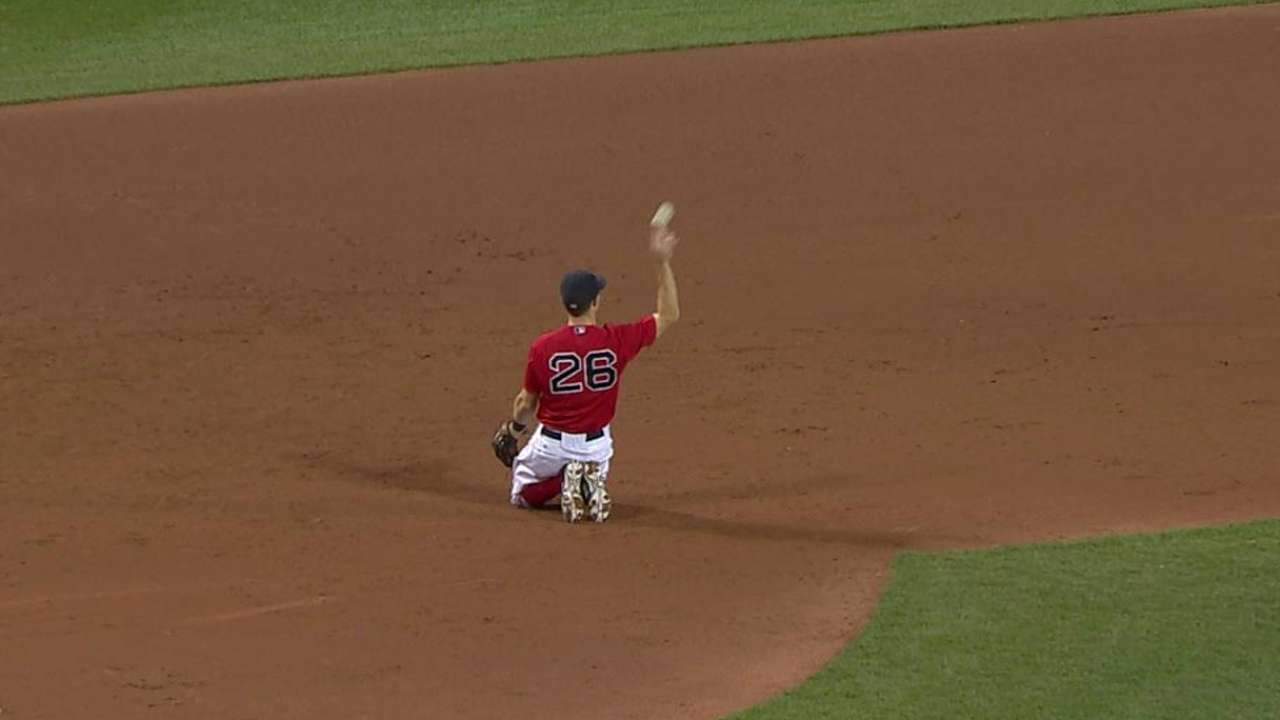 BOSTON -- A late-season concussion aside, one of the few bright spots for the Red Sox in 2014 was the play of Brock Holt, who came out of nowhere to contribute all over the diamond.
Holt's plan to make a cameo in the instructional league as reassurance that his concussion symptoms were clear didn't pan out for timing reasons. The good news is that Holt is now concussion-free, and he is going through his offseason as planned.
"Everything feels good," Holt said by phone from Texas. "I've been working out and I've had no issues. Everything feels good and I'm just trying to get ready to go. I didn't ever go to instructional league because I had to go see Dr. [Michael] Collins again one more time, and I wasn't scheduled to see him until after instructs was over. I never went down there and played."
Holt is already looking forward to playing again in Spring Training, however.
After not making the team out of camp last spring, Holt played in 106 games, batting .281 and stealing 12 bases, while racking up 449 at-bats. It was a satisfying summer for a player who had been on the cusp of staying in the Majors for a few years but kept winding up back in Triple-A.
"It gave me a lot of confidence," said Holt of his season. "I always felt like I had a pretty good amount of confidence in myself; I just kind of had to show other people what I was capable of doing. I was able to kind of get an opportunity this year to be on the field and play, and it was good.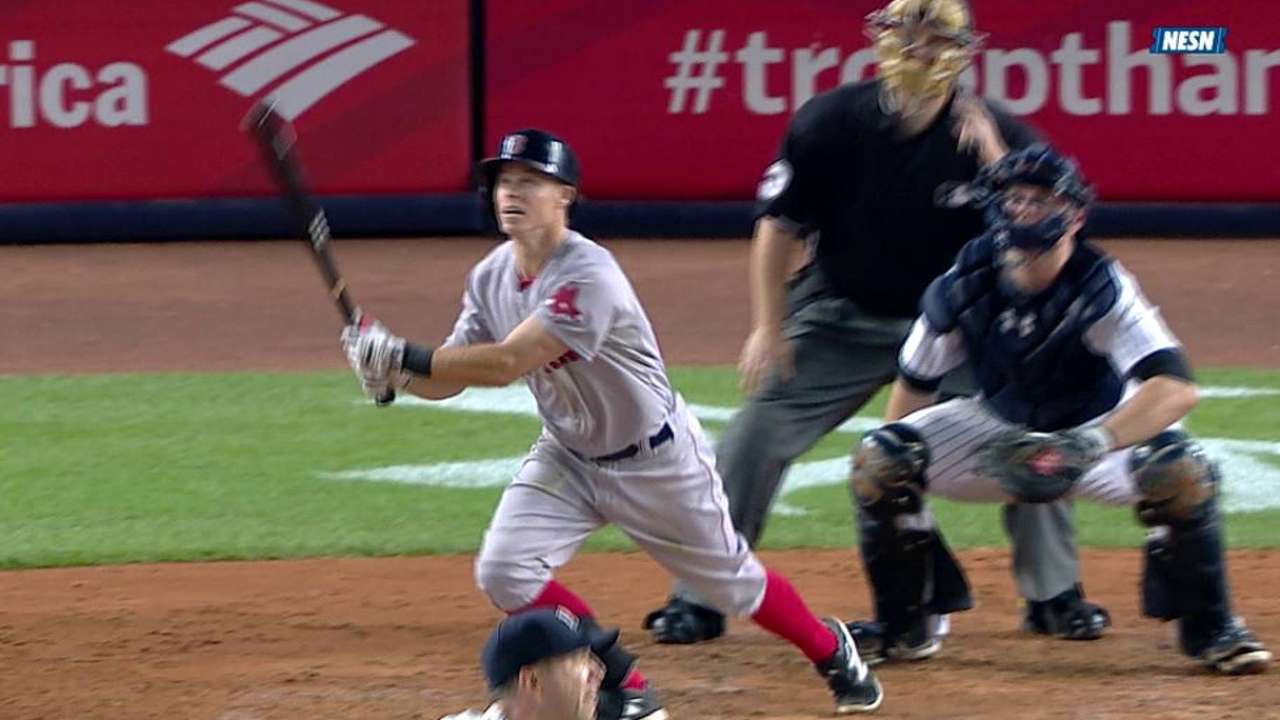 "The main thing was I stayed healthy and was able to play almost every day until the concussion. A lot of confidence just knowing that you can compete and play well, and that was the big thing for me this year, was to get that opportunity and kind of show what I'm capable of doing."
Holt actually sustained his concussion on Aug. 25 in Toronto, after a collision with teammate Dustin Pedroia. The only problem was that he didn't know he had one initially, and he played 10 more games before shutting it down for good following a Sept. 5 game at home against the Blue Jays. Holt's average went down 10 points while he unknowingly played concussed.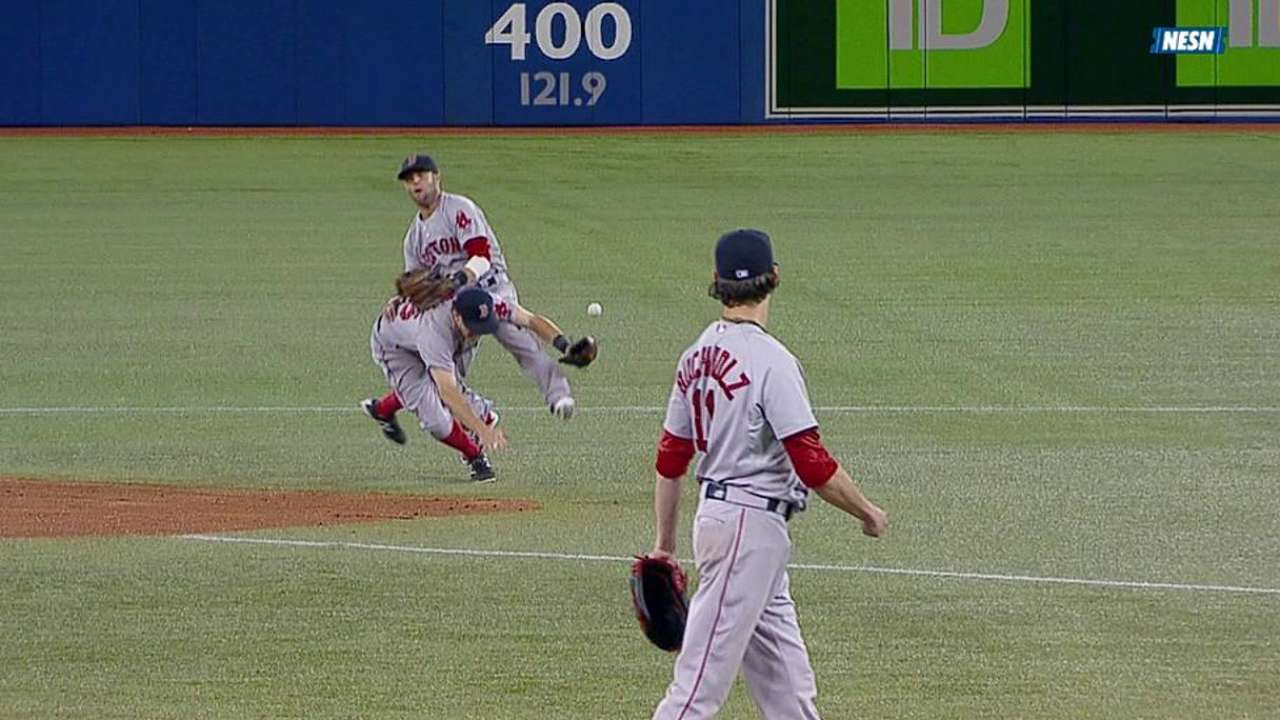 "It was different. I never really felt like that before," Holt said. "At the start, I didn't know that I had [a concussion], because I had never had one before so I didn't really know what to look for, or the signs. But after visiting with Dr. Collins the first time, he kind of told me how I probably should have felt.
"Looking back, that's how I did feel. But you just didn't know what to look for. The symptoms just continued to kind of build up on me there until I knew something was wrong. Fortunately, we went and saw him and got diagnosed and took it from there."
Once Holt got the clean bill of health, he settled into a satisfying offseason with his wife, Lakyn, one that included the couple purchasing a house for the first time in Holt's native Texas.
"We were in an apartment last offseason," said Holt. "It's a lot nicer to have your own place to put your stuff in and not worry about having to pack it all up and put it in storage whenever you leave."
One thing Holt should remember not to keep in storage? All his fielding gloves. While the Red Sox are still formulating their winter plans, there stands a decent chance Holt will once again wind up in a super-utility role, the one at which he performed so well in 2014.
The one position at which Holt would seem to have the best chance at starting regularly would be third base, but the Red Sox are currently in negotiations with free agent Pablo Sandoval.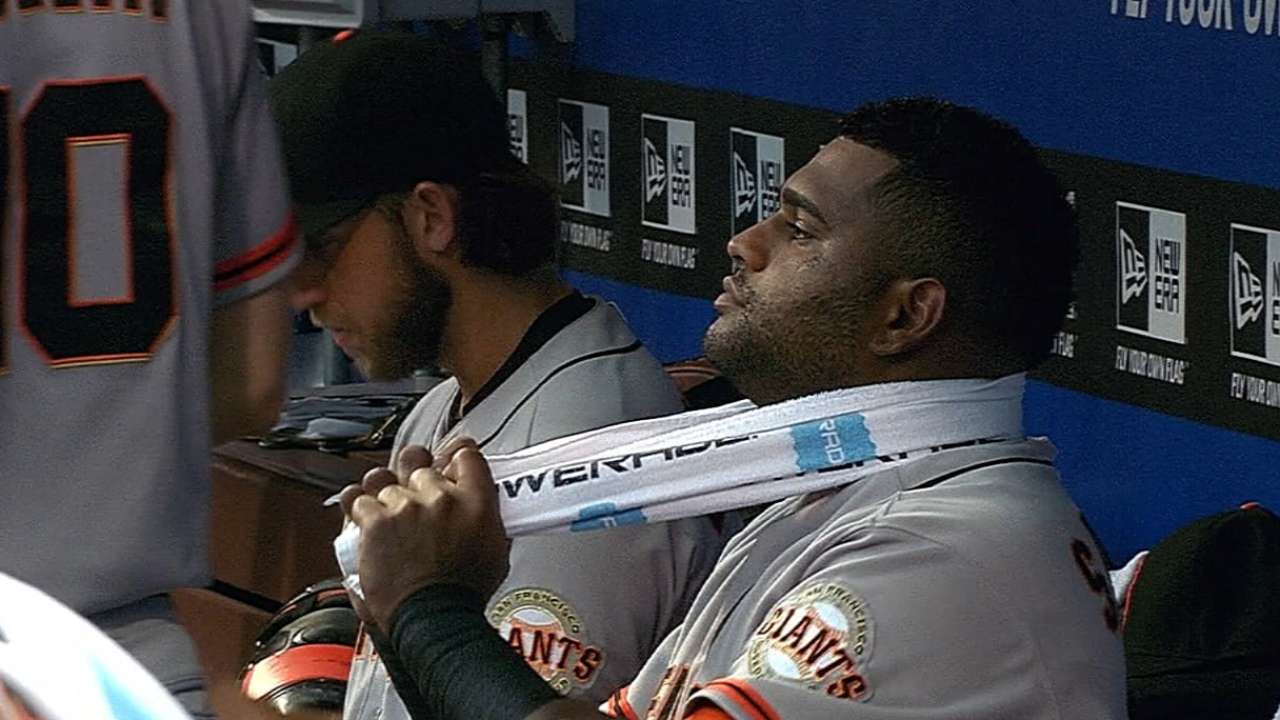 "We didn't really have any sit-down meetings to talk about that," Holt said. "My mindset is just to go into the year ready to go and whatever role I'm in, that's what I'll be happy to do. If it's playing third base, if it's moving around playing different positions like I did this past year, coming off the bench, whatever it may be, I'm going to be ready to do that.
"People were saying something like super-utility, or utility infielder, or this and that, but it's not up to me. I'm just going to go about my offseason like I normally would, and whatever they tell me coming into Spring Training or going into the season, I'm going to be happy to do it. I look forward to any role I might be in."
Aside from pitcher and catcher, Holt played every single position in 2014. He made 37 starts at third, 28 in right, 11 at shortstop, eight at first base and seven at second base, left field and center field.
One thing Holt will work on next season is maintaining his offense over the course of the summer. He hit .327 before the All-Star break in 2014, and .219 after it.
"I think you know more what to expect going forward," Holt said. "I'm not really changing anything in my workouts. I normally go into Spring Training in pretty good shape and feeling good about what I did in the offseason. I'm going to continue to do that and just get ready for this next year, and unfortunately I missed the last month.
"I still felt, though, what it's like to really play all the way through September and into a little bit of October. Playing every day and getting that experience was pretty big."
Ian Browne is a reporter for MLB.com. Read his blog, Brownie Points, and follow him on Twitter @IanMBrowne. This story was not subject to the approval of Major League Baseball or its clubs.