MLB.com Columnist
Richard Justice
Cherington off to fast start with plenty of options
Signing Hanley, Panda would be first moves of offseason overhaul for Boston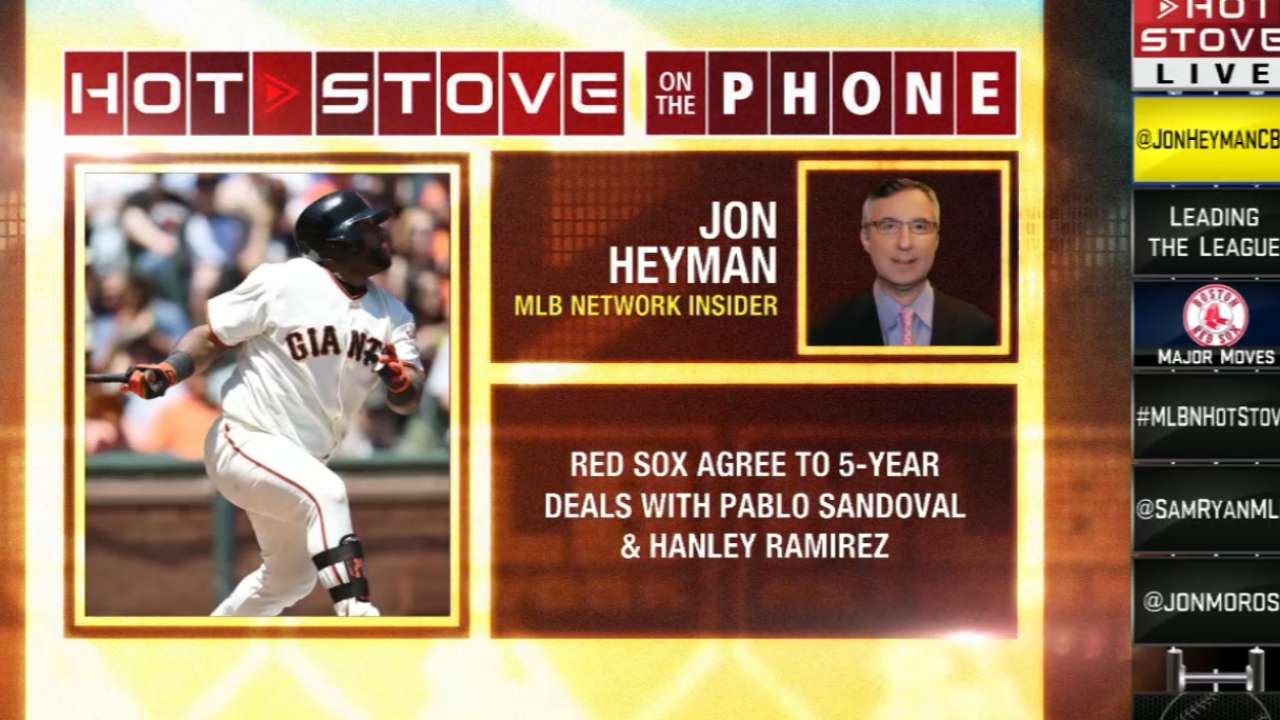 The Boston Red Sox are on the verge of changing an entire offseason storyline. Say hello to the 2015 American League East favorites. Simple, right?
It's not just that the Red Sox are going to sign both Hanley Ramirez and Pablo Sandoval, according to reports. The club has not confirmed the deals, which would combine to be a huge, significant step. And there's more to come.
General manager Ben Cherington is also determined to add two veteran starting pitchers, and now he has all kinds of flexibility to make that happen. When it does, he will have completed a stunning few weeks of work.
Could the Red Sox do another worst-to-first turnaround? Who would you like better in the AL East? There's a case to be made for the Blue Jays and Orioles. No problem there.
The Yankees still have some work to do to get into this conversation. The Rays have had so much turnover it could be awhile before we have a feel for things in St. Petersburg.
Get my point? The Red Sox are confident of having a healthy Dustin Pedroia back in the lineup. They've still got David Ortiz and Mike Napoli.
Depending on who stays and who goes, Boston could have an outfield of Yoenis Cespedes, Rusney Castillo and Shane Victorino.
Or Allen Craig could play right.
Brock Holt and Daniel Nava could be in the mix as well. When you add up all that outfield depth and consider the quality pitching help the Red Sox have in the Minors, it means Cherington could put together a nice trade offer for a starter.
Cole Hamels? Yes, he'd be perfect.
Hisashi Iwakuma? That's another interesting name.
Cherington also would like to sign a veteran starter in free agency, meaning that he's trying like crazy to lure Jon Lester back home.
To sum it up: The Red Sox are about to go a long way toward putting a 71-91 season in the rearview mirror.
Stay tuned.
Just as he did in 2012, when Cherington made wholesale changes during the season, he used a disappointing '14 season to begin planning for next year. He added Cespedes, Castillo and Craig to the lineup during the season and Joe Kelly to the rotation.
For a club that saw a significant lack of offensive depth in its system, Boston now has a completely different look.
Now about Ramirez, a 10-year veteran who'll turn 31 next month. At his best, he's still one of the top offensive players on the planet. There's your bottom line on him.
Ramirez has played 1,077 of 1,223 career games at short, but the Red Sox might also consider playing him in left field depending on whether shortstop Xander Bogaerts stays or goes.
Defense has never been the strongest part of Ramirez's game, which is putting it kindly. This is about offense.
Ramirez's .817 OPS, which was tied for 18th in the National League, would have ranked second on the 2014 Red Sox, behind only Ortiz's .873. His .369 on-base-percentage would have been second to Napoli's .370. Even in a season when the Dodgers didn't always seem thrilled with Ramirez's attitude, he produced.
Boston signed Ramirez 14 years ago, when he was a 16-year-old kid in the Dominican. He played two games for the Red Sox in 2005 before being traded to the Marlins in a package of players that brought Josh Beckett and Mike Lowell to Boston. Ortiz became one of Ramirez's mentors early on and could provide a steadying influence during the grind of a long season.
Strip everything else away, and Ramirez has become the player the Red Sox originally projected him to be. He's a former NL batting champ (2009) and a three-time All-Star. Ramirez has finished in the top 10 in NL MVP Award balloting three times.
The Red Sox were 29th in the Majors in OPS at third base last season, and Sandoval is coming off a season in which he had 26 doubles and 16 home runs and batted .366 in 17 postseason games. He was also the 2012 World Series Most Valuable Player Award winner.
Ramirez and Sandoval would not be the end of Cherington's work. Until he can shore up the rotation, he will not be satisfied with where his club is. But Cherington is off to a flying start.
Richard Justice is a columnist for MLB.com. Read his blog, Justice4U. This story was not subject to the approval of Major League Baseball or its clubs.