MLB.com Columnist
Phil Rogers
Don't blink, here come the Red Sox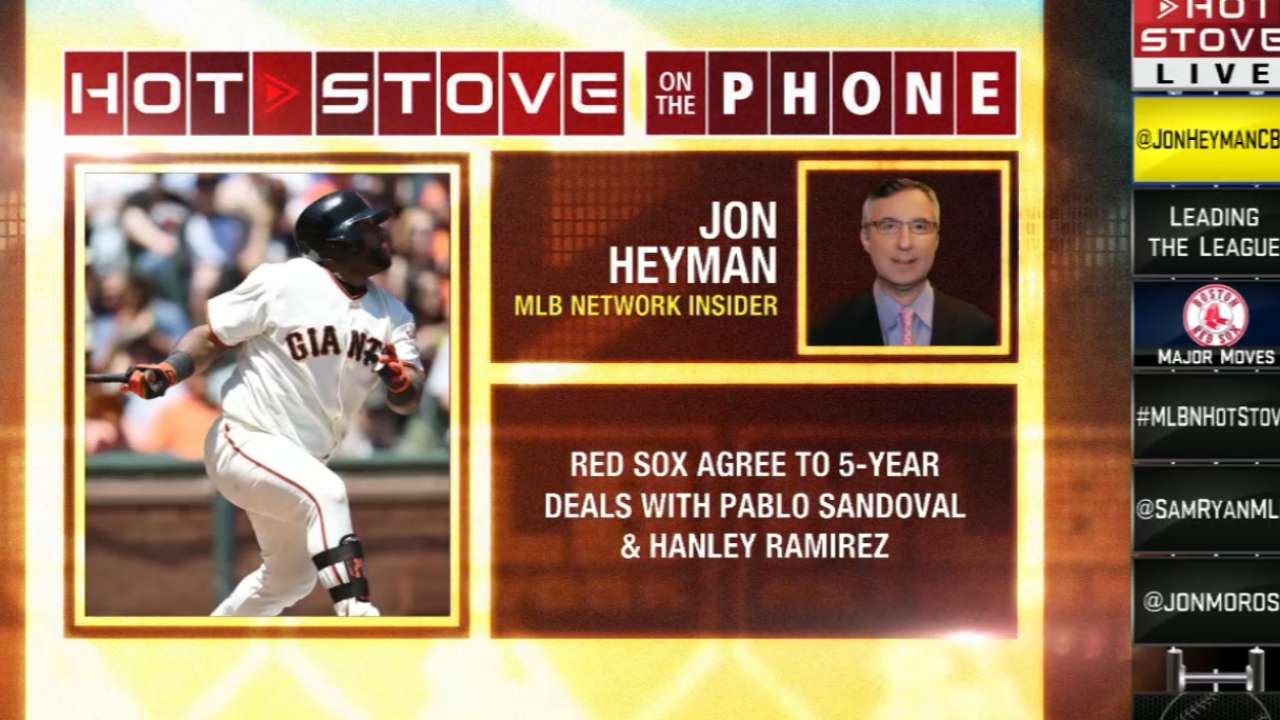 What an era this is for the Red Sox. Has any team undergone so many seismic shifts in such a short time that it's on the verge of signing Pablo Sandoval and Hanley Ramirez for a cool $200 million or so?
Go back to that 3-14 stretch at the end of the 2011 season, the one that led to Terry Francona's departure and Theo Epstein being allowed to leave for a new opportunity in Chicago. From then until now, Boston has gone in more directions than a teenager in a mall.
The Red Sox have invested a season in Bobby Valentine. They've gone young and sensible, unloading more than $260 million in talent in a mega-deal with the Dodgers. They've pledged allegiance to a generation of young prospects headed by Xander Bogaerts, Will Middlebrooks, Jackie Bradley Jr., Brock Holt, Mookie Betts and Christian Vazquez. They've imported short-term options like Mike Napoli, Shane Victorino and Jonny Gomes. They've addressed the need for proven outfielders by trading Jon Lester and John Lackey for Yoenis Cespedes and Allen Craig, and jumped into the Cuban market with a $72.5 million investment in Rusney Castillo.
And now it seems they've once again decided to make like George Steinbrenner's Yankees, bringing in Sandoval and Ramirez even though they're heading toward the back stretches of their careers and will block the younger players.
It has been an absolutely wild stretch of 38 months, one in which the Red Sox have endured their two worst seasons since the early 1960s. But under the leadership of general manager Ben Cherington and team president Larry Lucchino, they've also won their third championship since 2004, and the way this topsy turvy baseball world works, they may now have put themselves a couple of pitching moves away from being preseason favorites to go from last to first in the American League East in 2015.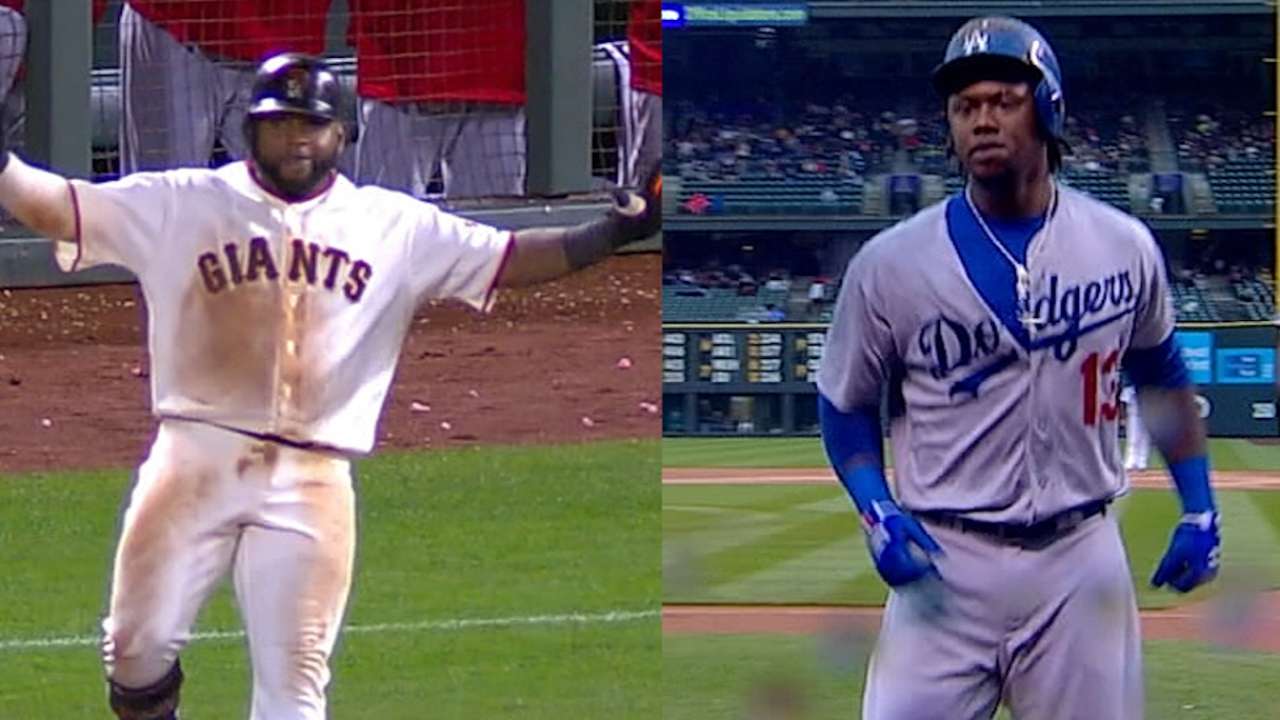 Also, think of this: As quickly as players are coming and going, jersey sales must be off the charts.
Here's something else to chew on: With Sandoval bringing his three World Series rings with him from San Francisco to play alongside David Ortiz, Boston would have two of the greatest October players in the same lineup. Now all the Red Sox need to do is: A) complete the deals; and B) win 90-plus games next year after going 71-91 last season -- a finish low enough that their first-round Draft pick next June is protected. But they would lose second- and third-round picks if they sign both Ramirez and Sandoval.
Ortiz has hit three homers, driven in 14 runs and put together a slash line of .455/.576/.795 in 14 World Series games. Sandoval has played 12 Series games, including his three-homer spectacular against Justin Verlander and the Tigers in Game 1 of 2012, and has a slash line of .426/.460/.702.
The Red Sox's pursuit of Sandoval has been one of the top storylines of the Hot Stove season, and they had also been mentioned as a possible suitor for Ramirez. But until last weekend, Sandoval and Ramirez hadn't been linked in the same rumor, for good reason. Based on the belief it was time for Ramirez to move from short, both of them seemed to be third basemen. But Ramirez is being signed to play left field for Boston.
Maybe the chance to play there will keep him healthy. Both Ramirez and Sandoval have had trouble staying on the field.
Sandoval, who could succeed Ortiz as the Red Sox's DH if Big Papi hangs it up, played 157 games last season, but that only raised his average to 131 over the last four years. Ramirez, who played 157 in 2012, has averaged 116 games in that same time period.
It's a good thing Boston has plenty of depth. Sandoval will become the fifth third baseman on the roster, joining Holt (who will probably be a Joe Maddon-style super utility man), Middlebrooks, the recently waiver-claimed Juan Francisco and prospect Garin Cecchini. The outfield crowd features Cespedes, Craig, Victorino, Betts (another super-utility candidate), Bradley and Daniel Nava, in addition to Ramirez.
One other thing the Red Sox have: two holes at the front of the rotation, where Lester and Lackey once resided.
Cherington would love to re-sign Lester and has the financial flexibility to chase the other top free-agent pitchers, Max Scherzer and James Shields. But it seems more likely that Boston will put together a monster trade package -- or packages -- to go get starting pitchers in trades. The Red Sox could put together mixes of proven players and prospects to try to get Cole Hamels or one of the Reds' prospective free agents -- Johnny Cueto, Mat Latos, Mike Leake or Alfredo Simon.
Given that these are guys who do little on a small scale, maybe they can cobble together a package of players attractive enough to make the White Sox think about dealing Chris Sale or the Padres to deal their young gun, Andrew Cashner.
If you're following the Red Sox, don't blink. You'll miss a lot.
Phil Rogers is a columnist for MLB.com. This story was not subject to the approval of Major League Baseball or its clubs.