MLB.com Columnist
Mike Bauman
Panda reaping benefits of win-win situation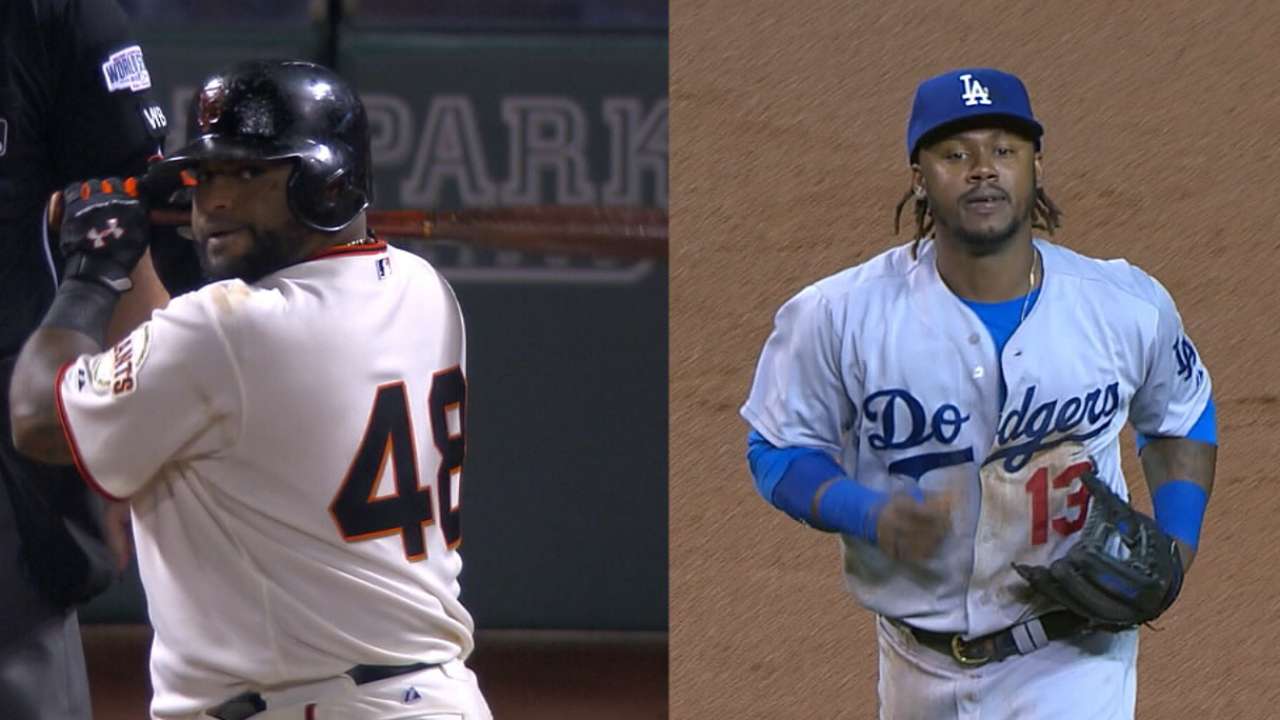 This is a very good time to be Pablo Sandoval. Free-market economics are working out extremely well for him.
The free-agent third baseman had three legitimate, lucrative offers for his services; offers from highly motivated potential employers. Sandoval chose the one from the Boston Red Sox, reportedly five years for close to $100 million.
This offer was in the neighborhood of the lofty amount that his agent was seeking. The clubs involved want Sandoval as their third baseman for the foreseeable future, and they were willing to dig deep for that privilege.
The three clubs known to have made offers to Sandoval are his former employers, the San Francisco Giants; the Red Sox, frequent participants in free-agent derbies; and the San Diego Padres, relative newcomers to this neighborhood.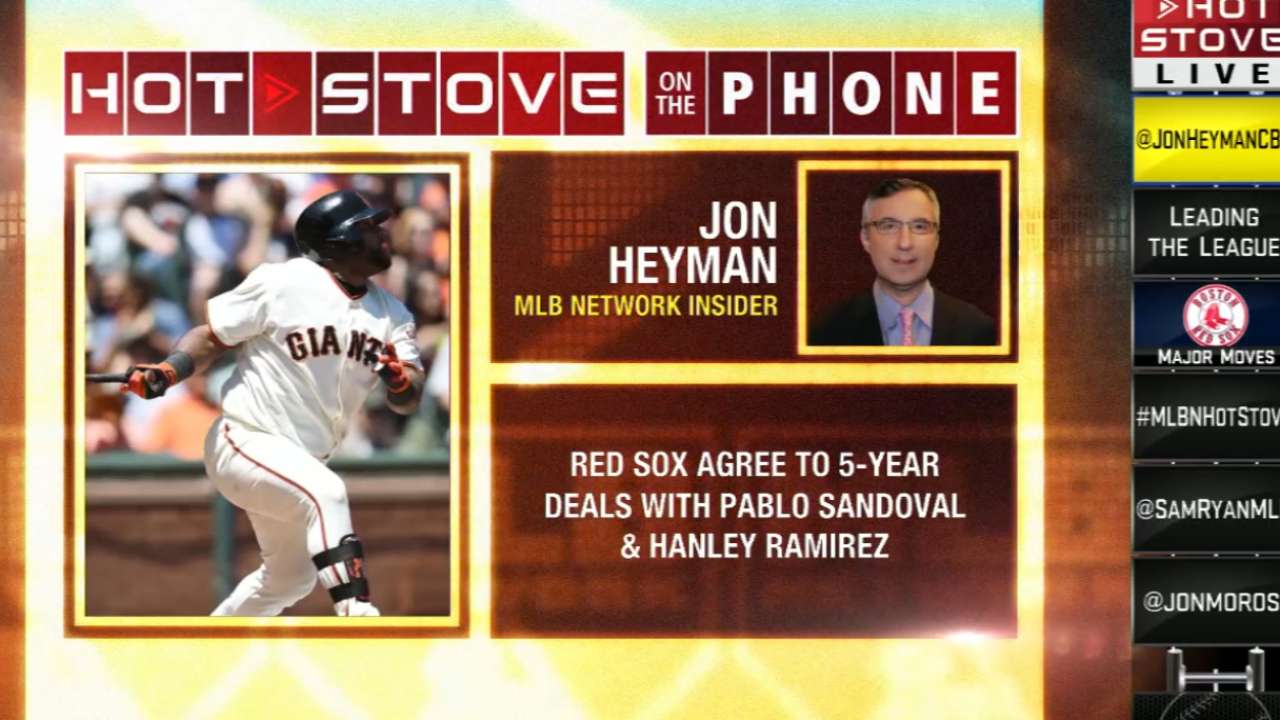 The Giants wanted to retain Sandoval, and why not? He's been at his best when the games matter most. The Giants have won three World Series in the last five seasons. Sandoval's World Series slash line is .426/.460/.702.
The connection between individual and collective success is fairly obvious here. And it is always good for a player's status on the open market when his previous employers want to retain his services.
The Red Sox are back in the free-agent business in what appears to be a large and sincere way. It was also reported Monday that Boston had signed infielder Hanley Ramirez for $88 million over four years, with a vesting option for a fifth year.
The Red Sox are also aggressively pursuing one of their former stars, Jon Lester, the leading left-handed starting pitcher in the current free-agent class. They have reportedly made an offer to Lester of $110 million to $120 million over six years.
The Padres made an offer to Sandoval that a Major League source told MLB.com was "very competitive." With a new baseball administration in place, executive vice president and general manager A.J. Preller is looking to take major steps to fix an offense that was last in the Majors in runs scored in 2014. The Padres are also reported to be serious bidders for free-agent Cuban slugger Yasmany Tomas.
Sandoval's agent, Gustavo Vazquez, had earlier stated that he thought his client should get a six-year contract since he was only 28. This deal comes close in that regard, with an average annual value of nearly $20 million.
Sandoval's marketability was never in question, particularly during a time when middle-of-the-order hitters are becoming harder to find. Sandoval does not have the classic power numbers that teams generally covet in a corner infielder, but he has been a productive hitter for a very successful team.
What else beyond big bucks could drive this decision? Sandoval was in the enviable position of having three very viable alternatives in place. He had already expressed a desire to remain with the Giants. Sandoval liked them. They liked him. They have enjoyed collective success, and Sandoval has played a major part in that success.
On the other hand, if Sandoval is looking at this as a choice of a lifetime -- primarily as a hitter -- then hands down, it's the Red Sox and Fenway Park. It's a hitter's paradise compared to the parks in San Francisco and San Diego. Sandoval can inside-out the ball. The Green Monster in left might be highly convenient for him. And there is always the option of being a designated hitter, at least on occasion, at some later date in his career.
San Diego offered some distinct lifestyle advantages, including a climate that the rest of North America can envy but not duplicate. Petco Park is not a hitter's park, but it's still a terrific baseball home. And a newcomer free agent could be on the ground floor of a Padres revival, thus making him an even more legendary character.
In this discussion, you didn't get much of an undercurrent regarding Sandoval's weight. People were much more likely to note how remarkably agile he was for a man of his bulk. And he is. But as a sought-after individual, with at least three clubs doing their level best to recruit him and bestow millions on him, there isn't a lot of gnashing of teeth about Sandoval's body type now.
The Red Sox won this derby, fixing their third-base problem for the foreseeable future, making the first major move in regaining contender status in one offseason. Sandoval is also a winner. His previous work had, in fact, placed him in a position where he could not lose.
Mike Bauman is a national columnist for MLB.com. This story was not subject to the approval of Major League Baseball or its clubs.