Hanley's journey brings him back to Boston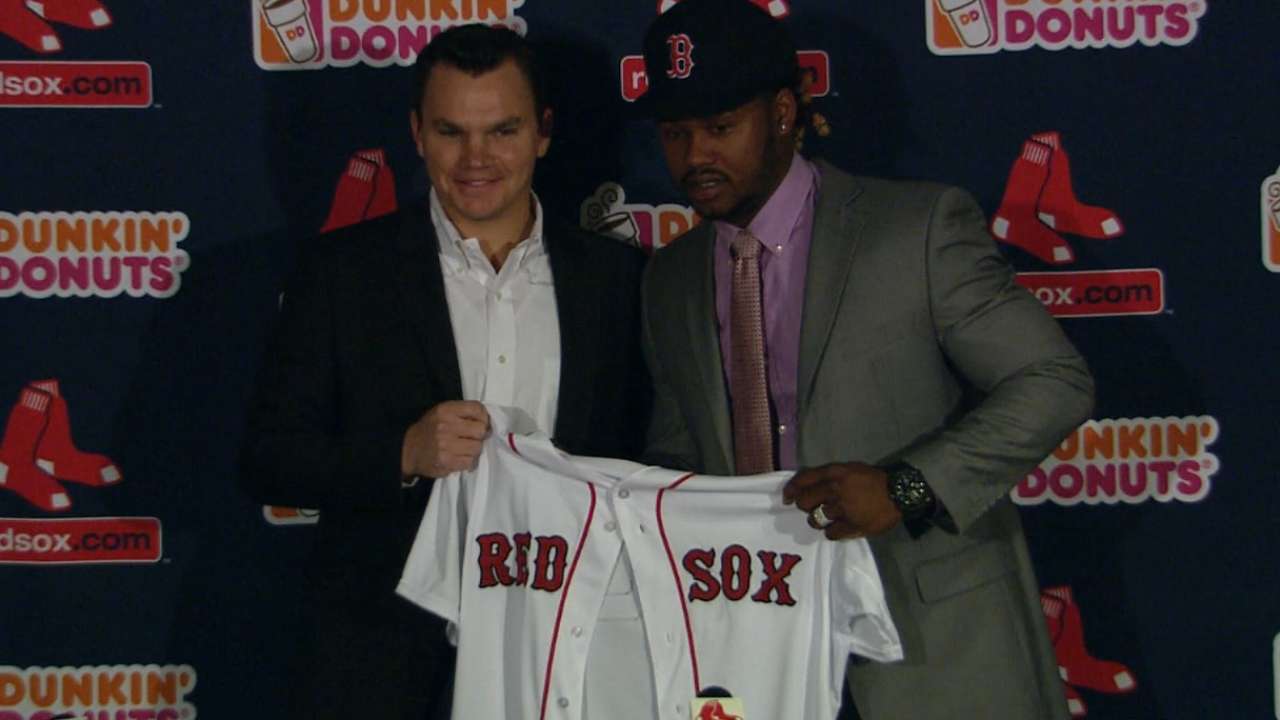 BOSTON -- Nine years and one day after his heart was broken by the Boston Red Sox, Hanley Ramirez was ecstatic on Tuesday as he officially returned to his original franchise.
Though Ramirez would emerge as a star after the Red Sox traded him to the Marlins for Mike Lowell and Josh Beckett on Nov. 24, 2005, it always pained him to follow his former team from afar.
Ramirez was 16 when Boston signed him as an amateur out of the Dominican Republic. Now he is one month shy of 31 and excited to move to left field, a position he's never played professionally.
The Red Sox signed Ramirez to a four-year, $88 million contract that includes a vesting option for a fifth year that could bring the total value to $110 million. It was part of a stunning two-signing sequence that saw Boston unveil Pablo Sandoval (five-year, $95 million pact) earlier in the day.
• Customize a Sox Hanley jersey
While Ramirez spoke to the media in a function room at Fenway Park, the jumbotron in center field posted a photo of him with the inscription "The Red Sox Welcome Back Hanley Ramirez."
"It's been a while," said Ramirez. "I remember '05 when I got traded, I was really upset. It worked out for both of us. [The Red Sox] won a couple of world championships. I haven't won any, but that's what we're here for."
Moving from shortstop was an easy sacrifice for Ramirez to make if it meant being able to reunite with the Red Sox.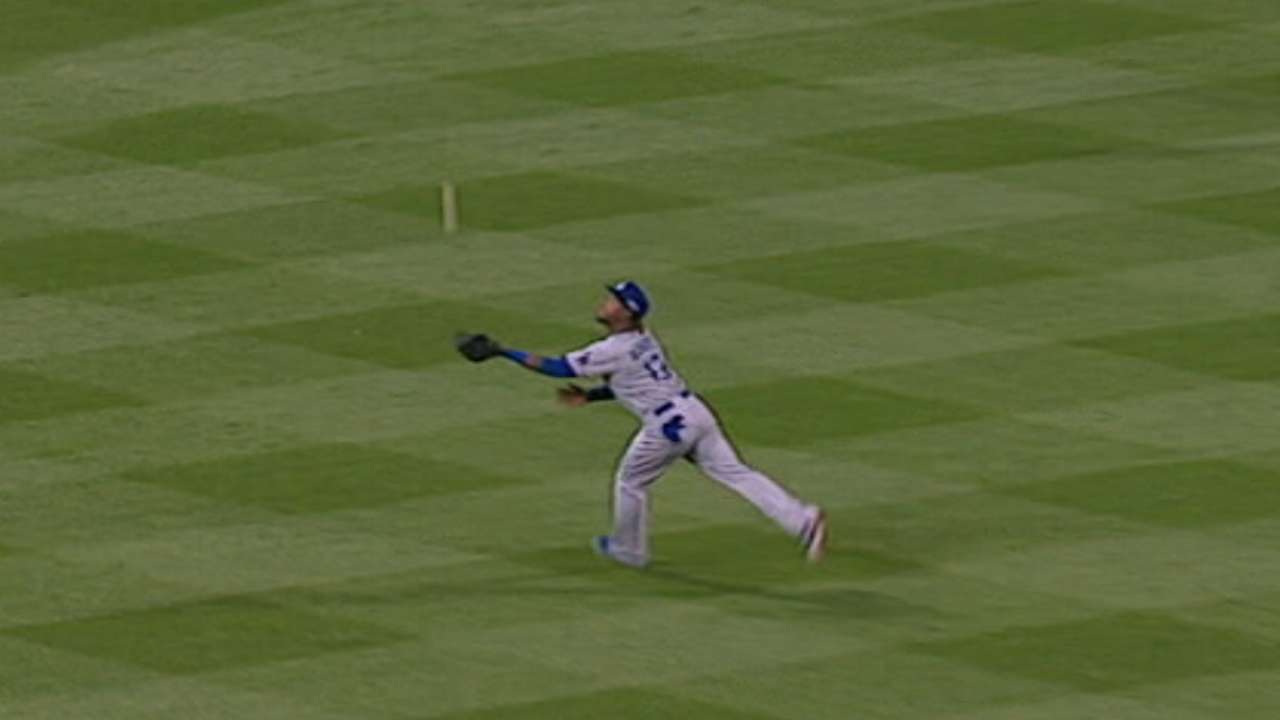 "Sometimes you've got to look into the mirror and see what you can do to help a team to win," he said. "I spoke with my people, and they told me, 'You can play anywhere. God gave you the talent that you can play anywhere.' At the beginning I was like, 'OK', but after they left, I sat down and thought about it, and I said, 'Yeah, I just want to win.'"
Dustin Pedroia and David Ortiz are the only players still with the Red Sox from Ramirez's first go-around.
"I've got this guy calling me today, I don't know if you know him, his name is Dustin Pedroia," said Ramirez. "He's calling me, and he was all over me. He just said, 'Congratulations. Get everything together. I've got two rings. You don't have any. I want some more.' Those little things, that pumps you up, and you try to be better every day."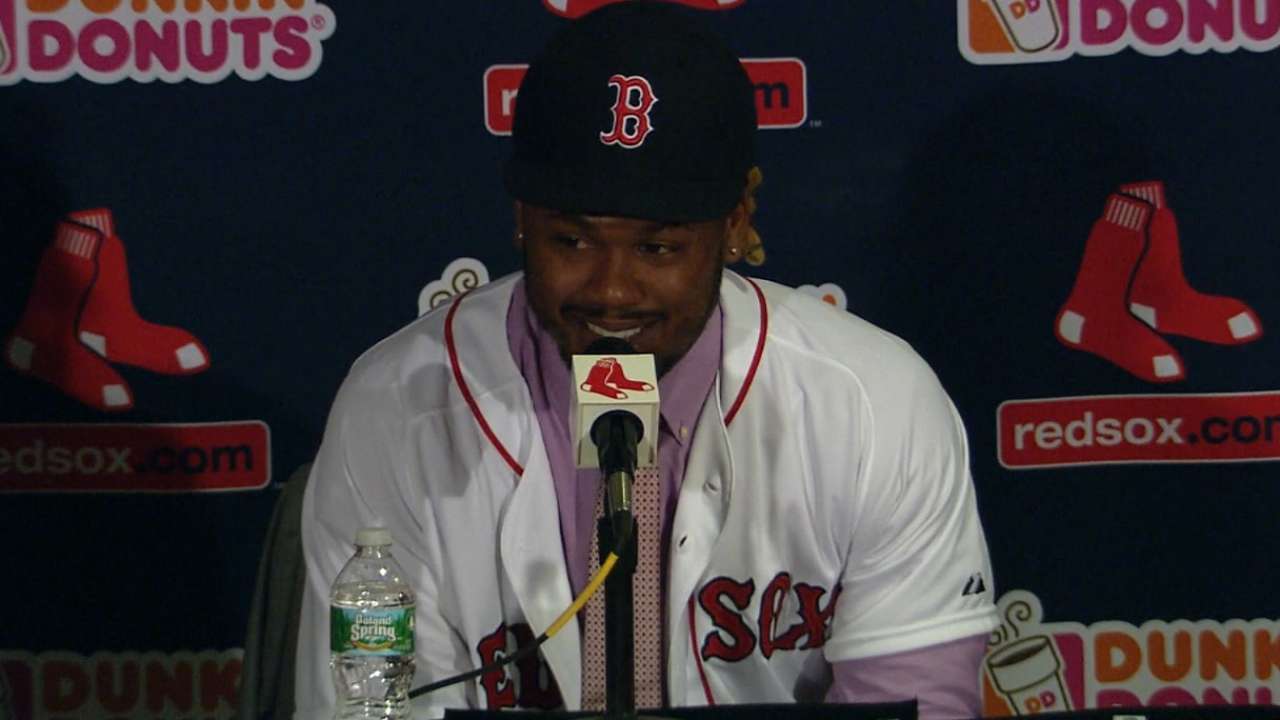 Ramirez didn't try to hold back the nostalgia he was feeling.
"This is home for me," said Ramirez, who played his first two Major League games with the Red Sox at the end of the 2005 season before being traded.
"I'm really happy to be back in Boston, and hopefully, I can finish my career here."
The move was also a trip down memory lane for general manager Ben Cherington, who was Boston's farm director for most of the time Ramirez was in the system.
"This is an opportunity for us to, first of all, bring back someone we know very well, who we traded -- and at the time it was a very difficult trade to make, though it seemed to work out for everyone," Cherington said. "But the opportunity to bring Hanley back to Boston is something that's really been in the back of our minds for a long time, and this was the opportunity to do that.
"It's just not often we have a chance to not just bring back someone we know very well, but acquire someone that is truly an elite offensive talent and one of the few elite offensive talents in the game. So we're excited to have him back."
Ramirez, who spent the last two-plus years with the Dodgers, is a career .300/.373/.500 hitter and certainly was one of the top offensive players on the free-agent market. The 30-year-old three-time All-Star battled injuries last season but still hit .283/.369/.448 with 13 home runs and 71 RBIs in 128 games.
According to Cherington, Ramirez -- through agent Adam Katz -- approached the Red Sox about a potential reunion early in the offseason. The signing would not have happened if Ramirez didn't express the initiative of a position switch that would make him a good fit.
"I first saw him when he was 17, and not to be critical, but he wasn't a very good shortstop when he signed, and he became a good shortstop because he's such a good athlete and he worked hard at it and he made himself into a Major League shortstop," Cherington said. "He's just a great athlete with great instincts. He's a baseball player. It'll take some time. Nobody is expecting him to be perfect on Day 1, but he'll work at it."
After watching two major news conferences in one day, owner John Henry applauded the work of his GM and looks forward to what the rest of the winter will bring.
"I haven't been to a double press conference," said Henry. "Have we had one? Tremendous work by Ben to get this far this early in the offseason. It really sets up the rest of our offseason. So you really have to hand it to him to make two deals this early in the offseason. Now we can concentrate on pitching, because we're so deep offensively and defensively. I think we're in good shape at this point."
Ian Browne is a reporter for MLB.com. Read his blog, Brownie Points, and follow him on Twitter @IanMBrowne. This story was not subject to the approval of Major League Baseball or its clubs.