'Three Amigos' ready to take Boston by storm
Sandoval, Ramirez thrilled to join Ortiz on roster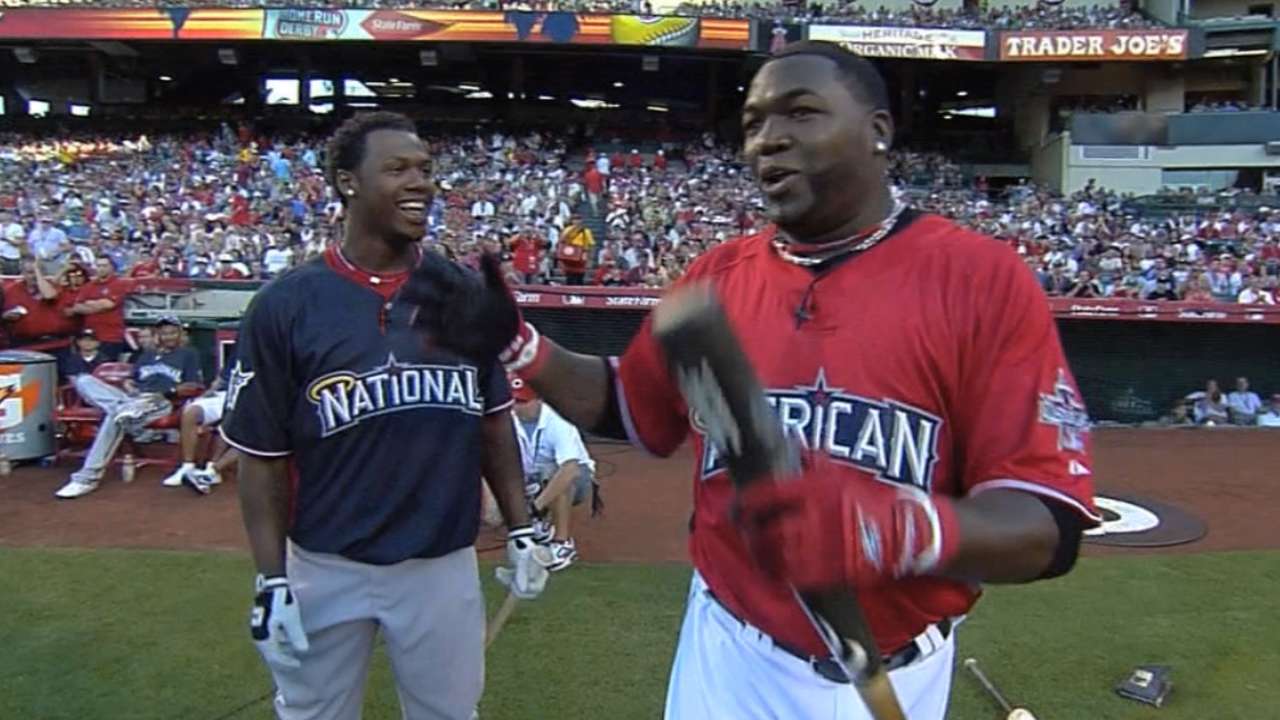 BOSTON -- Although Pablo Sandoval is just beginning to get a taste of his new home, Boston's new third baseman is having no trouble adjusting to his new teammates, especially Hanley Ramirez and David Ortiz.
"It is exciting for me to be out there with Hanley and David," Sandoval said during his introductory news conference on Tuesday at Fenway Park. "Right now, everyone is calling us the 'Three Amigos.' It's an exciting time to be a part of this lineup and organization."
Sandoval and Ramirez became fast friends while competing against each other for three seasons in the National League West, facing off in the Giants-Dodgers rivalry.
"We have a good relationship," Sandoval said of Ramirez. "We had dinner last night and were talking about all the good moments we had in the West and the rivalry. Now being on the same team is going to be fun. He's such a great guy, is funny and loves his teammates."
Although Sandoval has spent less time with Ortiz, they've still had their fair share of memorable encounters, including a 2008 meeting just before Sandoval's Major League debut.
• Customize Sandoval and Ramirez jerseys
As a 21-year-old with the Double-A Connecticut Defenders, Sandoval connected with Ortiz, who was with Double-A Portland rehabbing an injured left wrist.
"He gave me advice in '08 when I was in Double-A playing against him," Sandoval said. "He gave me advice that I always carried with me. I don't forget those things."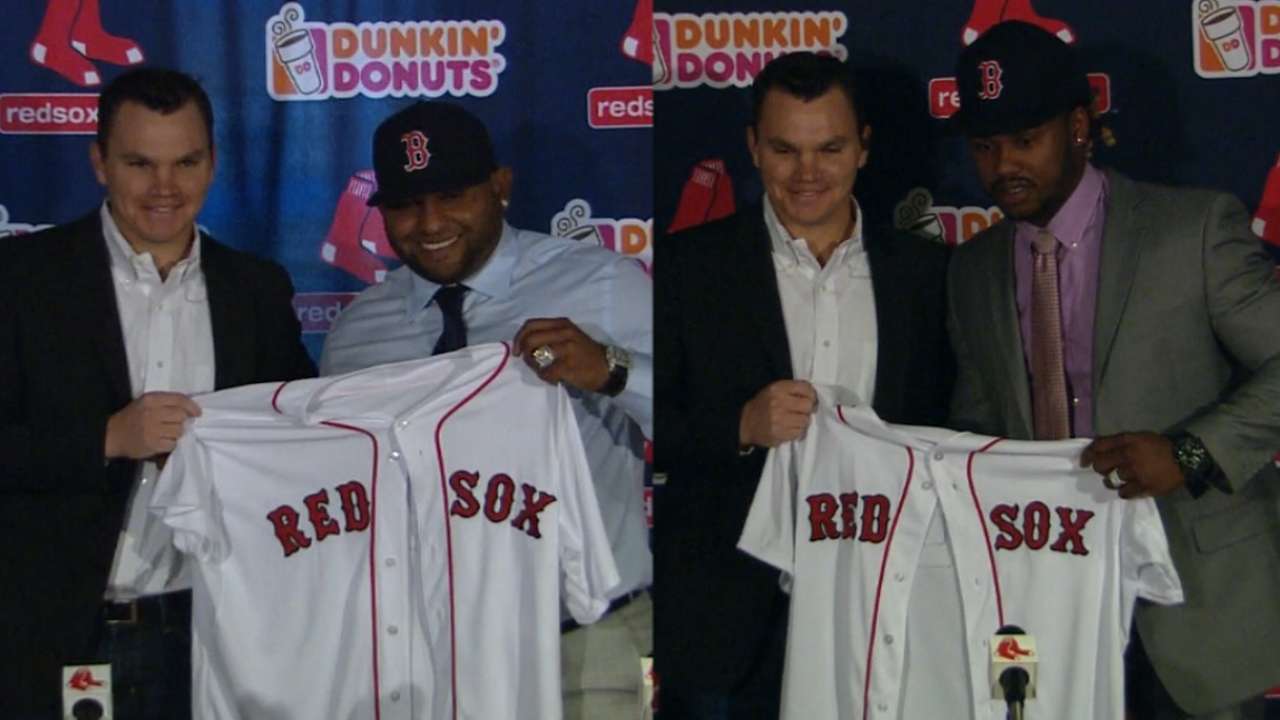 Having begun his career with the Red Sox before being traded to the Marlins in 2005, Ramirez has always maintained a strong relationship with Ortiz.
The two speak nearly every day, with Ortiz giving Ramirez tips on becoming a better player.
"He is like my big brother," said Ramirez during Tuesday's media session. "He is part of my success in the Majors."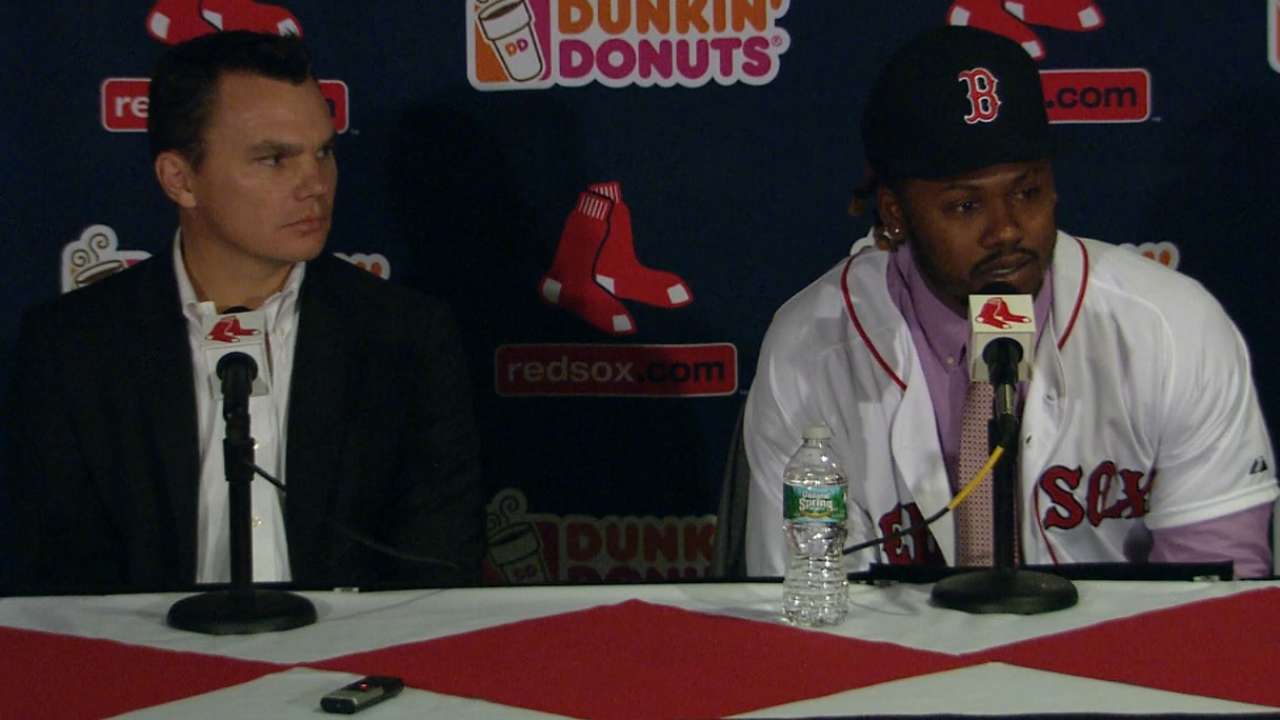 The chance to play with Ortiz factored into both players' decision to come to Boston.
"To be David's teammate -- 162 games, all that with him -- for me, it's going to be a very exciting time," said Sandoval.
"Everyone knows he has a big heart and what kind of player and person he is," Ramirez said. "I haven't talked to him yet, but I can't wait to be on the field with him. It is going to be great."
All three have playful personalities, not to mention a few interesting nicknames. Fans know "Big Papi" well, but they can now get ready for "Kung Fu Panda" and even a few "I See You" gestures from Ramirez.
Adding Sandoval and Ramirez puts some much-needed pop back in the Red Sox lineup and gives Ortiz protection in the three-hole.
"We are just going to try to make it easy for each other and not do too much. When you have a team like this, it takes a little bit of pressure off each other," Ramirez said. "You have guys that can pick you up. That's what this game is all about."
Quinn Roberts is a reporter for MLB.com. This story was not subject to the approval of Major League Baseball or its clubs.