Red Sox willing to dramatically expand payroll for '15
Henry says flexibility allows club to go beyond tax threshold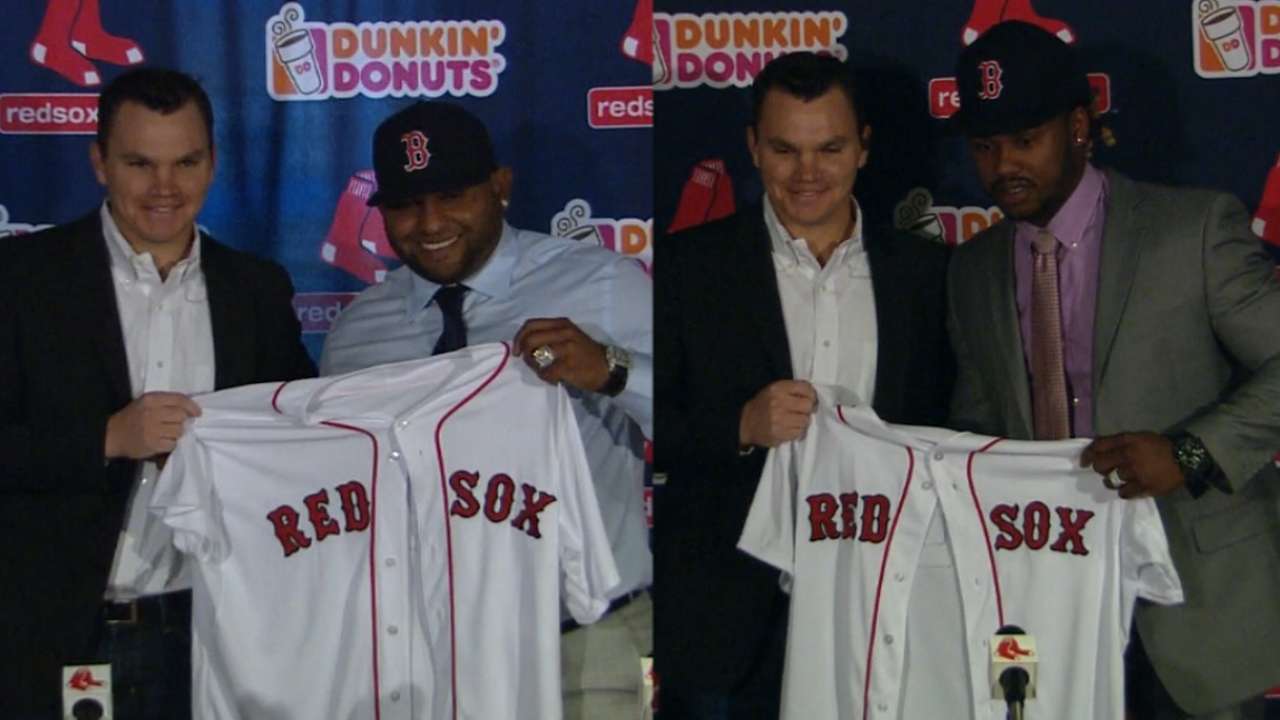 BOSTON -- Fresh off investing over $180 million in two hitters, the Red Sox are hardly done reconstructing their roster. There is pitching to go get, and owner John Henry made it clear that he isn't going to hold back the front office when it comes to investing properly in the starting rotation.
In fact, Henry mentioned that the Sox would be open to going over the $189 million luxury tax threshold for the first time since 2011, something that would likely be necessary if Jon Lester is going to return to Boston as a free agent.
Henry and other members of the Red Sox recently met with Lester in Atlanta to express their interest in bringing him back. Lester is still going through the process, already having met with several teams, and still scheduled to meet with more.
• Customize a Sandoval or Ramirez jersey
Is Henry optimistic the Sox can bring the power lefty back?
"I am," Henry said. "I'm hopeful."
Though Henry doesn't want to make it a practice of going over the luxury tax, he thinks this winter might be a time when it makes sense.
"The way it's structured, we can blow through one year," said Henry. "Again, for next year, we have tremendous flexibility, so we could go through for one year and have it not overly affect us."
The first offer the Red Sox made to Lester was reportedly for six years at $110-120 million. A report surfaced on Tuesday that the Cubs have made Lester an offer "north" of $135 million.
There are many ways the Red Sox can attack the pitching market, be it trades or free agency. But until Lester signs somewhere else, all eyes will be on whether he comes back to Boston just months after he was dealt to Oakland for Yoenis Cespedes.
"There's never been a problem between Jon and the organization either way," said Henry. "He's been a huge part of what we've accomplished here and I think when we went to see him, a large part of our presentation was finishing that legacy. We're hopeful he can do that."
Red Sox general manager Ben Cherington will continue to keep tabs on Lester, knowing there are no guarantees.
"As you guys know, we're interested," Cherington said. "We have great respect for him. He's in free agency. He's got an opportunity to hear what other teams have to say, too. And he's going through that process. We're respectful of that process and hope to continue to be involved in that process. That's really all I can say."
Ian Browne is a reporter for MLB.com. Read his blog, Brownie Points, and follow him on Twitter @IanMBrowne. This story was not subject to the approval of Major League Baseball or its clubs.