Dombrowski impressed with club's work ethic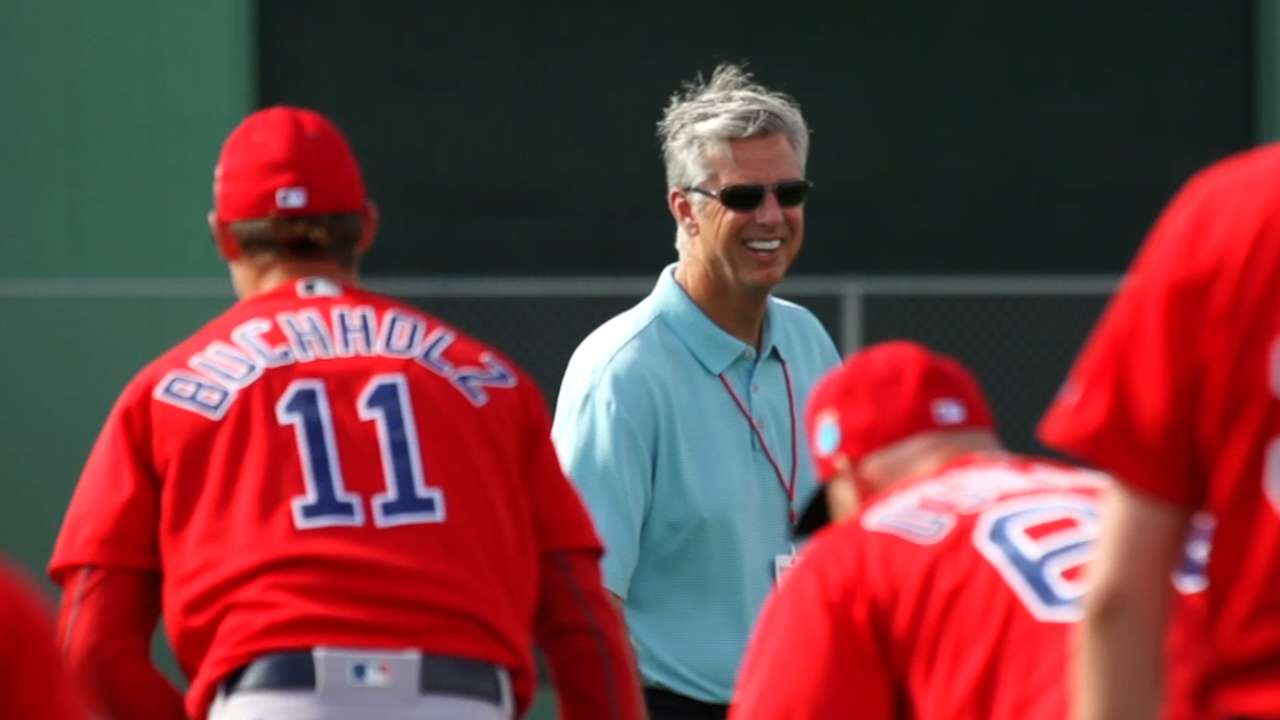 FORT MYERS, Fla. -- Red Sox president of baseball operations Dave Dombrowski met with reporters for the first time since the start of Spring Training on Friday, and he shared his views on a variety of topics.
Overall impressions of camp:
"It's well-run, organized, the players are very into it and the energy level's good," said Dombrowski. "At this point, if it wasn't that way, I'd be surprised. But early in the spring, that's what you anticipate, and they're very much into it. I'm very impressed with the way John [Farrell] has run his camp and the attention to detail."
• Spring: Tickets | Ballpark | 40-man roster | NRIs
On analytics vs. scouting:
"[Red Sox ownership] wanted to make sure that I was at least open-minded to analytics," said Dombrowski. "I said I've used it throughout my career, I believe in it and it can be very helpful. I also talked about how important scouting was … how I would like to shape scouting. And basically what they told me, 'That's great. You do whatever you need in the scouting end of it, hire as many people as you want and proceed that way.'"
• Hanley showing improved footwork
On Pablo Sandoval:
"I think he's worked hard," said Dombrowski. "I've watched him out there. … I think he's moving along well, he's swinging the bat fine, he's committed. I know he worked hard in the wintertime."
On Rusney Castillo:
"He still is not an established Major League player," said Dombrowski. "He has to go out and show that he can earn the job, and the way you go out and do it is to play, day in and day out. Do we think he can do it? Yes, but he still has to perform and show us that he can."
On Christian Vazquez's recovery:
"You can put a plan together but I think it has to be adjustable," said Dombrowski . "You have to work with the individual, and that's why we haven't set any timetable on his comeback. He feels great, but it's up to us to make sure we're not pushing him too quickly. We can't let him dictate how we feel."
On Blake Swihart:
"I like him a lot," said Dombrowski. "He has a chance to be a really good player. He showed a lot in the second half of last year. I think Blake Swihart has the chance to be a foundation-type player."
On Farrell:
"I've been able to develop a good rapport with John," said Dombrowski. "I like him. He's done a very fine job, he's very knowledgeable, he knows the game and players respect him. There's really nothing that I've talked to John about that he's not on top of. Hopefully I can help him with some things as we go along, and vice versa."
On Mookie Betts:
"He's outstanding," said Dombrowski. "I'm very impressed with him. … The ability on the field speaks for itself, and I think he's only going to get better and better. Mookie is driven to be excellent and the best, and with the talent he has, having that mindset is a great asset. He's willing to step up at a young age and take charge."
On David Ortiz and Dustin Pedroia:
"Those two guys have been here a long time and they've been World [Series] champions here," Dombrowski said. "We're very fortunate. You look for guys, you hope for guys to be like that, and neither one of them are afraid to be leaders and take charge and do it in a fashion where they can push you and they can also put their arm around you. I'm very impressed with those guys."
Michael Kolligian is a contributor to MLB. com. This story was not subject to the approval of Major League Baseball or its clubs.