Price dialed in during simulated game
Ace's intensity reaches midseason level during session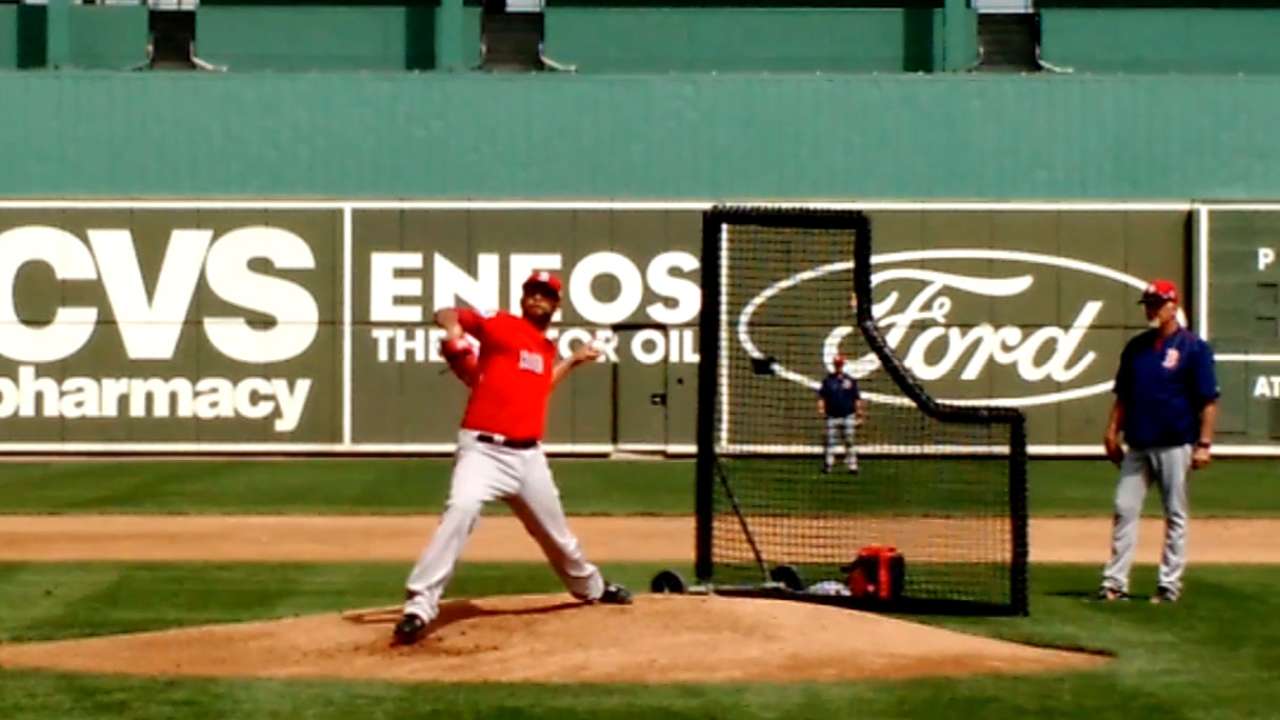 FORT MYERS, Fla. -- As the Red Sox sent $217-million ace David Price to the mound for the first time in a game situation late Saturday morning, there were no fielders at the lefty's back and no spectators in the JetBlue Park stands.
There will be plenty of chances in the months and years ahead for Red Sox Nation to watch how Price performs in front of a packed house with the game on the line.
• Spring Training: Schedule | Tickets | Complete info
What Saturday's simulated game provided was a glimpse at Price's focus and precision at such an early stage of Spring Training.
"Wow," said Red Sox catcher Christian Vazquez. "He was good. On the glove side, he was painting that corner and throwing that two-seamer cutter."
It was an indication of how diligently Price has worked in his side sessions to get ready for the start of games.
"Yeah, I definitely have a lot of passion for what I do. I definitely love what I do," said Price. "Every time I step out there on that mound -- whether it's in front of fans or not in an empty stadium -- I want to go out there and get after people, and I want to throw the ball the way that I'm capable of throwing."
Price could have taken a two-hour bus ride to Tampa to face the Yankees on Saturday, a game the Red Sox ended up losing, 6-4. But he was able to function just as effectively in his 38-pitch session in Fort Myers while facing teammates Pablo Sandoval, Rusney Castillo, Chris Young, Ryan Hanigan and David Murphy.
"A couple of things stand out today," said Red Sox pitching coach Carl Willis. "No. 1, just how he goes about his work. You know, it was a simulated game, yet his focus and intensity and attention to detail were there. I don't know if you could have told there was any difference than if he were pitching in Tampa today. But the other thing, I thought his stuff was good -- his glove-side command particularly was really good with the two-seamer and the cutter, so it was a very positive first day for him."
The hitters who faced Price agreed.
"He had good stuff," said Sandoval. "He was throwing all his pitches. Cutters, changeups. Sometimes guys don't have that same intensity in that setting, but he was just so focused on throwing strikes and he was doing that."
The lefty will likely make his Grapefruit League debut on Thursday at home against the Twins.
"Whenever you get out there and you hear the national anthem and there's walkup songs, they're announcing hitters, guys that aren't on your team, it definitely adds a little bit more," Price said.
But Saturday seemed to serve its purpose.
"I mixed everything in there," Price said. "I only threw three curveballs, a couple of backdoor cutters and some cutters in and a couple of changeups. We threw a lot of fastballs, just working on fastball command, making sure everything is going in the right direction, under control, just getting that feeling back."
Ian Browne is a reporter for MLB.com. Read his blog, Brownie Points, and follow him on Twitter @IanMBrowne. This story was not subject to the approval of Major League Baseball or its clubs.