Craig, Moncada chip in on tough day for Porcello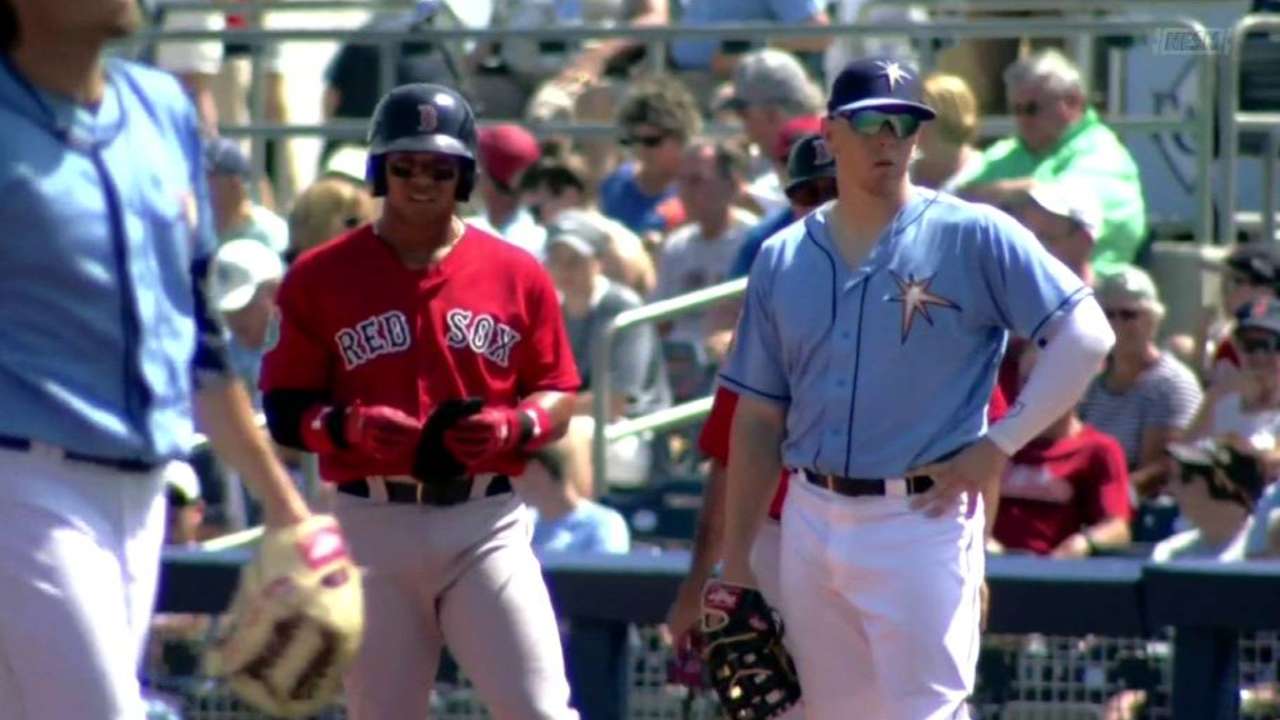 PORT CHARLOTTE, Fla. -- Rick Porcello couldn't stop the Rays with two outs Sunday, and Tampa Bay kept on hitting in a 13-5 win over the Red Sox.
Porcello allowed eight runs on 10 hits while striking out two, with all eight runs scoring with two outs. Of his 52 pitches, 38 were strikes.
"I don't like the line, but it's a work in progress, and clearly I'm not where I want to be yet," Porcello said. "It doesn't look that good, but I feel like I'm improving."
In contrast, Rays starter Erasmo Ramirez allowed just one run in four innings in his second start of the spring, his fortunes markedly different than his debut Tuesday, when Tigers hitters scored five earned runs on seven hits in two innings against the right-hander.
After retiring the Red Sox in order in the first, Ramirez gave up a leadoff single to Travis Shaw in the second. That gave the hot-hitting Red Sox third baseman his 11th hit in 20 spring at-bats. Allen Craig and Jackie Bradley Jr. followed with consecutive singles to load the bases with no outs. Ramirez then struck out Blake Swihart and Sam Travis swinging before retiring Yoan Moncada on a groundout to end the threat with no runs scoring.
"In that moment, I was a little worried," Ramirez said. "I got a flashback to [Tuesday]. Same situation and same inning. But in this moment I tried to focus and execute."
Steven Souza Jr. singled to start a two-out Rays rally in the second. He moved to third on Tim Beckham's single to left, then scored on a wild pitch by Porcello. Hank Conger doubled home Beckham before scoring on Jaff Decker's double. Kevin Kiermaier added an RBI double and Evan Longoria had a two-run single to put the Rays up 6-0.
Shaw drove in a run when he hit into a fielder's choice in the third, but the Rays kept the "Conger line" going when Conger homered with a man aboard to push the lead to 8-1.
Swihart had to leave the game after getting nicked on the facemask by a foul ball off the bat of Patrick Leonard in the fourth. The catcher suffered a bruised jaw.
Leonard hit a three-run homer off Elias Roenis in the sixth that rattled off the left-field scoreboard to put the Rays up 12-2. Moncada collected his first hit for the Red Sox and scored on a sacrifice fly in the fifth. Craig had a pair of hits for Boston, including a two-run single in the seventh.
Up next for the Red Sox: The Red Sox return home to take on the Pirates on Monday at 1:05 p.m. ET. Right-hander Joe Kelly gets the nod, with Brad Johnson, Matt Barnes, Robbie Ross Jr., Sean O'Sullivan, Carlos Marmol and Roman Mendez scheduled to see action.
Up next for the Rays: Chris Archer will make his third start of the spring when the Rays travel to the Orlando area on Monday to face the Braves in a 1:05 p.m. ET contest. Archer is expected to be the Rays' Opening Day starter. Right-hander Julio Teheran will start for the Braves.
Bill Chastain is a reporter for MLB.com. This story was not subject to the approval of Major League Baseball or its clubs.