Hanley belts majestic 468-foot homer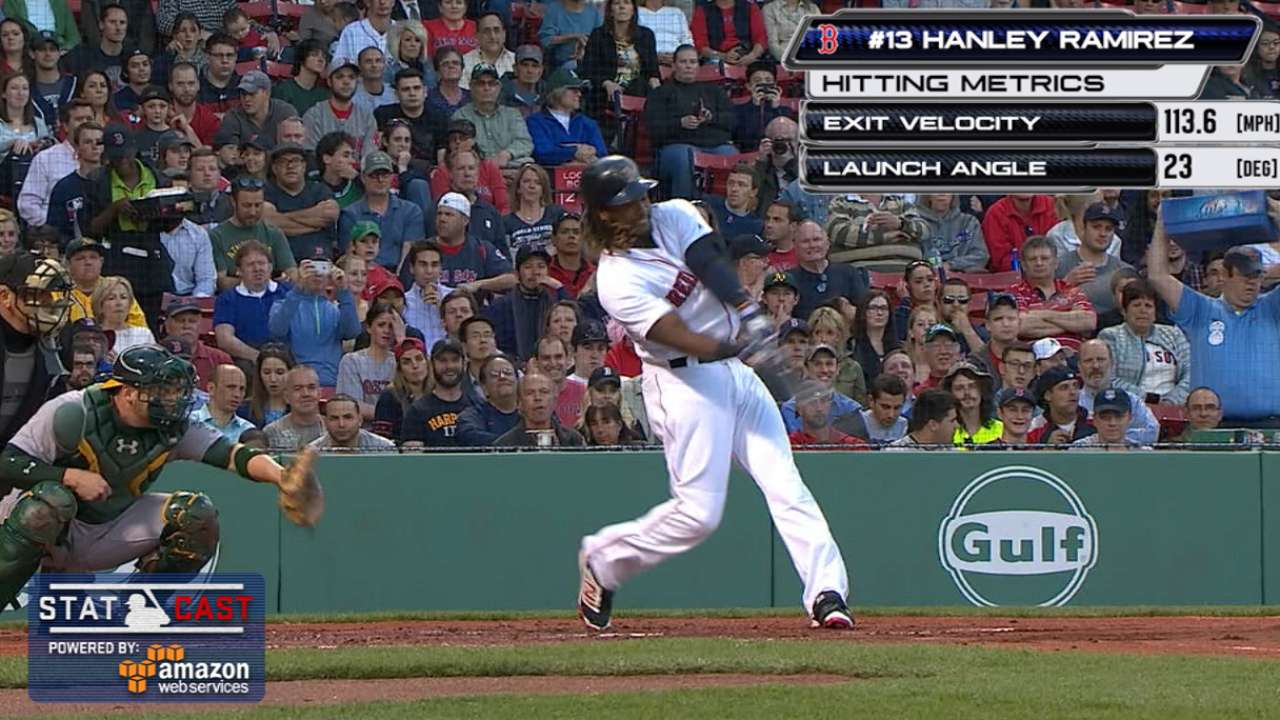 BOSTON -- Hanley Ramirez's two-run homer to left-center in the Red Sox's 13-5 drubbing of the A's on Tuesday night soared majestically until it was knocked down by a light stanchion above the Green Monster.
"I will never in my life hit a ball that far," marveled teammate Mookie Betts. "One or two people could do that type of thing. [Giancarlo] Stanton is about the only one that I know could maybe hit a ball farther."
Betts was correct, at least through the first month-plus of the 2016 season.
• Cast your Esurance All-Star ballot for Ramirez and other #ASGWorthy players
The moonshot was projected by Statcast™ to land 468 feet away from home plate, making it the second longest in the Major Leagues this season, trailing only Stanton's 475-foot tape-measure homer on May 6 in Miami against the Phillies.
"Oh yeah? He got lucky. I'm going to beat that," joked Ramirez about his former teammate with the Marlins from 2010-12.
Ramirez unloaded on a 94-mph fastball from A's lefty starter Sean Manaea.
"Take cover the way that one came in," NESN broadcaster Dave O'Brien told viewers.
"I want to see the exit speed on that one," color commentator Jerry Remy added.
The exit velocity was 114 mph.
By the time Ramirez got back to the dugout, his teammates were still shaking their heads in awe.
Left-hander Eduardo Rodriguez playfully looked at Ramirez's biceps.
It was just another sign that things are going well for the Red Sox, who are 20-13 and have won eight of their last 11 games.
"We've been doing it all year. We've been playing loose baseball and playing hard and we're pulling for each other," said Ramirez.
It was Ramirez's fourth homer of the season, and third in the last week. Ramirez's first three long balls of the season were all hit to right field.
But Ramirez turned on this one and got all of it.
"When he gets pitches on a certain part of the plate, he's got the ability to hit the ball to all fields," said Red Sox manager John Farrell. "But what's been most encouraging over the last 10 days or so is he's taking his walks, the on-base is climbing, so is the average and the hard contact. He's seeing the ball and is in a good spot."
The homer was one of three hits on the night for Ramirez, as he raised his average to .301, the highest it has been since April 18.
"He's been pretty hot all year," said Travis Shaw. "He's hitting over .300. Another bat in the middle of the order, another guy who can take it out of the ballpark at any single time, and on any single pitch."
Ian Browne has covered the Red Sox for MLB.com since 2002. Follow him on Twitter @IanMBrowne and Facebook. This story was not subject to the approval of Major League Baseball or its clubs.