Kimbrel could return during West Coast trip
Red Sox closer throws first side session since July 9 knee surgery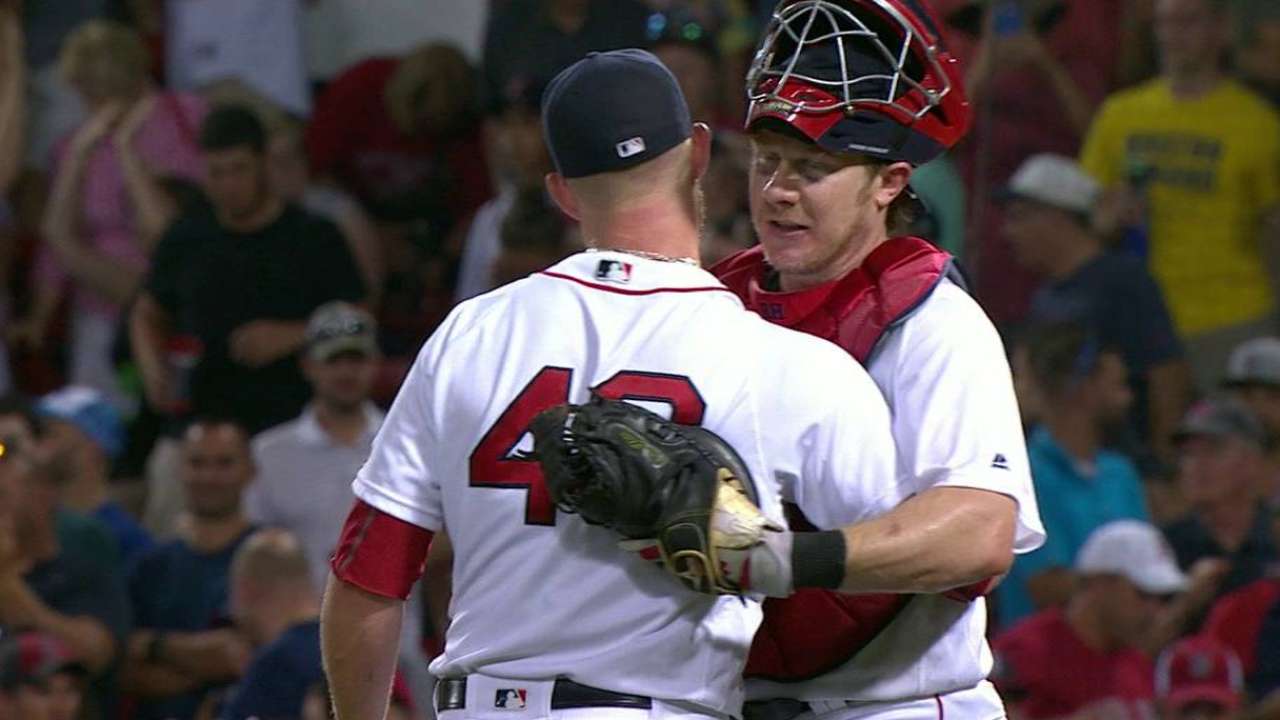 BOSTON -- Red Sox closer Craig Kimbrel threw from the main mound at Fenway Park on Monday, marking his first side session since undergoing left knee surgery July 9.
The righty has made such encouraging progress that there's a chance he could be activated during the upcoming West Coast trip that starts in Anaheim on Thursday and ends at Dodger Stadium on Aug. 7.
"I wouldn't rule that out," Red Sox manager John Farrell said before Monday's 4-2 loss to the Tigers.
The next step will be another bullpen session before Wednesday's game against the Tigers. By the weekend, Kimbrel could go on a Minor League rehab assignment which could last as little as one game depending on how he feels.
"He was aggressive for the 25 pitches he threw [Monday]," said Farrell. "Both his fastball and his curveball. It didn't look like, to the naked eye, that he was favoring anything. We had him throw on the mound on the main mound so we could get the pitch tracker on him and just make sure his release point, arm angle, those types of things, are consistent with game activity."
Once Kimbrel returns, the Red Sox will have a deep bullpen that also includes Junichi Tazawa, Brad Ziegler and Matt Barnes.
"Yeah, there's quality," said Farrell. "As long as everyone is healthy and pitching to their abilities, yes, it's a talented group and the ability to go multiple innings with a couple of guys, that's always a plus in the event of starts that might end up being short. I don't anticipate any additional outside [acquisitions]. If that happens, so be it."
It remains uncertain how long reliever Koji Uehara will be sidelined with his right pectoral strain.
Ian Browne has covered the Red Sox for MLB.com since 2002. Follow him on Twitter @IanMBrowne and Facebook. This story was not subject to the approval of Major League Baseball or its clubs.