Young rejoins Red Sox, has key hit, nice grab
Veteran outfielder to face lefties, pinch-hit and fill in
ST. PETERSBURG -- Chris Young went 1-for-2 with two walks and a nice catch in left field in his first game after being activated from the disabled list. Young, who'd been out since June 24 with a hamstring strain, started in left field and played a pivotal role in the Red Sox's 6-2 win over the Rays on Monday night.
In the fourth inning at Tropicana Field, he doubled home the first Sox run. He also moved Sandy Leon to third base with less than two outs, and Leon would score on Andrew Benintendi's sacrifice fly.
"It feels great [to contribute]," said Young, who replace lefty Henry Owens on the 25-man roster earlier Monday. "That's the plan going in always. You never really know how it's going to work out with you being out for so long. Being able to be in a situation with a runner on third and less than two outs, you're just trying to do your job."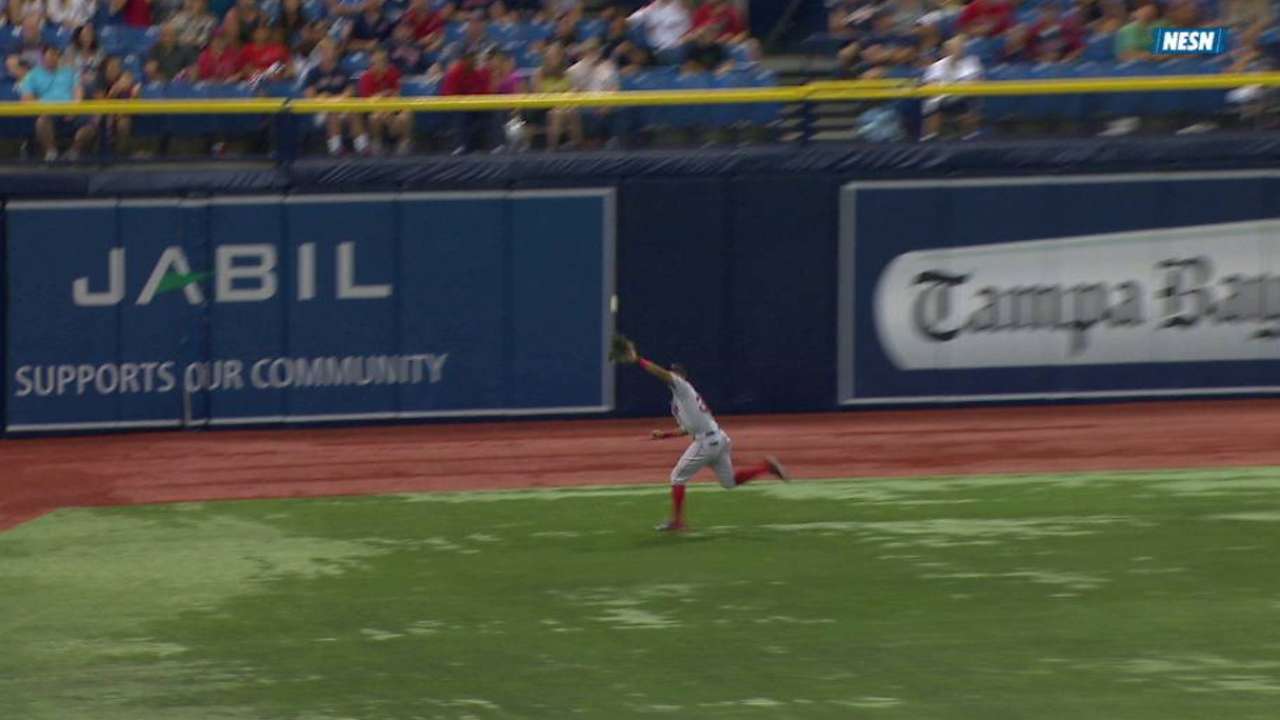 Boston manager John Farrell said before the game that Young's role will be to start against left-handers, pinch-hit and fill in for outfielders that need a day off. Young came out in the seventh and was replaced by Jackie Bradley Jr., who began the game on the bench. Bradley took over in center, shifting Benintendi to left.
Not only did Young look sharp with the bat, but he made a nice running catch in the fifth to deny Tim Beckham a potential extra-base hit with a runner on first base.
"Had he not gone through the rehab in the fashion he did, he might not be here right now," Farrell said. "But the last two [rehab] games going nine innings each game, [he got] through it physically fine. He contributed, obviously. A good night. A good return for Chris."
Worth noting
• Eduardo Rodriguez will throw a three-inning simulated game before Tuesday's game. He last pitched Aug. 16 and has been out with a sore hamstring.
"We need to test him at more intense levels than just a normal bullpen," Farrell said. "He went through treatment today. It's for him to test it at a higher intensity and it's for him to get comfort mentally."
• Koji Uehara will throw a bullpen session before Tuesday's game. He hasn't pitched since July 19 with a pectoral strain. He's been throwing long toss.
• Steven Wright will also throw a bullpen session Tuesday, which Farrell said would put him in line to start Friday at Fenway Park against the Royals. The knuckleballer, who is 13-5 with a 3.01 ERA, last pitched Aug. 5 and has been out with shoulder inflammation.
Sam Blum is a reporter for MLB.com based in St. Petersburg. This story was not subject to the approval of Major League Baseball or its clubs.