Stretch run: Buchholz rounding into form
By ditching windup, righty finds ball gets to batter quicker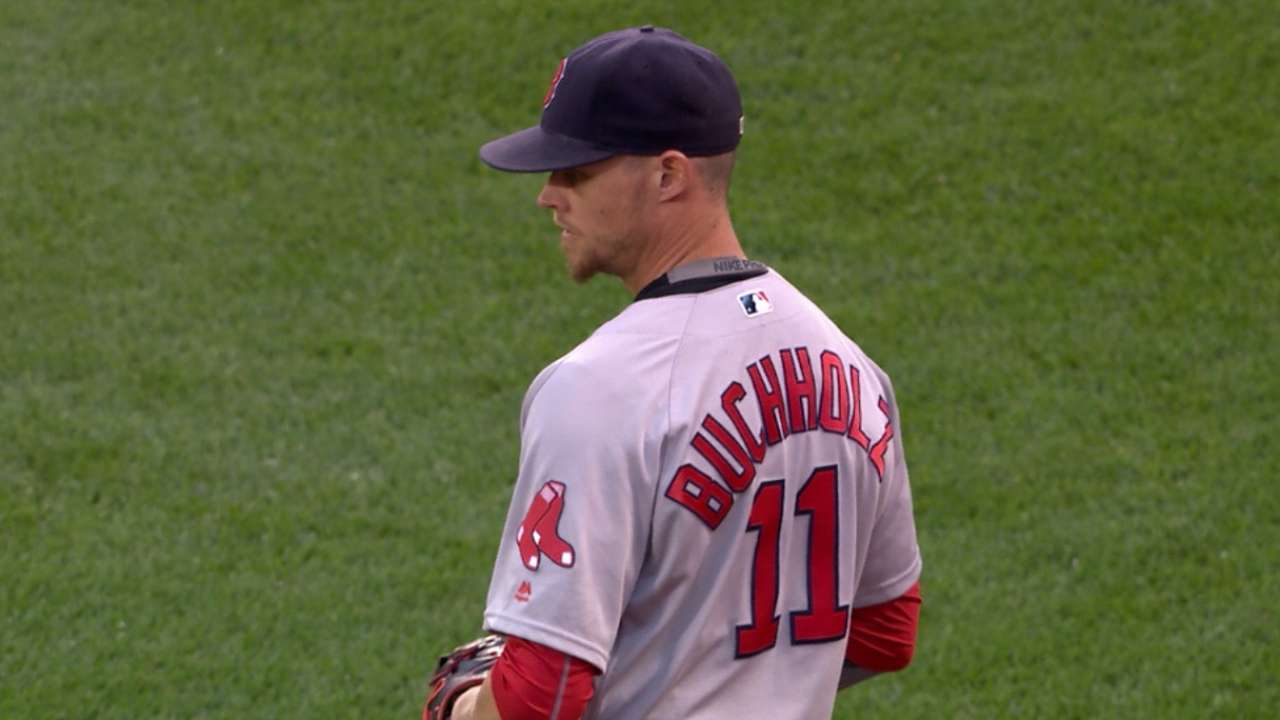 BALTIMORE -- Clay Buchholz was searching for something that could turn his miserable summer into something better, so he was open to suggestions. One day in late July, hitting coach Chili Davis casually suggested to the right-hander that he might want to try working exclusively out of the stretch.
Six weeks later, Buchholz is all stretch all the time, leading to a stretch run few would have imagined.
The righty looked in command of everything on Wednesday night at Camden Yards, leading his surging Red Sox to a 5-1 victory that extended the winning streak to a season-high seven games while running up the lead in the American League East to five over Toronto. Over seven innings, Buchholz limited Baltimore to three hits and a run.
"I'm more comfortable with always slide stepping. Sometimes I can go a little quicker to home plate," said Buchholz. "I think I messed up some of the guys' timing tonight for foul balls."
In a six-start stretch -- there's that word again -- that dates back to Aug. 18, Buchholz is 4-0 with a 3.09 ERA.
"Chili Davis is actually the one who said something to me about it," said Buchholz. "He says that from a hitters' perspective and him being a hitting coach and watching from the side, when I came out of the stretch, it seemed like the ball got on the hitter quicker.
"He said I was a little bit quicker than with a high leg kick, and the hitter is able to time your leg kick. I thought about it for a week or so and when I started coming into games, even if there weren't runners on, I wouldn't pitch out of the windup. Regardless, I said I was going to throw out of the stretch. It's actually helped me, because even when a runner gets on base, I don't feel like I have to do anything extra."
The starting pitching has been on point this series. Tonight, it was Clay Buchholz's turn. #RedSox pic.twitter.com/PlF7yZSlYf

— Boston Red Sox (@RedSox) September 22, 2016
The mechanical adjustment has led to far better command for Buchholz.
"Tonight, Clay probably had his best curveball in some time," said Red Sox manager John Farrell. "Particularly after we score the five, he comes out with two very quick and clean innings. Those were maybe his best two innings of the season."
This type of late-season success from Buchholz was hard to fathom back on May 26, when he lost his spot in the rotation for the first of several times this season and had a 6.35 ERA.
"When many were calling for his head, we knew there was a talented guy here and we needed to get him on track," said Farrell. "To his credit, as we've said many times, [he] went to the bullpen, worked some things out, and you know what? He's pitching his best baseball of the season right now."
Buchholz was confident he would straighten things out.
"I've been here before," said Buchholz. "It stinks doing bad, but going to the bullpen, you're talking to seven, eight different guys that you're not normally around during the games. I knew I wasn't going to be bad all year. It was a stretch that I didn't' really know what was going on. I didn't know how to fix it.
"I was trying too hard and over-doing a lot of things, over-analyzing. Yeah, it takes a couple of games to get some confidence going in the right direction. It's fun pitching when everything is going good, especially when you're winning."
Buchholz's stay in the rotation this time has been extended due to both his success and the right shoulder injury to knuckleballer Steven Wright.
With the Red Sox now in prime position to get to the postseason, Buchholz could well factor into the rotation in October.
"That's not my decision," Buchholz said. "I'll take the ball when they tell me to start, and if something happens that I'm not starting, we'll see where that goes. As I've said from the first day, I consider myself a starting pitcher. That's what I'm trying to do right now."
Ian Browne has covered the Red Sox for MLB.com since 2002. Follow him on Twitter @IanMBrowne and Facebook. This story was not subject to the approval of Major League Baseball or its clubs.