Surging Sox ride Papi's HR to cusp of berth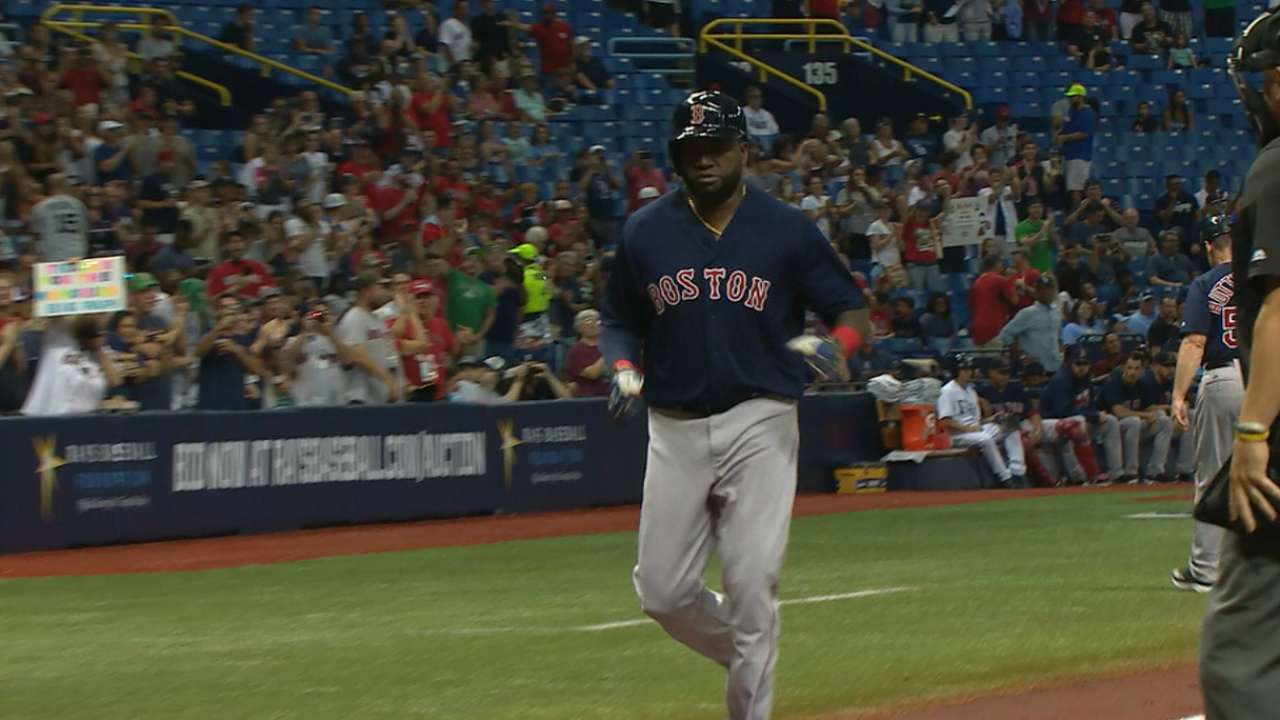 ST. PETERSBURG -- Time and again over the past decade-plus, the Red Sox have leaned on David Ortiz in the biggest moments. On Friday at Tropicana Field, one of those moments ended up being the first inning, with Ortiz's two-run moonshot proving sufficient as the Red Sox edged the Rays, 2-1, for their ninth straight win. With the Orioles' win over the D-backs, the Red Sox's magic number to clinch a playoff berth stands at two.
Boston had its bullpen warming as early as the fourth inning when Drew Pomeranz found himself in a first-and-third, one-out pickle. But the southpaw induced a 6-4-3 double play and allowed only one run in five innings before the 'pen helped the Red Sox hold on. Both Pomeranz and Chris Archer allowed one home run each, and that was all. Pomeranz gave up a solo shot to Mikie Mahtook in the second inning, while Archer watched as Ortiz crushed his homer to right field in the first.
Race for AL home-field advantage still burning
"Particularly on a 97-mph fastball that's probably chest-high, he goes up and hooks," manager John Farrell said of Ortiz's home run. "The distance, the impact, all of it."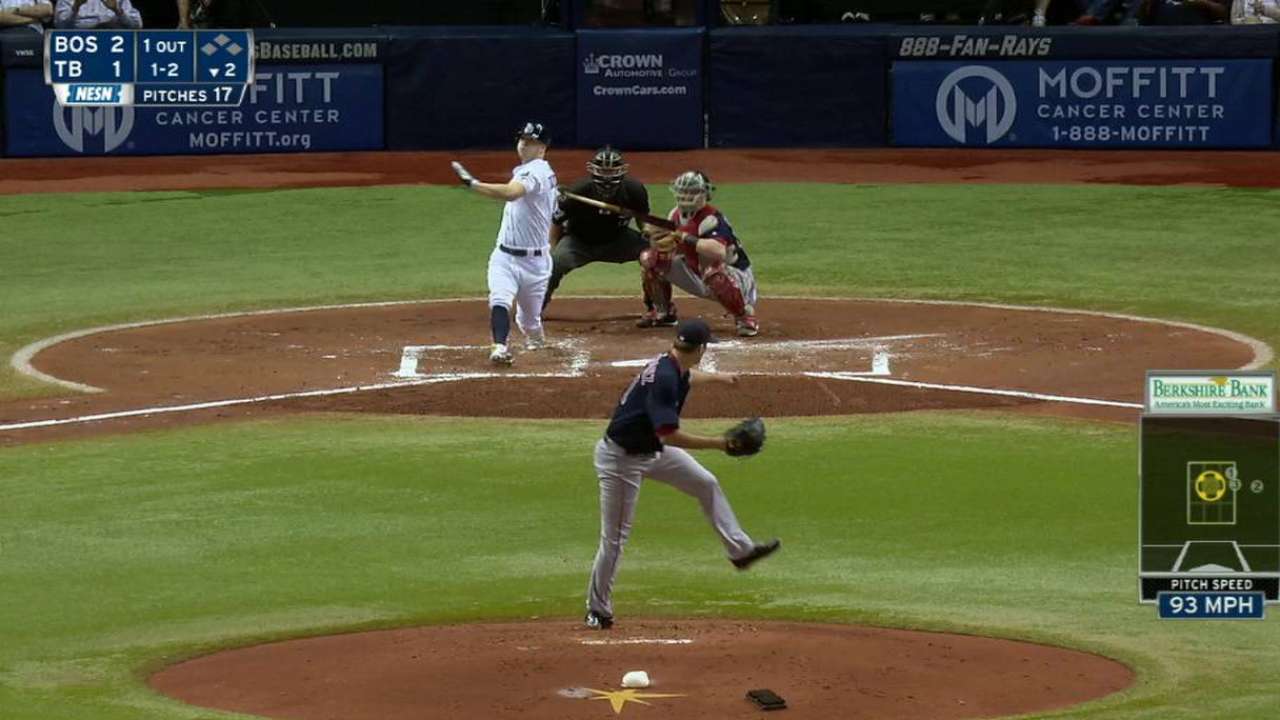 There wasn't much offense the rest of the way. The Red Sox left the bases loaded in the eighth inning against Danny Farquhar. Brad Ziegler was summoned for the save in the ninth with Craig Kimbrel and Koji Uehara unavailable, and after allowing a leadoff double to Evan Longoria, he clamped down for the final three outs.
"Well-played baseball game," Rays manager Kevin Cash said. "Obviously, Arch was outstanding. Their guy was good also. So a two-run homer from Ortiz and the homer from Mikie, that's the ballgame, basically."
The Red Sox bullpen went four sparkling innings, with five relievers combining to allow just two hits and two walks.
"You can't say enough of the run that entire group has been on," Farrell said. "You consider tonight we were staying away from both Kimbrel and Koji, we matched up well. … They continue to come in and execute extremely well."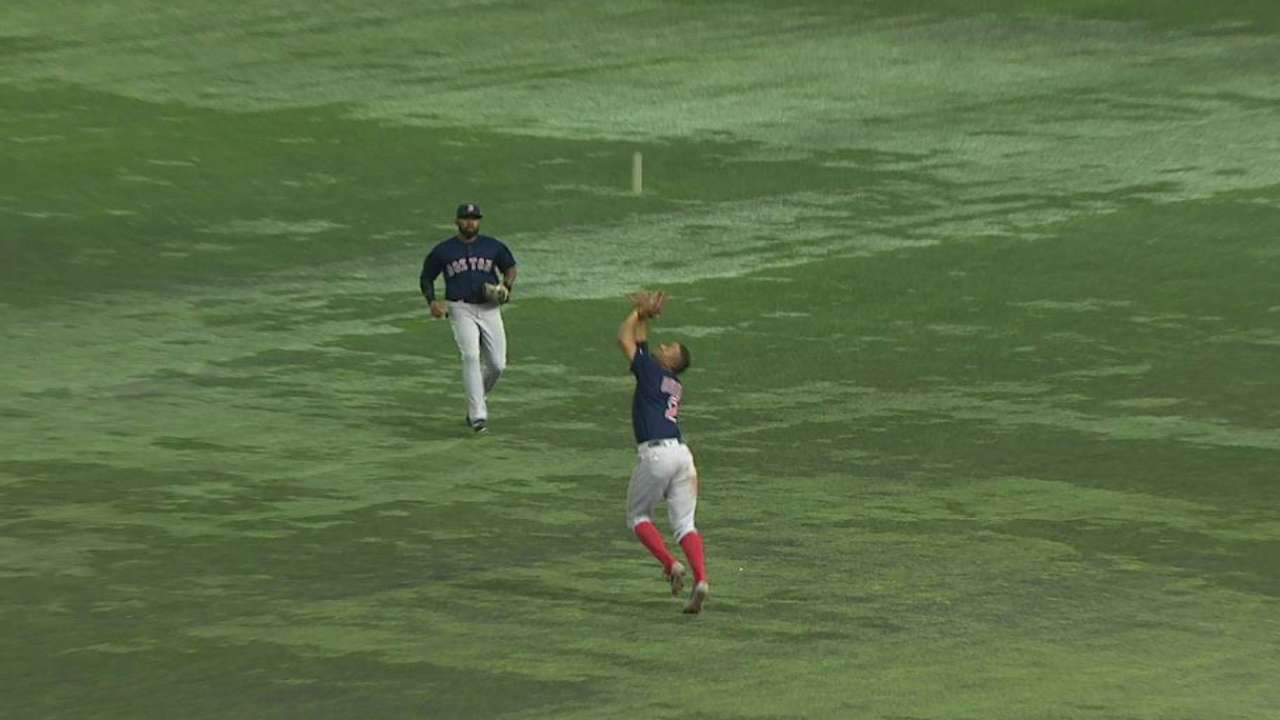 MOMENTS THAT MATTERED
Ziegler fills in, escapes jam: After Kimbrel was used to finish the last three games for the Red Sox, he was given Friday off. And when Longoria doubled on a changeup to start the ninth off Ziegler, it looked like the closer would be sorely missed. But then Brad Miller popped out. Mahtook struck out. And after an intentional walk to Corey Dickerson, Juniel Querecuto was denied his first MLB hit, striking out to end the game.
"He's got such poise and doesn't let the moment speed up on him," Farrell said.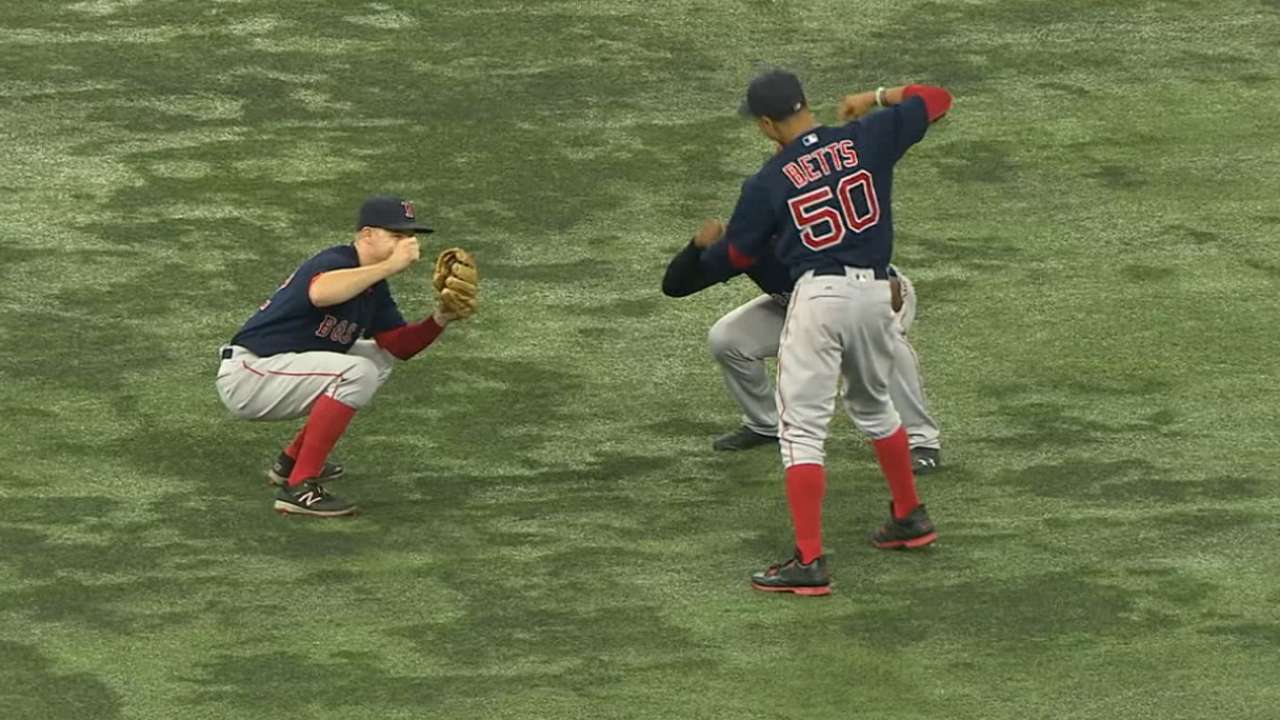 Mahtook power: After having an extraordinary September in 2015, Mahtook has struggled at the Major League level this season. But he still shows glimpses of the talent that has the Rays excited about his future. In the second, he hammered Pomeranz's first pitch into the left-field stands for his second homer of the season. Could this be a precursor for a solid finish by the outfielder?
"It's been a little bit of a different season for me," Mahtook said. "I haven't, obviously, played up to my expectations or my ability. We still have a few games left and I think the work that I've been putting in and doing before and after .... I think I can repeat what I did last September the last 10 games or so."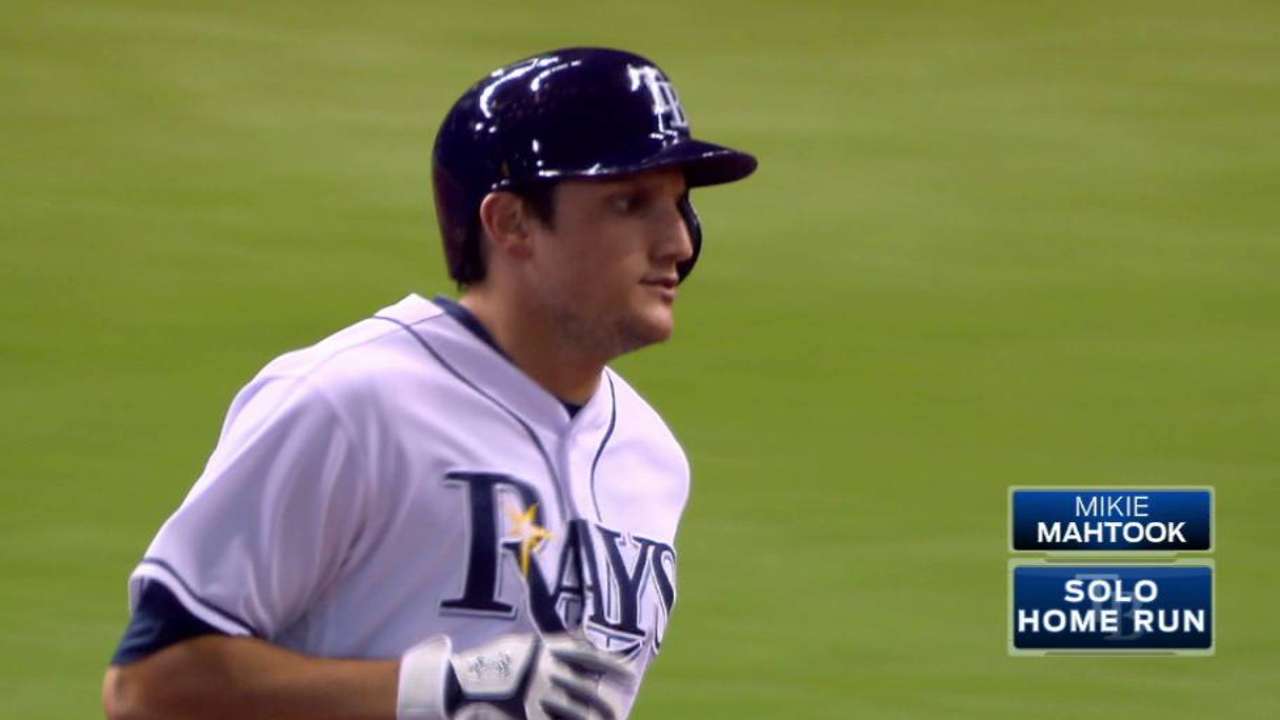 Familiar script: Archer could not snap his 10-game losing streak to the Red Sox despite allowing just two runs in six innings with seven strikeouts. He came away with his 19th loss of the season, extending the longest such streak in team history against the Red Sox to 11 games. The next longest is five, which has been done three times. Archer's losing streak to the Red Sox is the longest by a pitcher vs. any opponent since Mark Buerhrle pitched for the White Sox and Blue Jays and lost 12 straight to the Yankees from 2004-14.
"It stinks whenever you're on the mound for so many team losses," Archer said. "A lot of times it goes back to a couple of situations here or there. Every single night, or every single time. Need to be better. Need to be better in those situations."
Having an edge: The Rays were on the brink of tying the game in fourth inning. Miller had doubled and Mahtook moved him to third with a single through the hole on the left side of the infield. But Dickerson was less than a step late on an inning-ending double play. He waited, hoping Tampa Bay would challenge. But the Rays did not and the Red Sox preserved the advantage.
"They were pretty aggressive swingers tonight, so I just tried to make pitches and let them get themselves out," Pomeranz said. "Just seeing how aggressive they were, just really focused on making pitches."
QUOTABLE
"I'm really glad I never have to face that guy again. He's a really good hitter. … He's gotten the best of me more than I got the best of him. So I'm glad I never have to face that guy again." -- Archer, on Ortiz
"No, that's too short. That had to get 500 feet. That ball was hit a long way."
-- Mookie Betts, stating that he didn't believe the Statcast-projected 411-foot distance on Ortiz's home run
SOUND SMART WITH YOUR FRIENDS
Oritz's home run hit the D-ring catwalk, the 14th time a catwalk has been hit in fair play this season. That total surpassed the previous high of 13, which occurred in 2000 and '01.
UNDER REVIEW
The Rays challenged a tag play in the second when Ortiz hit what appeared to be a double. After a delay of one minute and seven seconds, the call on the field was overturned, as Ortiz was ruled to have come off the bag at second.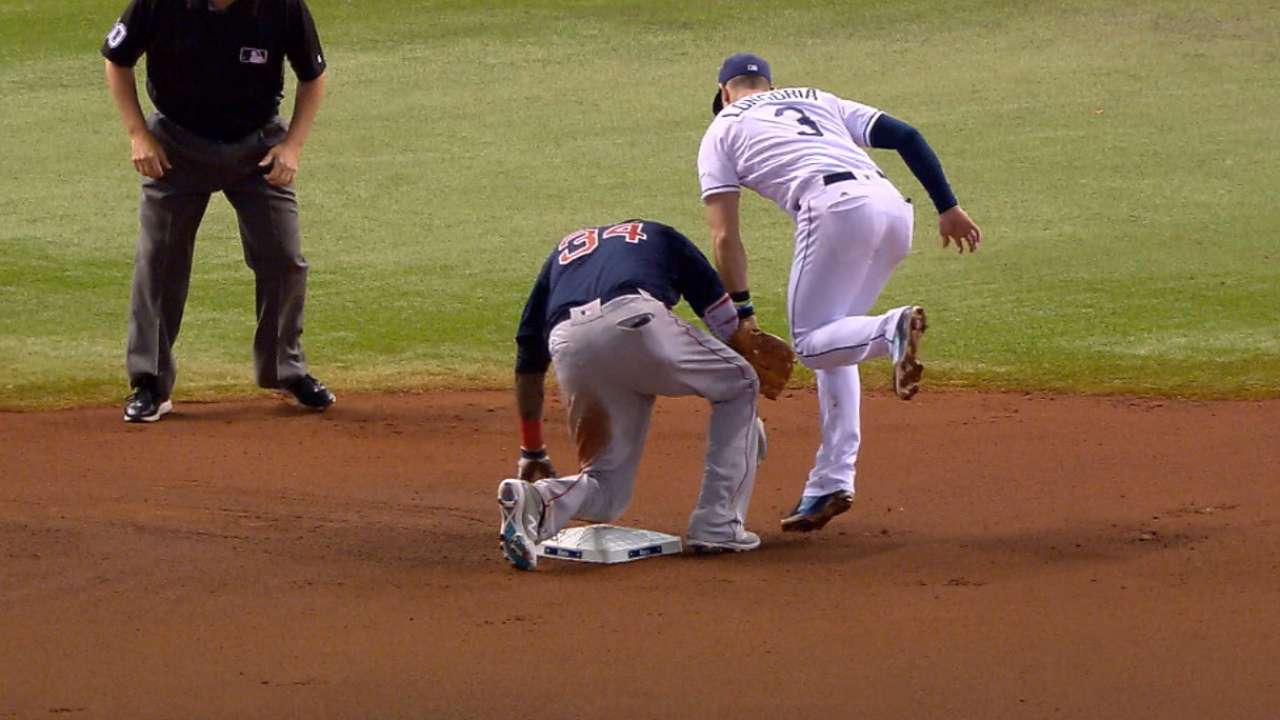 WHAT'S NEXT
Red Sox: Rick Porcello (21-4, 3.08 ERA) will hope to cement his Cy Young case on Saturday at 6:10 p.m. ET when he faces the Rays at Tropicana Field. The Red Sox ace hasn't pitched fewer than seven innings since July 19 or fewer than six innings since June 23. He allowed two runs in a complete game during his last start on Monday vs. Baltimore.
Rays: Matt Andriese (8-7, 4.41 ERA) will make his 18th start of the season (28th appearance) and is on a roll having won his last two decisions, allowing just three runs in 10 1/3 innings. He has struggled against the Red Sox this season, though, allowing 10 runs in 12 2/3 innings over three appearances.
Watch every out-of-market regular-season game live on MLB.TV.
Sam Blum is a reporter for MLB.com based in St. Petersburg.

Bill Chastain has covered the Rays for MLB.com since 2005.

This story was not subject to the approval of Major League Baseball or its clubs.