Phillies acquire Buchholz from Red Sox
Second-base prospect Tobias goes to Boston in deal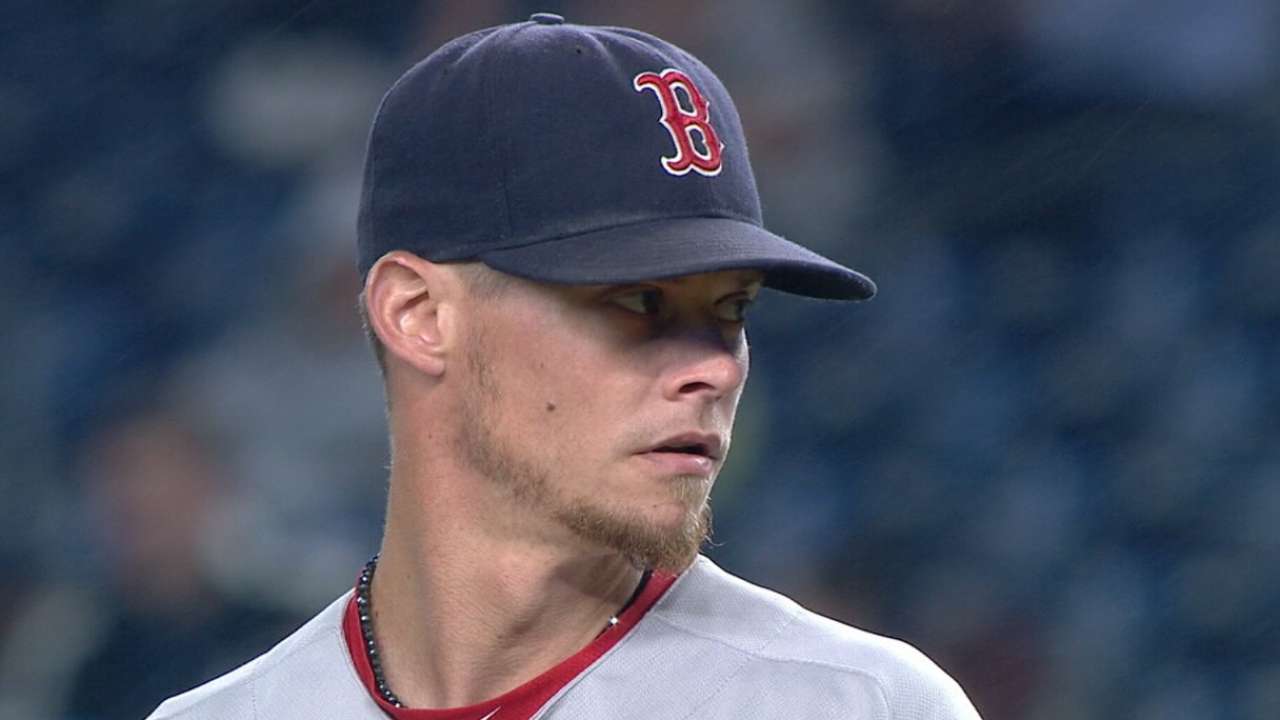 PHILADELPHIA -- The Phillies' plan this offseason has been to improve their roster with veterans on one-year contracts, giving them roster and financial flexibility for the future.
They continued those efforts Tuesday, when they acquired right-hander Clay Buchholz in a trade with the Red Sox for second-base prospect Josh Tobias. Buchholz, 32, went 8-10 with a 4.78 ERA last season. He posted a 6.35 ERA in his first 10 starts before moving to Boston's bullpen. He tweaked his mechanics, changing his release point and pitching exclusively out of the stretch. He finished the season in the Red Sox's rotation, going 3-0 with a 3.14 ERA in five September starts.
"Buchholz is a guy that we've been following closely since the summertime," Phillies general manager Matt Klentak said Tuesday in a conference call. "He was actually a player that we reached out to Boston about back in July around the [non-waiver] Trade Deadline. We viewed him at that time as a potential bounceback candidate.
"I think this acquisition fits among all the other acquisitions we've made this offseason. We believe it's going to make our 2017 team better, and we do so while minimizing the length of the commitment, and those were two of our primary goals for this offseason."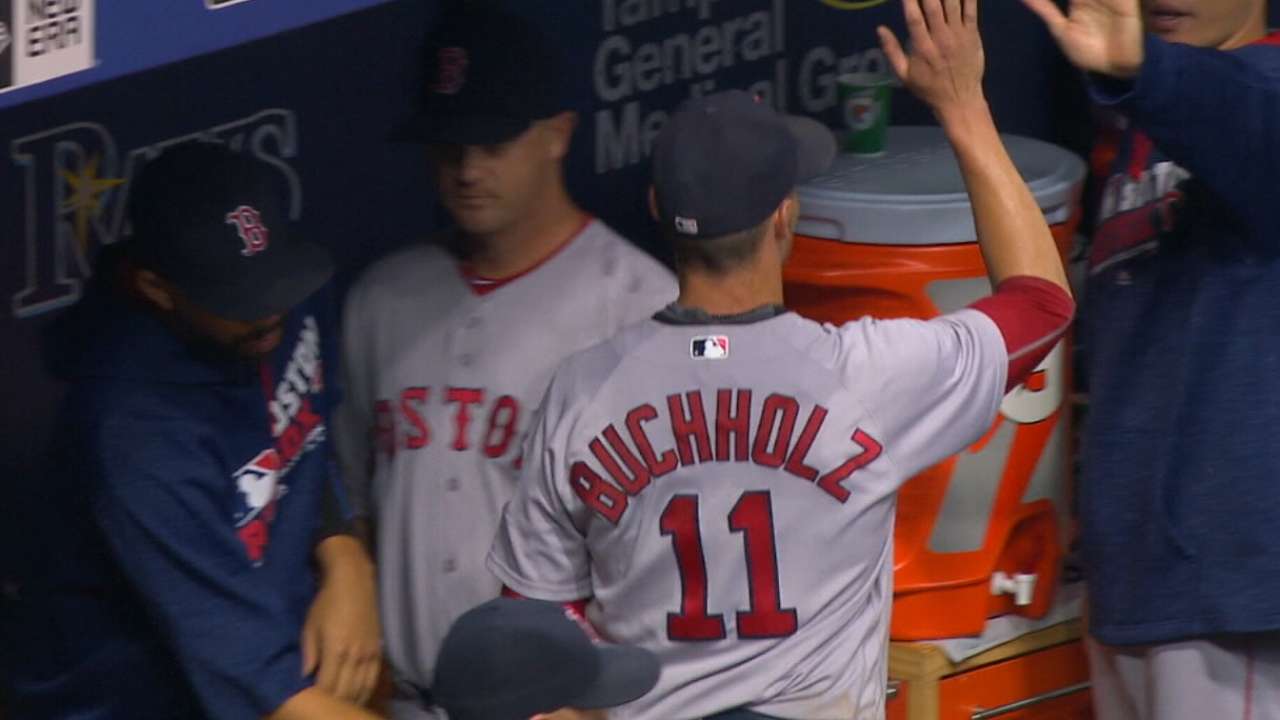 Buchholz is entering the final season of his contract. He will make $13.5 million before becoming a free agent. If Buchholz returns to form, the Phillies should have an attractive trade chip by the non-waiver Trade Deadline.
Buchholz is not alone. He joins Jeremy Hellickson, Howie Kendrick, Joaquin Benoit, Pat Neshek and Andres Blanco as veterans on one-year contracts that could be traded next summer.
"The hope is that we won't need to do that," Klentak said. "We're trying to make our team as competitive as we can, and ideally we'll be playing meaningful games at the end of July. But it's certainly not lost on us that if the standings are looking the other way in July that we should have a number of players in the last years of their contracts. Not just pitchers, but we have a number of players that potentially could be trade chips."
Klentak confirmed that Buchholz will be a starter despite his appearance in the Red Sox's bullpen last year.
Hellickson (3.71 ERA in 32 starts), Buchholz, Jerad Eickhoff (3.65 ERA in 33 starts) and Vince Velasquez (4.12 ERA in 24 starts) are at least smart bets for the 2017 rotation. Aaron Nola (4.78 ERA in 20 starts) is right there, too. Nola finished the season on the disabled list with an injured right elbow. The Phillies said he is healthy and ready to pitch this spring, but he will have to prove it.
"We all know, if Nola is healthy, what he's capable of doing," Phillies manager Pete Mackanin said in a phone call with MLB.com.
Klentak added that the Buchholz trade did not reflect any uncertainty surrounding the injuries to Nola and Zach Eflin (two knee surgeries).
"It had nothing specific to do with any one of those pitchers, or any other pitcher for that matter," Klentak said. "But we are cognizant with so many young pitchers at the big league level and coming up behind them at Triple-A; we will once again likely be careful with the workloads. We want to make sure we have the right balance in our rotation to support that."
Other pitchers in the rotation mix include Jake Thompson (5.70 ERA in 10 starts), Eflin (5.54 ERA in 11 starts), Alec Asher (2.28 ERA in five starts), Adam Morgan (6.04 ERA in 23 appearances), Ben Lively (2.69 ERA in 28 starts between Triple-A Lehigh Valley and Double-A Reading) and Nick Pivetta (3.27 ERA in 27 starts in Triple-A and Double-A).
"I feel pretty good about all of those guys," Mackanin said.
The Phillies have been conscious this offseason of saying they do not want to deprive their young players of the opportunity to play next season. But Buchholz certainly takes away a spot from one of the Phillies' young pitchers.
"We've talked a lot about that," Klentak said. "I'm not worried about that in this case because, again, we still have three rotation spots that will be dedicated to young pitchers. Which three those are or who is the first cut back to Triple-A or which starter potentially ends up pitching out of the bullpen, all of those are things we're going to have to figure out in Spring Training and the early parts of the season.
"If everybody in the organization is healthy and pitching well, then it's possible that yes, it might block somebody's growth. Realistically, going into Spring Training, we value the depth."
Klentak said the Buchholz deal will not stop the Phillies from making further moves this offseason.
"The only thing that may stop us from adding to another area is ourselves," Klentak said.
The Phils selected Tobias, 24, in the 10th round of the 2015 Draft. He hit a combined .291 with 31 doubles, nine home runs, 69 RBIs and 10 stolen bases in 127 games with Class A Lakewood and Class A Advanced Clearwater.
To make room for Buchholz on the 40-man roster, the Phillies designated third baseman Richie Shaffer for assignment.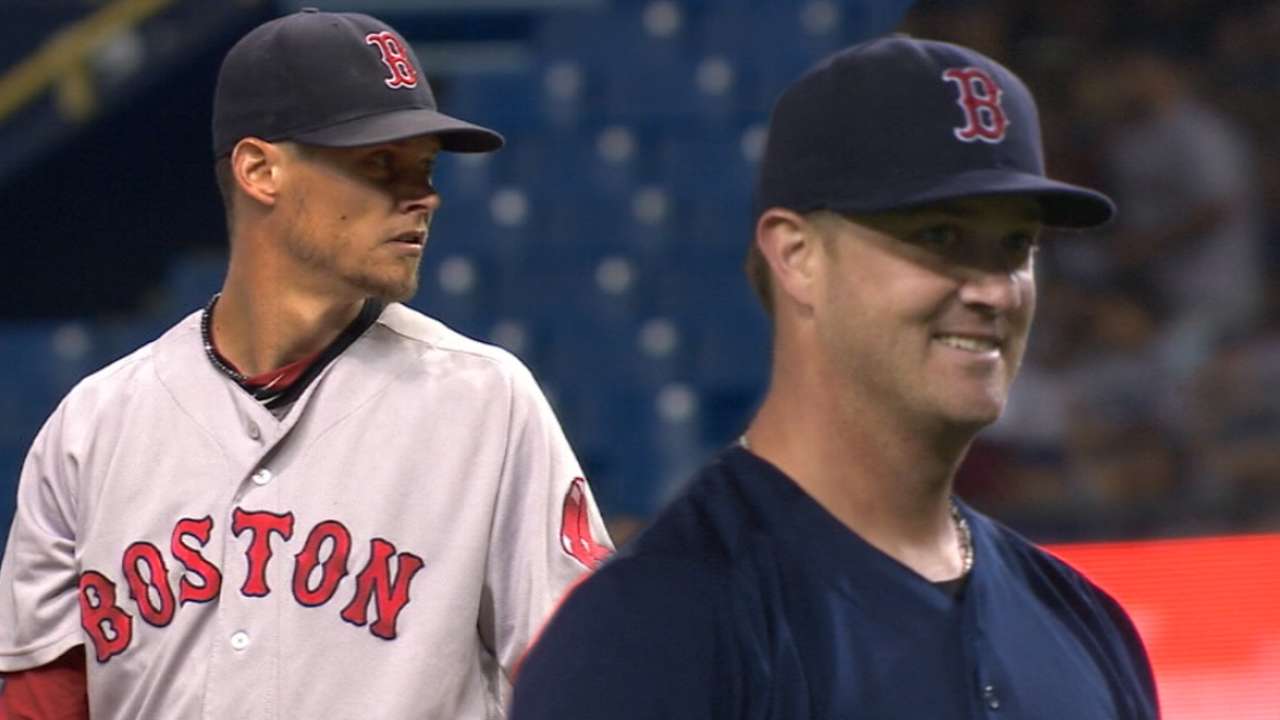 Fantasy spin | Fred Zinkie (@FredZinkieMLB)
Buchholz has battled inconsistency, finishing five of his 10 big league seasons with a sub-3.50 ERA and the other five with a mark north of 4.20 (4.78 in 2016). After posting a career-high 1.4 HR/9 rate and a personal-low 1.7 K/BB ratio in '16, the 32-year-old can go undrafted in the majority of mixed leagues next year.
Todd Zolecki has covered the Phillies since 2003, and for MLB.com since 2009. Follow him on Twitter and listen to his podcast. This story was not subject to the approval of Major League Baseball or its clubs.