Young Sox vet Bogaerts has wisdom to share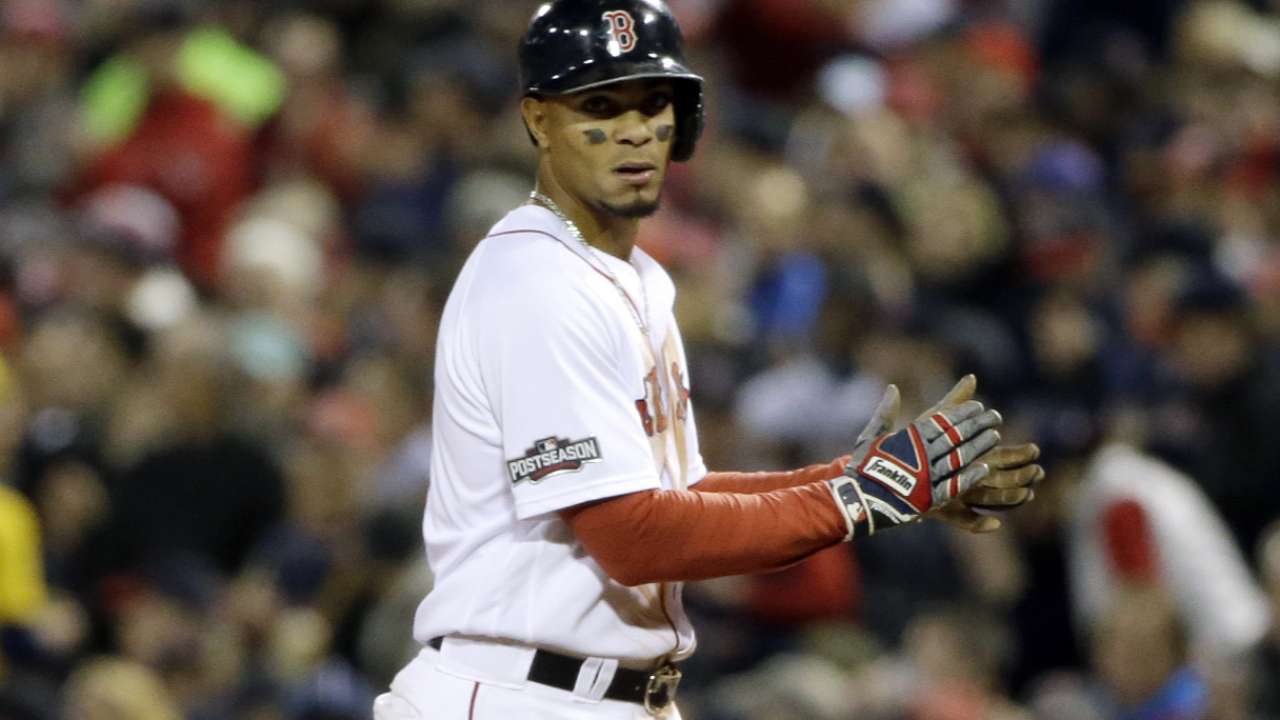 FORT MYERS, Fla. -- The 24-year-old veteran. Isn't that an oxymoron for a baseball player?
Perhaps. But that is the unique classification Xander Bogaerts finds himself in as he enters his fifth -- yes, fifth -- season for the Red Sox.
Did Bogaerts stop having birthdays or something?
"I was thinking that," said Bogaerts, who arrived to camp on Wednesday. "How am I 24 if I've been around this long? Yeah, I kind of feel I'm becoming old. I don't know why. Maybe because I've been playing baseball in the big leagues for a little bit now."
Or maybe because he is the only Red Sox player aside from Dustin Pedroia who was on the active roster during the 2013 World Series championship postseason.
It isn't quite right to call Bogaerts an elder statesman, but he does sound almost philosophical when talking about how he would advise rookie Andrew Benintendi to adapt to the challenges of his first full season.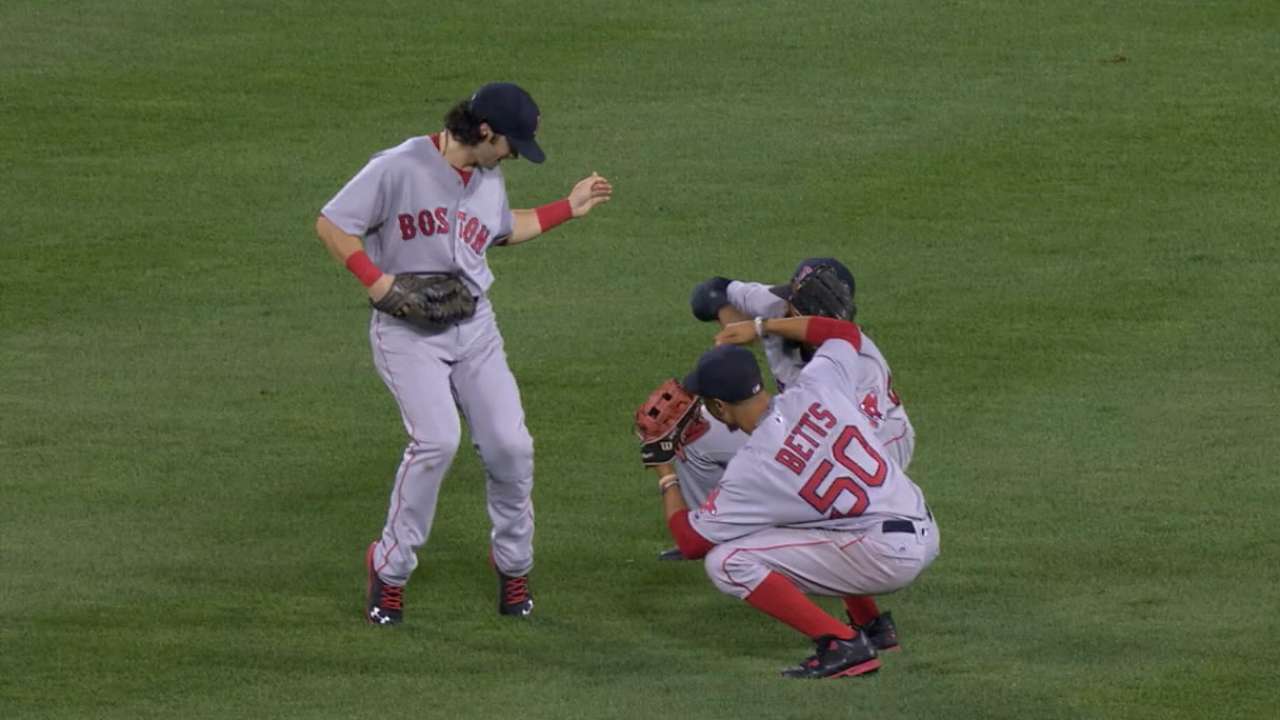 "Just go out there and be yourself," said Bogaerts. "You'll have ups and downs, especially in the first year, you'll obviously have those. But trusting your teammates and the coaching staff is probably what I'd say. They have more experience than you have, listen to them, let them guide you a little bit when you're going through ups and downs."
Bogaerts went through that same learning curve in 2014, his first full season. And he responded to it with stellar years in '15 and '16, the latter of which earned him the start at shortstop for the American League in the All-Star Game.
At this point, the Red Sox are able to make projections for Bogaerts and be nearly certain he will at least reach them.
"I think in general it's clear: He's settled into being one of the top shortstops in the game," said Red Sox manager John Farrell. "A very offensive guy that has shown for stretches of time almost a middle-of-the-order type of bat with the production that he's given us, particularly over the last two years. And I think what he's really started to gain is the understanding of a full 162-game schedule, the responsibility and the physical challenge that that can be."
Of course, accruing so much service time at such a young age also means Bogaerts is inching his way toward free agency. The Red Sox hold his contractual rights for three more seasons.
How about a long-term extension? One reporter asked Bogaerts what he would do if the Red Sox presented him with a huge offer.
"Wow, huge? What's huge?" chuckled Bogaerts. "I mean, I don't know, we'll have to see. Time will tell. We'll see what happens. Right now, I just have a lot of work to do now. I'm just excited to be back. I'm trying to get better to help the team. That's the main focus right now."
The one thing that won't hurt the chances of Bogaerts sticking with his original team for a while is that he loves the organization, the city and the young teammates he's come up with.
"I mean, Boston is a great city," Bogaerts said. "Winning is always No. 1. Everyone would want to be on a winning team or a team that has winning expectations. Being here is definitely something very wonderful."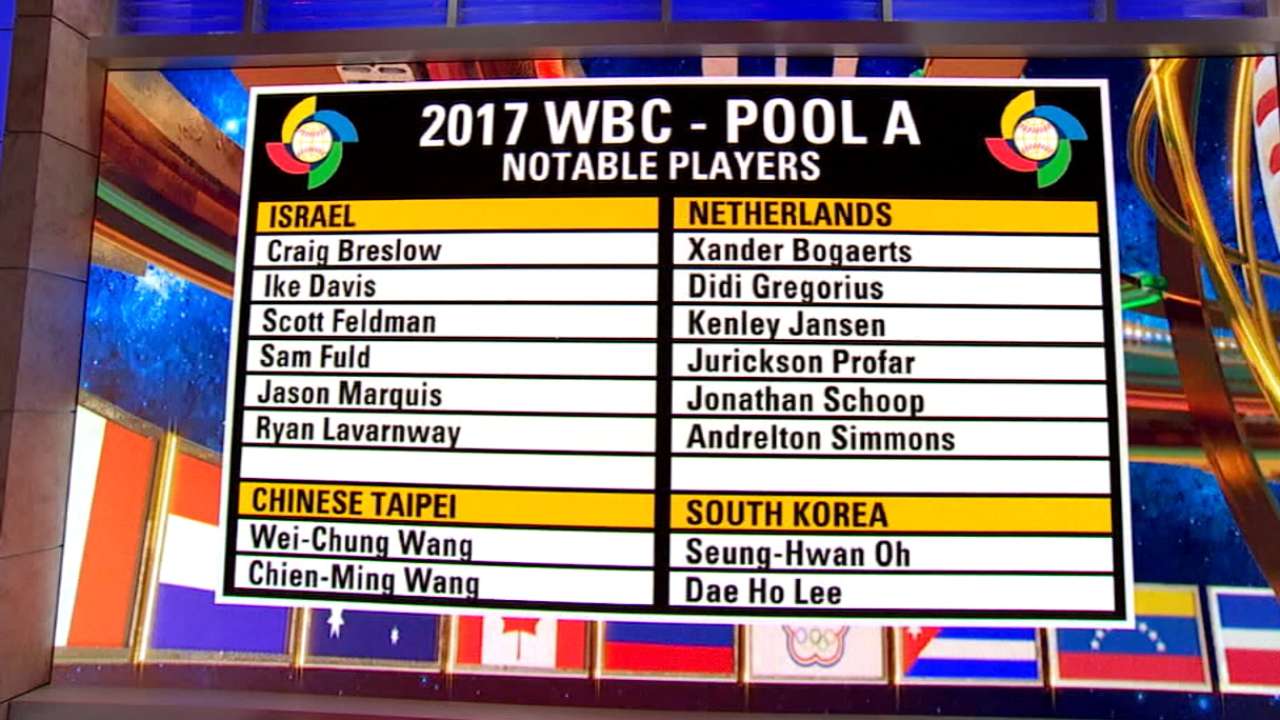 Bogaerts does stop short of calling himself a leader.
"Maybe with time," Bogaerts said. "We have different guys. The weight is not all on me. There are other guys with a lot more time here who can do that."
In a couple of weeks, Bogaerts will depart sunny Fort Myers for Korea and participate in his second World Baseball Classic with the Netherlands, another sign of how long he's been around.
"It helped me, to be honest, in 2013, because I never played in front of a big crowd," Bogaerts said. "I remember playing in Japan in the Tokyo Dome. It was so packed. You could barely hear the guy next to you because all the fans were so loud."
After the World Baseball Classic, Bogaerts looks forward to re-joining his teammates and working toward the quest of another deep run into October. By then, he will officially be in his mid-20s at 25.
"They want us to go out there and be the best," Bogaerts said of Red Sox Nation. "They want us always to have a chance in our division, go on, and go deep into the playoffs. Winning is always No. 1 here. That's always how it's been since I've been in this organization."
Ian Browne has covered the Red Sox for MLB.com since 2002. Follow him on Twitter @IanMBrowne and Facebook. This story was not subject to the approval of Major League Baseball or its clubs.