Bradley aims to cut down K's, be less streaky
FORT MYERS, Fla. -- Jackie Bradley Jr. isn't one to fuss about numbers, but 143 is the one he'd love to reduce.
That is how many times the Red Sox's center fielder struck out last season, even as he became an All-Star for the first time.
Bradley's defense is his unquestioned strength. However, his bat is also a pretty good weapon that still has room for growth.
What are his goals for 2017?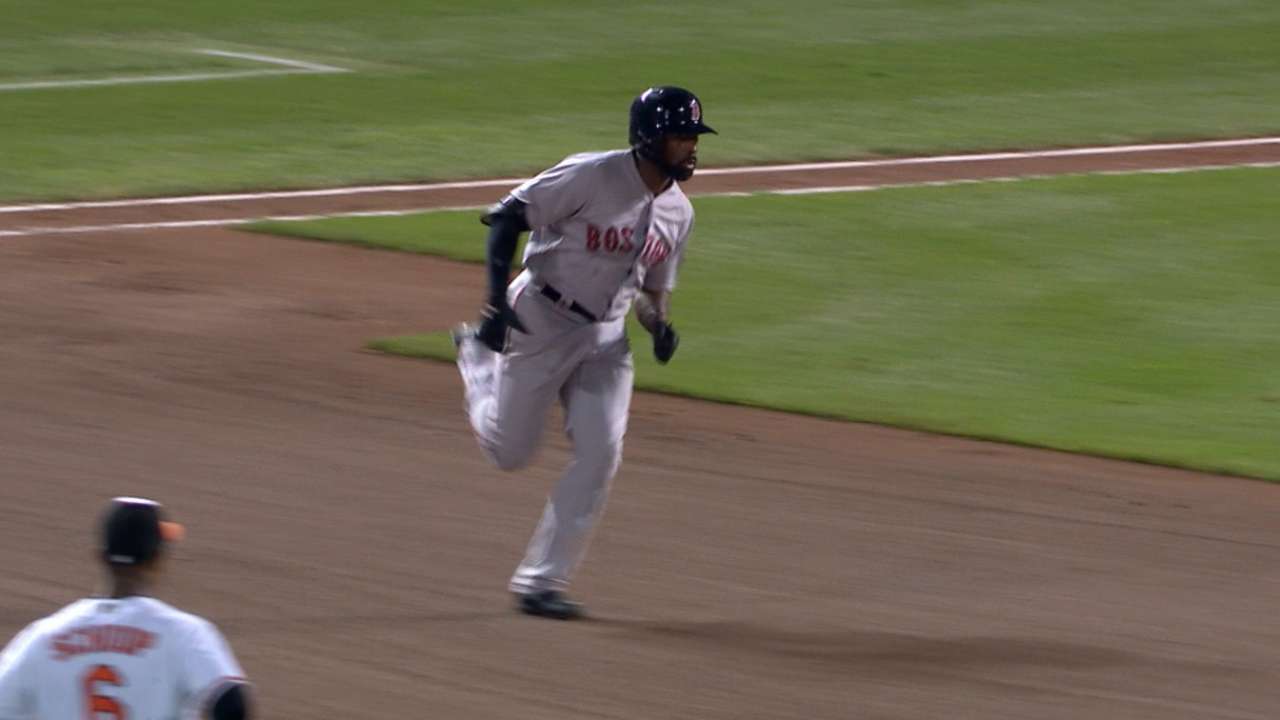 "Strikeout percentage go down and just more consistency offensively," said Bradley. "That means just consistent contact, hard contact. I want to impact the baseball and be a good situational hitter, as well. Swing at good pitches and make more contact."
In this relatively early portion of his career, Bradley has developed the reputation of being a streak hitter.
During his coming-out party down the stretch in 2015, Bradley hit .443 with a 1.443 OPS over an 83-at-bat stretch that included seven homers. And who could forget the 29-game hitting streak from April 24-May 25 of last season when Bradley slashed .415/.488/.783 with eight homers?
Bradley's wish for '17 is a third straight year with a torrid streak without the accompanying downturn.
"I'll take the streaky part," said Bradley. "I'll take that. I think it just all boils down to I want more peaks than valleys. I love the streaks. Give 'em to me. I don't want the equal opposite. I want the opposite to just kind of slow down a little bit."
Still a month from his 27th birthday, and with 394 Major League games under his belt, Bradley will likely gain some of the improvements he is looking for just by the benefit of experience.
After Friday's 0-for-3 performance against the Astros that included two hard outs, Bradley is hitting .172 this spring. In the past, that might have been a concern. But not this spring. He has proved his ability to play at the highest level.
"I think there's going to be some streakiness in Jackie," said Red Sox manager John Farrell. "That's not to be critical. But that's what his track record is starting to show a little bit. We still want to see him in counts where he's down maybe to give in to the power a little bit and think more contact, particularly the other way."
Bradley will think more about impact than which side of the field he's hitting the ball to.
"You can't force the ball the other way," Bradley said. "Well, I guess you can, but I'd rather impact the baseball no matter where I hit it. I just want to hit it hard. I don't care if I pull it, hit it up the middle, hit it the other way."
With 17 days to go before the Red Sox open the season against the Pirates at Fenway Park, the man who will patrol center field is in a good place.
"I feel really good," said Bradley. "I feel strong. I'm in the best shape of my life right now. Mentally I'm stronger than ever."
Ian Browne has covered the Red Sox for MLB.com since 2002. Follow him on Twitter @IanMBrowne and Facebook. This story was not subject to the approval of Major League Baseball or its clubs.