Field named after Red Sox great Malzone
Ex-players on hand for ceremony for eight-time All-Star's family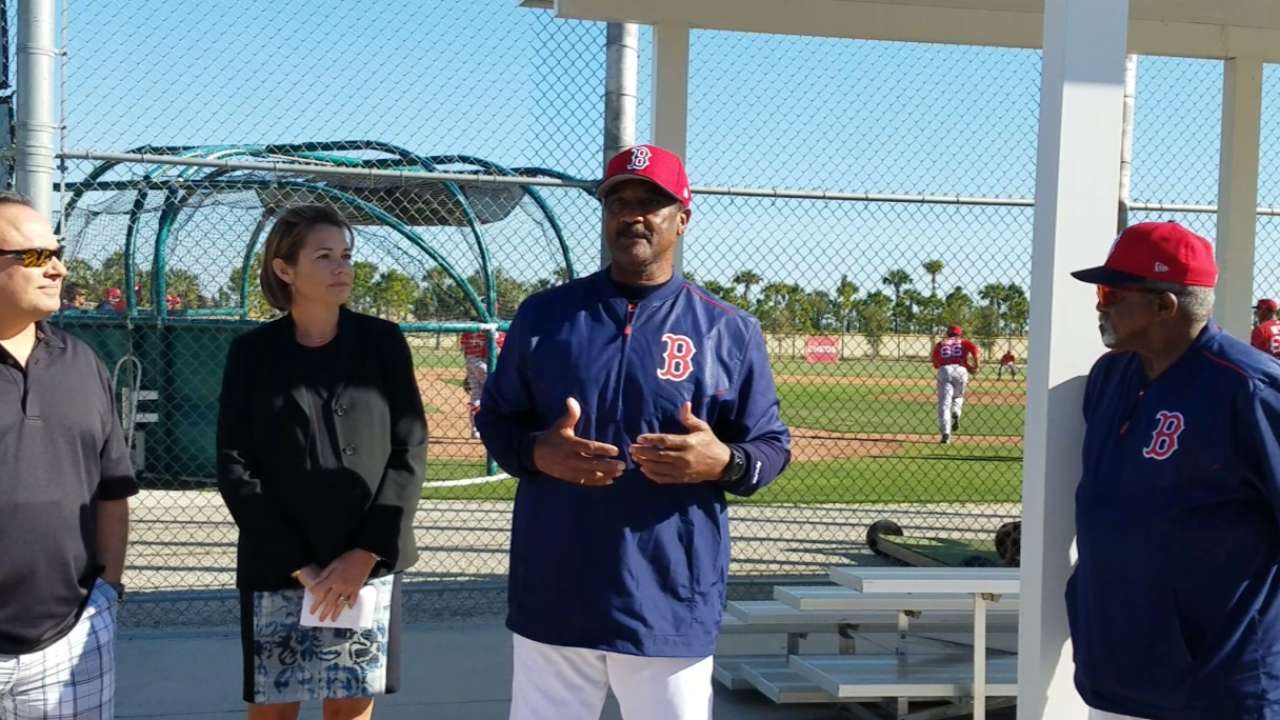 FORT MYERS, Fla. -- There might not be anyone in Red Sox history who loved the fundamentals of Spring Training more than the late Frank Malzone, which made it only fitting that the club he spent nearly 70 years with dedicated a practice field in his honor on Monday morning.
Field 2 at Fenway South now has the name "Frank Malzone" hanging proudly near the top of the chain-link fence.
It was a meaningful moment for the Malzone family, as Monday's dedication was attended by his sons Jimmy and Frank Jr. and daughter Anne.
Several prominent former Red Sox players took part in the ceremony, including Jim Rice, Dwight Evans, Luis Tiant and Tommy Harper.
"Malzy was part of the family," said Rice. "I was in Spring training in 1973 when I first met Malzy, and of course Johnny Pesky, Eddie Yost and all the other guys. Malzy was more of a mentor than anything else. I saw Malzy hit balls and balls to [third baseman Butch] Hobson.
"Malzy was always going to find something to help you or tell you to figure out what a pitcher is going to do to you. Maybe the way he moves, the way he holds the glove, the way he puts the ball in there. For me, it was more of a learning process with Malzy. In other words, Malzy knew his stuff! Malzy is the type of guy, when he said something, you listened."
Malzone died of natural causes at the age of 85 in December 2015. His legacy is still felt around the Red Sox.
An eight-time All-Star who won three Gold Glove Awards, Malzone contributed to the Red Sox long after his career ended in 1966 as a scout and instructor.
"Frank's locker was right next to mine in Winter Haven," said Evans. "We would always talk about baseball. If I had a day off or needed extra work, Frank would always hit me ground balls down that right-field line so I could get my arm in a certain position.
"He would even throw me batting practice, and he hated to do it. But if no one was on the field, he would throw me batting practice. He was very special."
From their team equipment room, the Red Sox found the jersey Malzone wore to his final Spring Training and presented it to his children on Monday.
"I just know it's a great honor and I know he'd be thrilled, as we all are," said Jimmy Malzone. "From all of our families, we thank the Red Sox and everybody that was with my father while he was here."
Ian Browne has covered the Red Sox for MLB.com since 2002. Follow him on Twitter @IanMBrowne and Facebook. This story was not subject to the approval of Major League Baseball or its clubs.