Pomeranz seeks balance with K's, pitch count
Left-hander fans 10, but lasts just 4 1/3 innings in Sunday's win vs. the Rays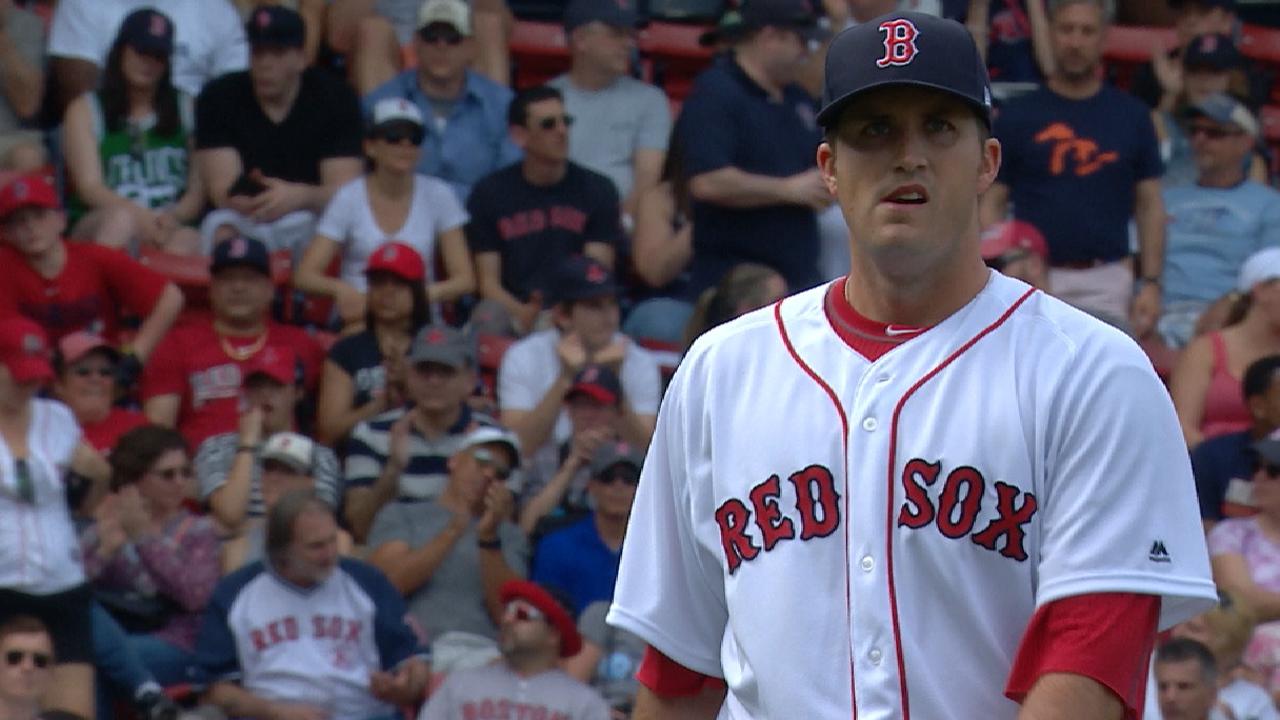 BOSTON -- Even Drew Pomeranz acknowledged it was kind of a weird day.
Early in Sunday's 7-5 win against the Rays, it looked like the left-hander was in trouble. He opened the game with four consecutive balls to leadoff hitter Steven Souza Jr., and then walked Kevin Kiermaier.
Pomeranz faced seven batters in the first and gave up three runs, including a two-run triple to Brad Miller. While his command looked shaky, he managed to record three strikeouts in the inning. But he needed 35 pitches to get through the frame.
Pomeranz's outing lasted just 4 1/3 innings after he allowed five runs on five hits -- two of them homers, with two walks and a wild pitch. But he also struck out 10 batters, one shy of his career high -- which he set on Aug. 25, 2016, also against the Rays.
"Fortunately, we overcame our mistakes in the first inning," Red Sox manager John Farrell said. "But the strikeouts are there and as we talked about before the game, concerned about the inning totals. It's more about total number of pitches thrown. And Drew's going to run into a lot of deep counts.
"Today, a lot of swing-and-miss. But he kept us in the ball game and we were relentless all day offensively, just kept coming all day long."
Pomeranz is just the ninth Major League pitcher since 1913 and the first Red Sox pitcher to throw 10 or more strikeouts and record 13 or fewer outs.
"It was kind of a weird day," he said. "Felt like I had pretty good stuff. Unfortunately, some of the things didn't go my way in the first inning and I ended up throwing a lot of pitches, and I don't think I really recovered from that pitch count-wise. But felt good out there. Gave up a couple of home runs, but other than that, it was just a strange day. I don't know how else to describe it.
"I take pride in us winning games. [I] feel like I pitched well, but you have to take some positives and kind of analyze what you did wrong. I feel like I did a lot of things right but a few key things [wrong]."
His first seven outs came via strikeout, the longest streak of his career to begin a game. In 27 2/3 career innings against the Rays, he has recorded 37 strikeouts. His last three starts with seven or more strikeouts have been against the Rays.
"He definitely has the ability to strike some people out," Rays manager Kevin Cash said. "Obviously, the command probably wasn't there early on, which allowed for us to get on base. But once he got in the groove, the pitch count remained high, but the fastball-curveball combination, [he had] some really good curveballs."
Rays No. 9 hitter Tim Beckham struck out once but led off the fifth with his first home run of the season.
"He's a good pitcher," Beckham said. "He wouldn't be in the big leagues if he wasn't."
Maureen Mullen is a contributor to MLB.com based in Boston. This story was not subject to the approval of Major League Baseball or its clubs.