Mookie appears ready for takeoff
Right fielder goes 3-for-5, launches first homer of season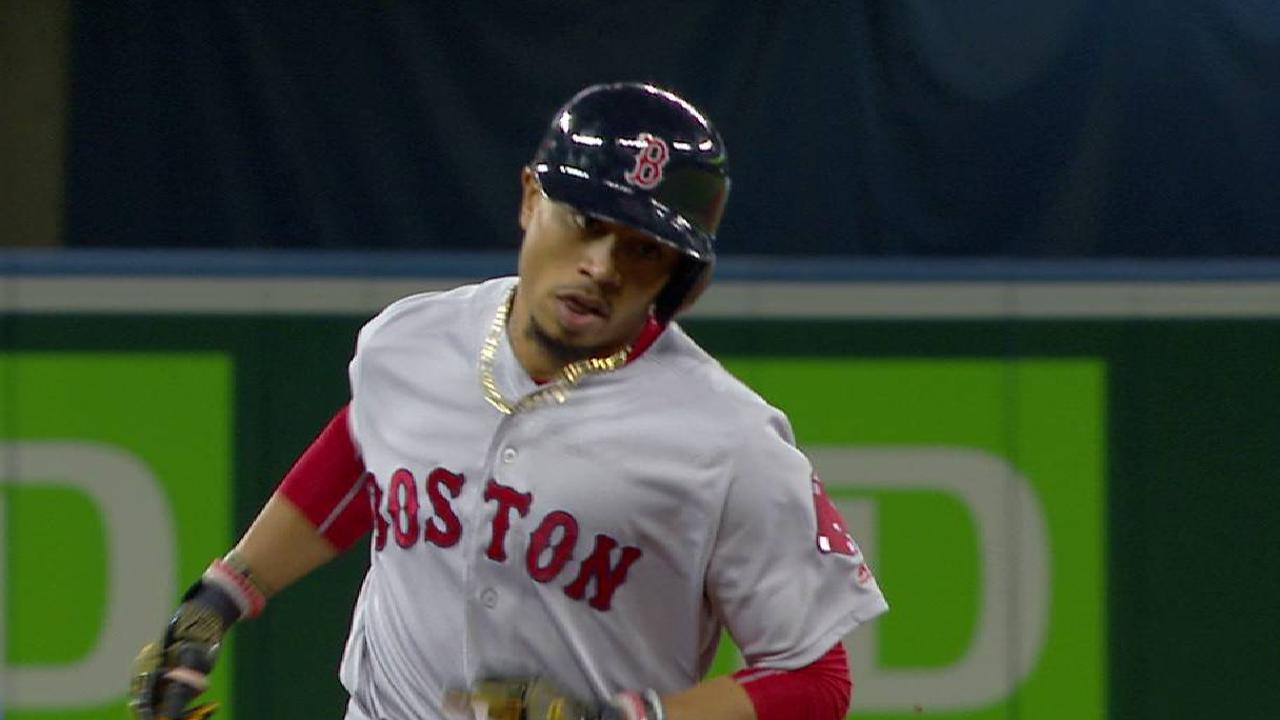 TORONTO -- Mookie Betts is the ignition for the Red Sox's offense, and the fact that the electrifying right fielder is in the early stages of a hot streak could spell a lot of trouble for opposing pitchers over these next few days.
When Betts gets hot, he tends to stay hot for a while. And when he does, the Red Sox tend to win.
Backed by a 3-for-5 performance from Betts that included three runs scored and a home run (his first of the season), the Sox staved off the Blue Jays, 8-7, on Tuesday night at Rogers Centre.
"When Mookie gets hot, he's like, ridiculous, you know? He just goes on these runs that you can't get him out," said Red Sox shortstop Xander Bogaerts. "He just will be hitting balls hard, home runs and stuff like that. We're feeling good as a team, playing good as a team. Hopefully that continues."
That's four in a row for the Red Sox after a 5-5 start, and no surprise that the winning has happened while Betts has raked to the tune of 12-for-22 in that stretch.
When Betts reaches base two times or more this season, the Red Sox are 7-1. With his speed and power in the No. 3 spot in the batting order, his positive performances can't help but be impactful.
"He's a special player," said Red Sox first baseman Mitch Moreland. "This team is full of young, special players, but he's fun to watch. He's one of those guys -- you go to the ballpark and your eyes are on him for all nine innings. I think it's that way for me and I'm out there trying to play, too."
Moreland is hot himself, as a 3-for-5 performance put his average at .358. But Betts is the team's finest all-around player, and he is now hitting .356 with, you might have heard, zero strikeouts.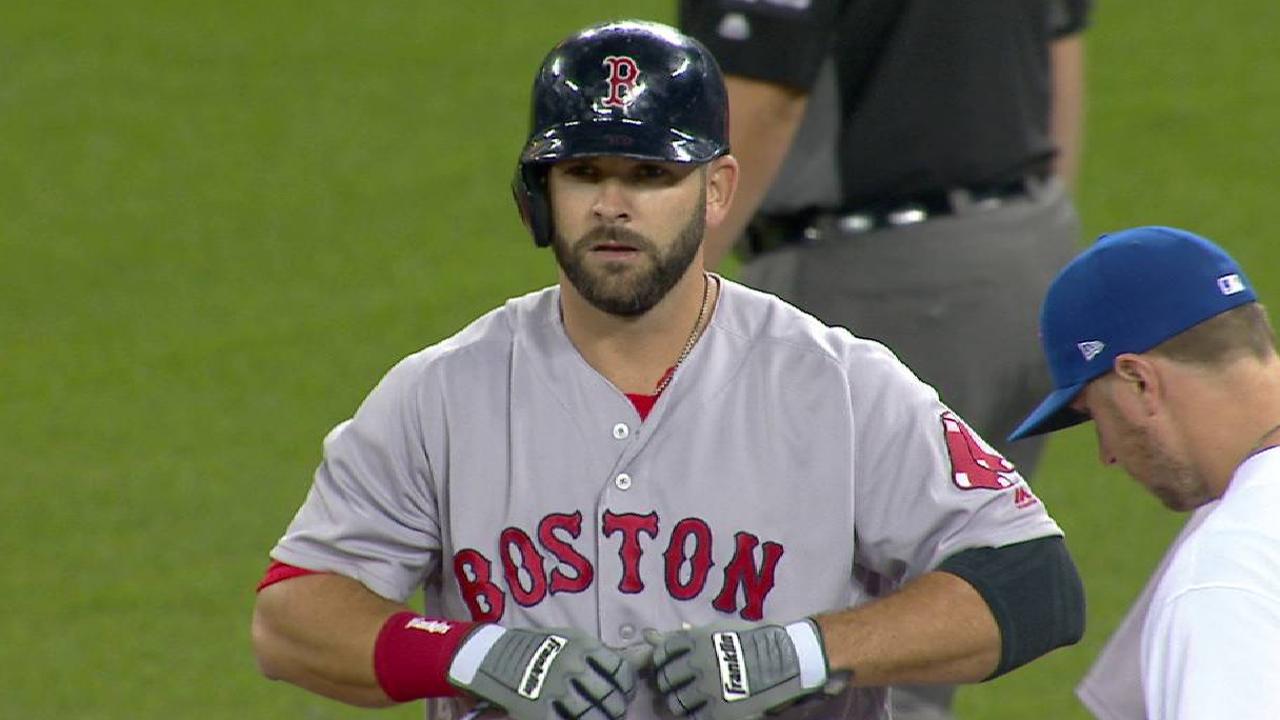 The last time Betts struck out in a regular-season game was Sept. 12, 2016. He has gone 128 plate appearances without a K.
"Pretty irrelevant," Betts said. "An out's an out. I don't care about that at all."
Betts is always the last person to give credit to himself, particularly in interviews. But his teammates can appreciate what he is doing.
"Having a front-row seat getting to watch him every day is pretty special. That streak is unheard of -- I told him mine's probably about six or so," quipped Moreland. "He's something special to watch, his hands are so fast, it seems like there's no holes in his swing. It's tough to pitch to a guy like that. He's catching fire at the right time."
The stretch without a strikeout is the longest in the Majors since Juan Pierre in 2004. But the speedy Pierre -- a slap hitter -- fits the profile of someone who would have a streak like that.
Betts has a ferocious swing that he used to swat a home run on Tuesday that was projected by Statcast™ to travel 424 feet. It is the third longest homer Betts has hit over the last three seasons, and the best distance he has had on a homer since May 28, 2016, at Baltimore.
"Balanced, confident hitter," said Red Sox manager John Farrell. "He's seeing the ball so well and so much has been made about the run of at-bats where there's been no strikeouts. And I'm sure everybody is aware of it, but what's great to see is he's still working counts. He's still working the at-bats. There's damage inside the streak that he's on. He's just very balanced and taking great swings."
Ian Browne has covered the Red Sox for MLB.com since 2002. Follow him on Twitter @IanMBrowne and Facebook. This story was not subject to the approval of Major League Baseball or its clubs.