Draft begins June 12 on MLBN, MLB.com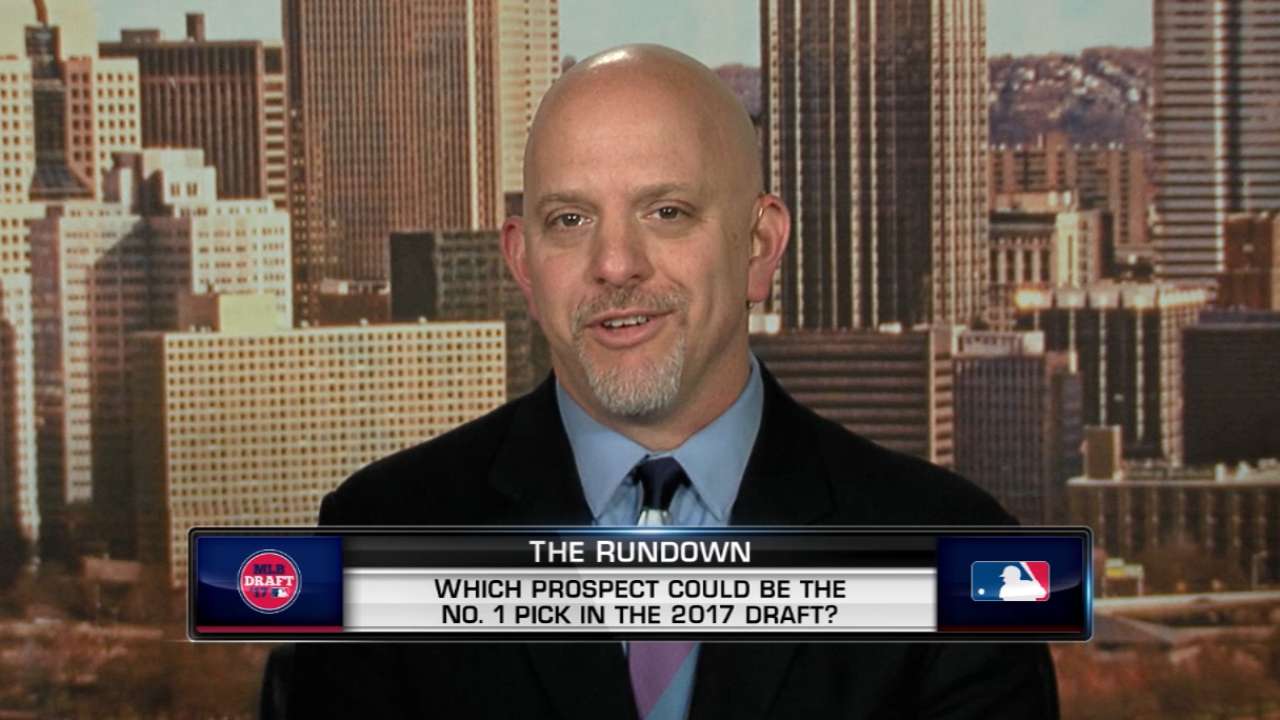 The Major League Baseball Draft is set to begin on Monday, June 12, at MLB Network's Studio 42 in Secaucus, N.J.
When the Draft officially begins at 7 p.m. ET, the Minnesota Twins will be on the clock, as they hold the No. 1 pick for the first time since 2001, when they used the selection to choose six-time All Star Joe Mauer. The Twins will be followed by the Reds, Padres, Rays and Braves, rounding out the top five picks.
MLB Network, with a simulcast on MLB.com, will air the first round and Competitive Balance Round A live after a one-hour preview show that begins at 6 p.m. Round 2 and Competitive Balance Round B, also on Day 1, will be shown exclusively on MLB.com.
The second and third days of the Draft (Rounds 3-10 on Tuesday and 11-40 on Wednesday) will also be streamed on MLB.com.
There will be plenty of intrigue right away, as the Twins could go in a few directions with the pick.
Louisville's Brendan McKay and Hunter Greene of Notre Dam High School in Sherman Oaks, Calif. are the favorites to go No. 1 overall, although the Twins are considering other names as well.
If McKay is the pick, plenty will be curious to see if he's selected as a first baseman or as a left-handed pitcher. If Greene is selected, he will become the first high school right-hander to ever be selected with the top pick.
While the Twins have the glamour of the first pick, several other teams have a chance to make a big splash on Day 1 as the Toronto Blue Jays (22nd and 28th), Texas Rangers (26th and 29th) and Chicago Cubs (27th and 30th) each possess a pair of first-round selections.
The Houston Astros (15th, 53rd, 56th, 75th) and Pittsburgh Pirates (12th, 42nd, 50th, 72nd) are also loaded with picks as each club will make four of the first 75 selections.
MLB.com will begin its exclusive live programming of the Draft's final two days with a live preview show at 12:30 p.m. (ET) on June 13th, followed by a live pick-by-pick stream and commentary from MLBPipeline.com Draft experts Jonathan Mayo and Jim Callis. It also will provide Draft Tracker, a live interactive application that includes a searchable database of more than 1,500 draft-eligible players with statistics, scouting reports and video highlights.

On Twitter, the official Draft Twitter account, @MLBDraft, will provide up-to-the-moment updates and commentary using the official Draft hashtag, #MLBDraft, while @MLBDraftTracker will tweet all picks as they are made.
William Boor is a reporter for MLBPipeline.com. Follow him on Twitter at @wboor. This story was not subject to the approval of Major League Baseball or its clubs.