Inbox: Who's the answer at 3rd for Red Sox?
Beat reporter Ian Browne answers fans' questions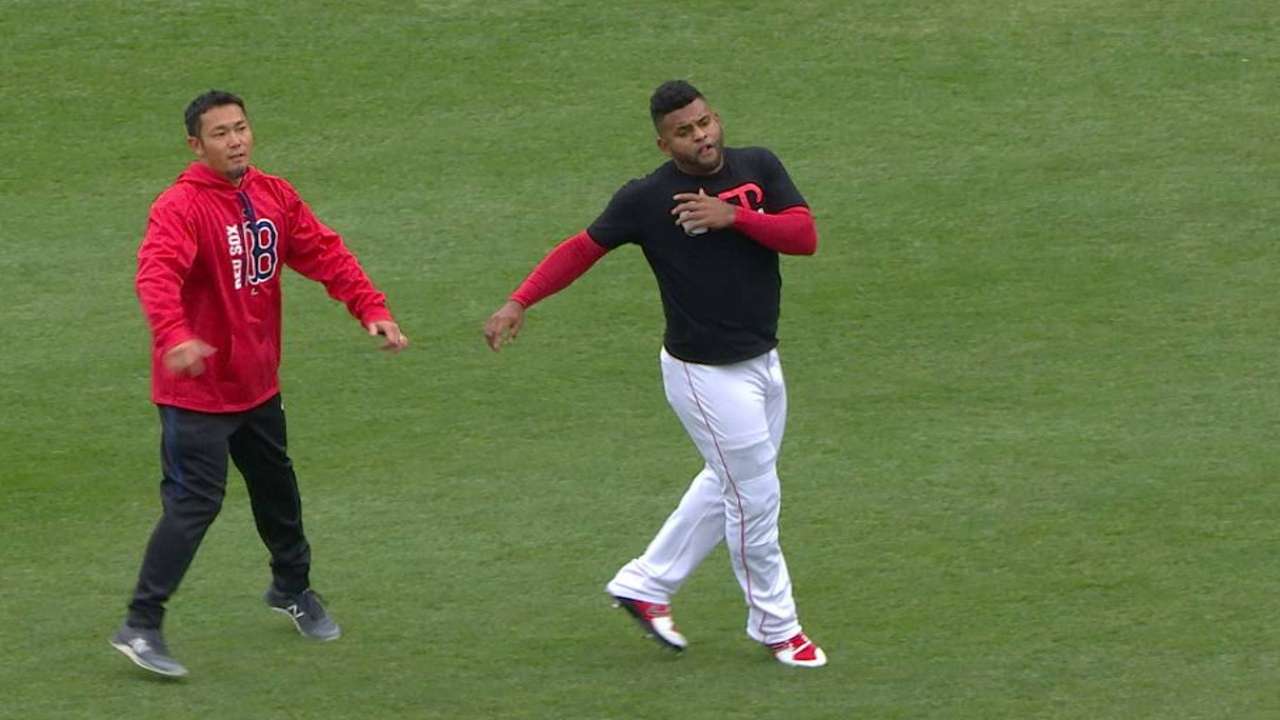 What are the Red Sox doing to address third base: trade, callup or free agency?
-- @BrantleyMichael
For right now, Deven Marrero is holding down the position, because at least he offers defensive stability. Brock Holt should be back by the end of this week, and he could get his share of starts at third against righties. Pablo Sandoval might not be far off from returning, as he could start a Minor League rehab assignment by the end of the week.
Given that it's still only May, the Red Sox want to see if they can solve the situation internally before going outside the organization. If third base remains a big problem in June and July, I'm sure president of baseball operations Dave Dombrowski will do all he can to go out and get someone.
• Submit a question to the Red Sox Inbox
Why does David Price need a start in the Minors if he says he's ready to go? We need pitching help now.
-- @mrmmoll
They can't rush Price through this process. He is too important to the team this year and going forward. Due to Sunday's rainout at Pawtucket, R.I., he hasn't even pitched in a real game since last October. Price needs a minimum of one start in the Minors, and possibly two. Every competitor is going to say that they are ready.
What do you think the future holds for Jackie Bradley Jr. as a member of the Red Sox?
-- Mike W., Anchorage, Alaska
In the immediate future, the Red Sox need Bradley to get his bat going. He can be a huge weapon when he gets hot. As for the bigger picture, Bradley will be entering the arbitration-eligible stage of his career this offseason. Boston controls him for the next three years, and he will be a free agent prior to the 2021 season. Bradley is an elite defender, and my hunch is that he'll remain with the Sox at least through free agency.
This team seems like it's falling apart. The offense is particularly concerning. Is there any hope?
-- @GrovisOtis
The biggest reason for hope is the calendar. It is only mid-May. The Red Sox have 125 games left. There is time to turn the season around. But there's no question that Boston has to play better in several areas. Third base is a big concern. The team needs to hit for more power. The Sox need Price back and effective. Overall, the team's defense needs to be more consistent.
What is your opinion on Steven Wright? He appears to almost always be on the disabled list, and I wonder how much longer he can continue to pitch. He is showing signs of age, and he is not anywhere near where he used to be. Do you think they will renew his contract after it expires?
-- Landon D., Houma, La.
At this point, Wright is a bargain. He is arbitration-eligible for the first time this offseason, so he will be at a very affordable price. They might as well see if he can get healthy after he recovers from his left knee surgery.
Can you tell us more about what a knuckle curve is? NESN always calls Craig Kimbrel's offspeed pitch a knuckle curve, but do other pitchers use that grip?
-- Michael K., West Tisbury, Mass.
The knuckle curve has similar movement of a standard curveball, but it is thrown with one or more of the fingers bent, giving the pitcher a better grip on the ball and tighter spin and perhaps more movement. Several pitchers have used the pitch throughout the years, especially Mike Mussina. Without question, the pitch is a huge weapon for Kimbrel.
What's going on with Rusney Castillo? Where is he?
-- @eitan_moore
Castillo is playing for Triple-A Pawtucket, as he is no longer on the 40-man roster. He is having an average season so far. It remains hard to imagine that Castillo will reach the promise the Red Sox thought he had when they signed him, but you never know. He is basically organizational depth at this point.
Ian Browne has covered the Red Sox for MLB.com since 2002. Follow him on Twitter @IanMBrowne and Facebook. This story was not subject to the approval of Major League Baseball or its clubs.