Betts robs HR as ball hits off fan and into glove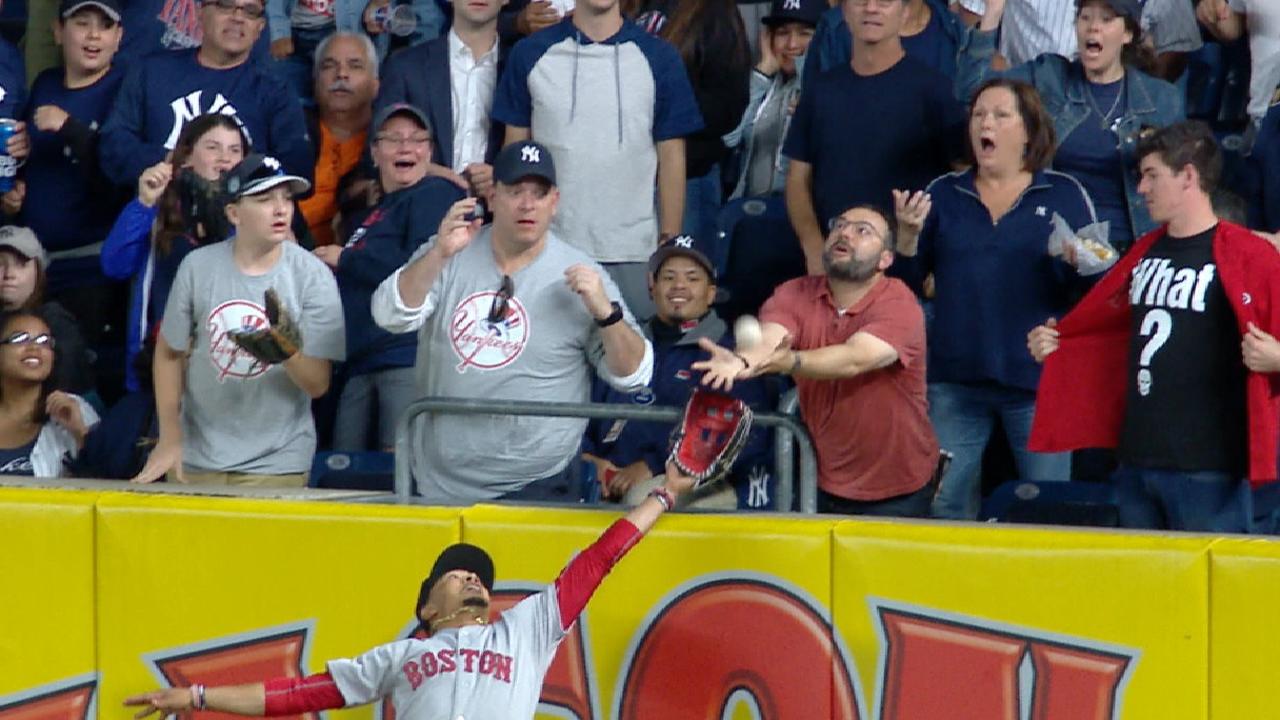 NEW YORK -- With Mookie Betts and a fan in the stands both making an attempt at a deep fly to right by Chris Carter in the bottom of the sixth inning on Wednesday night at Yankee Stadium, the Red Sox's right fielder won out with a sensational leaping catch.
Carter was bidding for his second home run of the night, and Betts drifted back to the wall, timed his leap perfectly and came down with the ball.
But in an odd twist, the ball appeared to touch the hands of the fan first before dropping into the glove of Betts.
• Cast your Esurance All-Star ballot for Mookie and other #ASGWorthy players
It was the highlight of the night for the Red Sox in an otherwise non-descript, 8-0 loss to CC Sabathia and the Yankees.
"I felt like I was going to catch it regardless of it hitting the guy's hand or not," said Betts. "I mean, I was just trying to make a play and fortunately it went in the glove."
When teammates asked Betts in the dugout if a fan touched the ball, he said that he didn't know.
"No, I really didn't know it," said Betts. "I didn't know it hit his hand or anything. It kind of happened really fast. But once I got to see the replay and I saw that it hit his hand, whatever."
The play looked like it might have included fan interference as soon as the spectator touched it because the fan reached down toward the top of the wall as Betts was stretching his hand up. But the umpires apparently didn't see the ball touch the fan.
The fact that Betts made the grab anyway means that the right outcome occurred.
Rule 6.01 E states the following: "When there is spectator interference with any thrown or batted ball, the ball shall be dead at the moment of interference and the umpire shall impose such penalties as in his opinion will nullify the act of interference. If spectator interference clearly prevents a fielder from catching a fly ball, the umpire shall declare the batter out."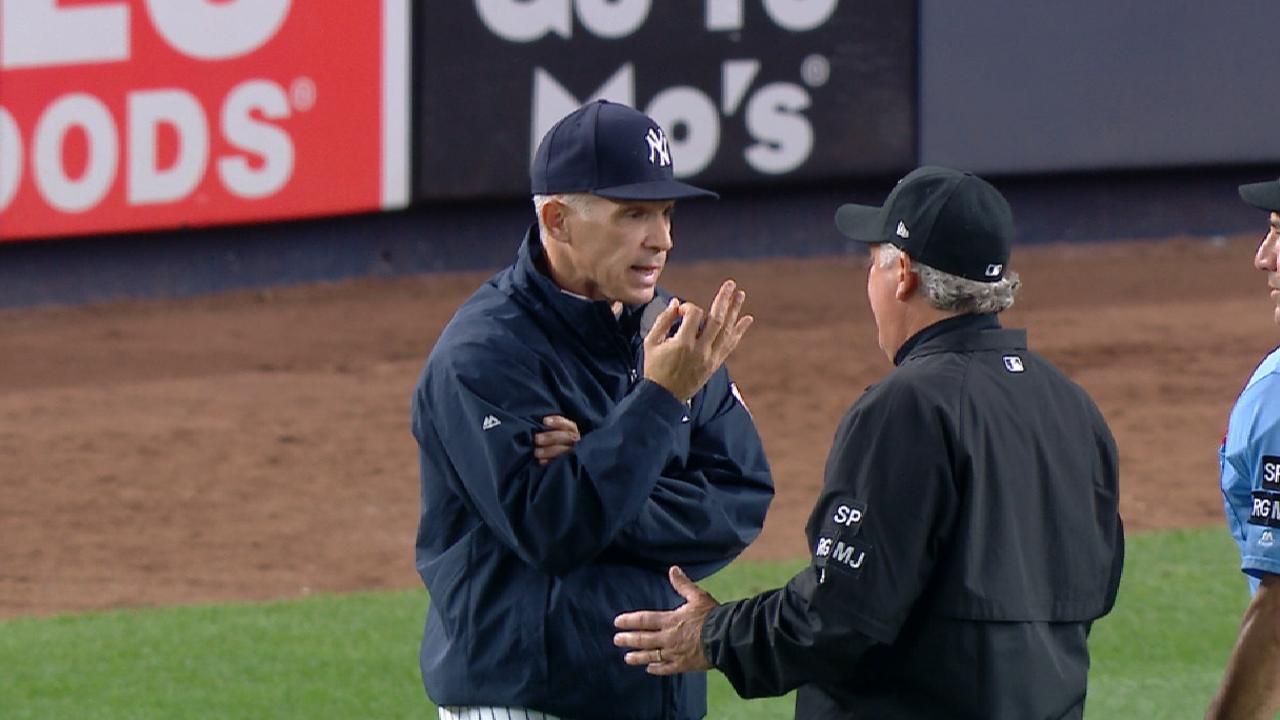 Yankees manager Joe Girardi came out to ask the umpires about the play, but there was no instant replay review granted because he didn't challenge in the allotted 30 seconds that managers have to ask for a replay.
"He just said that I didn't put my hand up right away. It's something I kind of want to talk to the league office about in that situation," said Girardi. "There is no way as a manager you think anything happens in that situation. If a guy catches it, I can see if he doesn't catch it, the other manager sees a guy reach over.
"It's hard. I'm watching the ball, we can't see that. They just felt like I didn't do it in time. Even though I didn't put my hand up right away, I thought it was within 30 seconds. It's something I want to talk about with the league office. It's a very tricky play. It doesn't happen very often. If it's not the third out, you're going to be OK in that situation. When he catches it, I don't see any reason to put my hand up. I figure he just caught it."
On a night not much else went right for the Red Sox, manager John Farrell was pleased to see his right fielder make the latest in a long line of standout plays.
"Yeah, he timed it just right," said Farrell. "I didn't see the replay, but we got word that it looked like it might have gone off a fan's hand in fair territory or in play, but Mookie timed it right."
Ian Browne has covered the Red Sox for MLB.com since 2002. Follow him on Twitter @IanMBrowne and Facebook. This story was not subject to the approval of Major League Baseball or its clubs.