Papi 10 list, No. 7: 500 for Papi
Ortiz smacks 500th career homer on Sept. 12, 2015, at Tropicana Field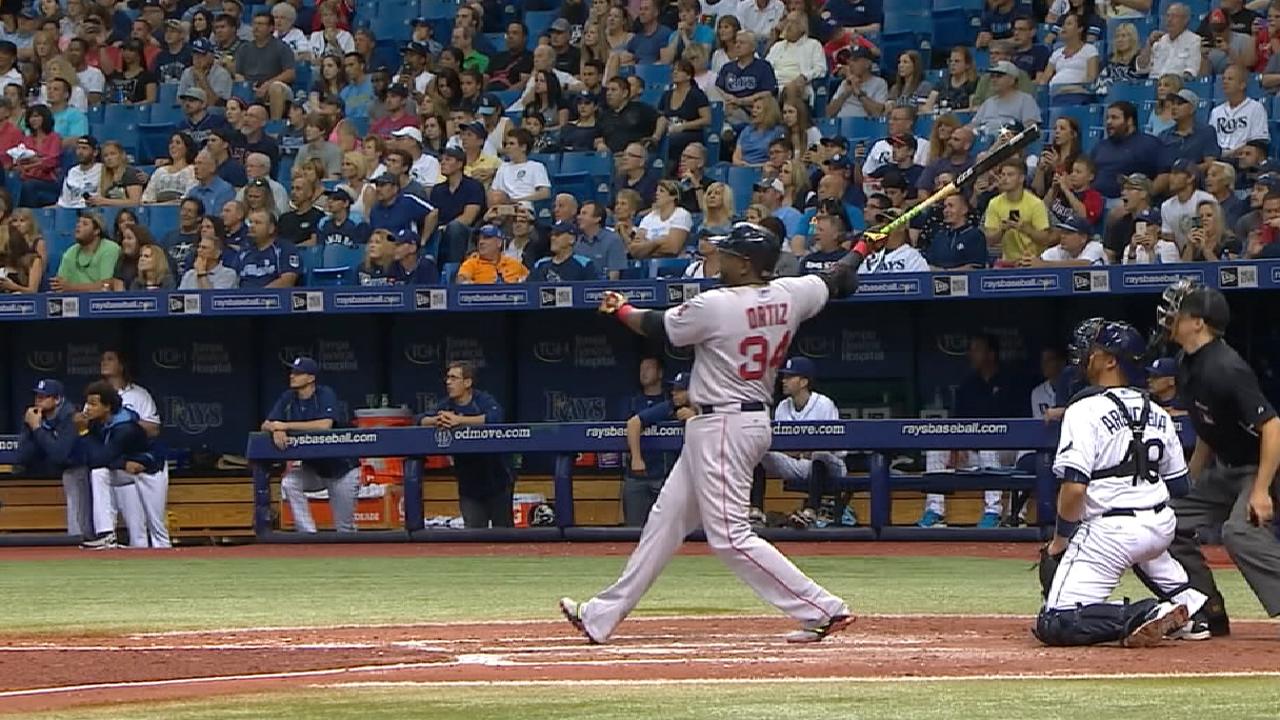 In honor of David Ortiz having his No. 34 retired by the Red Sox, MLB.com and John Hancock are celebrating Big Papi's greatest career moments with the "Papi 10 List," counting down one legendary moment each day leading up to the June 23 pregame ceremony at Fenway Park.
David Ortiz had numerous memorable moments in his career, but one of his finest -- and one which put him into one of the most elite clubs in baseball history -- came on Sept. 12, 2015. That's when he belted a 2-2 breaking ball from Rays left-hander Matt Moore into the right-field seats at Tropicana Field.
It was Ortiz's second home run of the game and his 34th of the 2015 season, coming in the fifth inning of an eventual 10-4 Red Sox victory over the Rays. But more importantly, it was the 500th homer in his storied career. It was a laser shot, leaving the bat with a Statcast-projected exit velocity of 105.6 mph, at a launch angle of 23 degrees and traveling 432 feet.
When the ball landed in the stands, Ortiz became just the 27th player in Major League history to join the 500-home run club. He finished his career with 541, good for 17th place all-time -- between Mike Schmidt's 548 homers over 18 seasons with the Phillies and Mickey Mantle's 536 in 18 seasons for the Yankees.
"What can I tell you? It's a number where it's very hard to get, and I've been competing and trying to get things done the right way through the years," the 39-year-old Ortiz said. "All the names that you mention that are in the 500 club are legends, so to be part of it is an honor, and I'm going to enjoy it."
Ortiz spoke to the nature of his accomplishment that made it different from the many other accolades he earned in his career, including being named the 2004 American League Championship Series Most Valuable Player, as well as the 2013 World Series MVP Award winner. Those were incredible in their own right, and momentous in what they meant for him and the Red Sox franchise.
But this accomplishment spoke to the consistent excellence and longevity of the man affectionately known around baseball as "Big Papi." It was appropriately punctuated by his final season, when, at age 40, he posted a 1.021 OPS with 38 homers in 2016.
In a classic display of the respect Ortiz had garnered over nearly two decades in MLB, the fans at Tropicana field gave him a standing ovation, delaying the game for several minutes as his teammates celebrated the enormous accomplishment.
Also appropriate was the venue. Though it wasn't Fenway Park in front of the Red Sox faithful, Ortiz hit his 500th homer in the ballpark where he hit 35 career homers.
Though the Red Sox were mired in a difficult season, Ortiz conveyed his own respect for the fans who were such an integral part of his career.
"The fans, man. It's the fans," Ortiz said. "You see them everywhere we go. Besides our fans wanting us to be in the playoffs and stuff, they love the game. They come and enjoy the game, and that's something that I think is very special."
Manny Randhawa is a reporter for MLB.com based in Denver. Follow him on Twitter at @MannyOnMLB. This story was not subject to the approval of Major League Baseball or its clubs.