Pomeranz, Red Sox even series vs. Rays
BOSTON -- The Red Sox fought fire with fire Friday night and, stealing a page from the Rays' playbook, used power and starting pitching to claim an 8-3 win over Tampa Bay at Tropicana Field.
The win increased the Red Sox's lead over the Rays to 5 1/2 games in the American League East with two games remaining in the weekend series before the All-Star break.
Home runs from Dustin Pedroia and Jackie Bradley Jr. helped the Red Sox build a 5-0 lead after their half of the fourth inning.
"[It was a] very good offensive night," Red Sox manager John Farrell said. "We put together a big inning with a four-run third inning to give us a little bit of breathing room."
Meanwhile, Drew Pomeranz took care of business on the mound for the Red Sox.
The Red Sox southpaw didn't travel the prettiest route to his quality start, but at the end of his six-inning stint, he had allowed just two runs on six hits to the potent Rays lineup to pick up the win and move to 9-4 on the season.
In his last 10 starts, Pomeranz has lowered his ERA from 5.29 to 3.60 and gone 6-1 with a 2.57 ERA.
"I think I finished pretty strong here," Pomeranz said. "I started off trying to find my rhythm a little bit. Once I got set in, I feel like I did a pretty good job of repeating everything and I just hope to take this into the second half."
The Rays scored two in the fourth on Wilson Ramos' RBI double and Brad Miller's RBI single to cut the lead to 5-2. But starter Jake Odorizzi continued to struggle in the fifth when Bradley drew a bases-loaded walk and Christian Vazquez drove in another run when he hit into a forceout, giving the Red Sox a five-run cushion.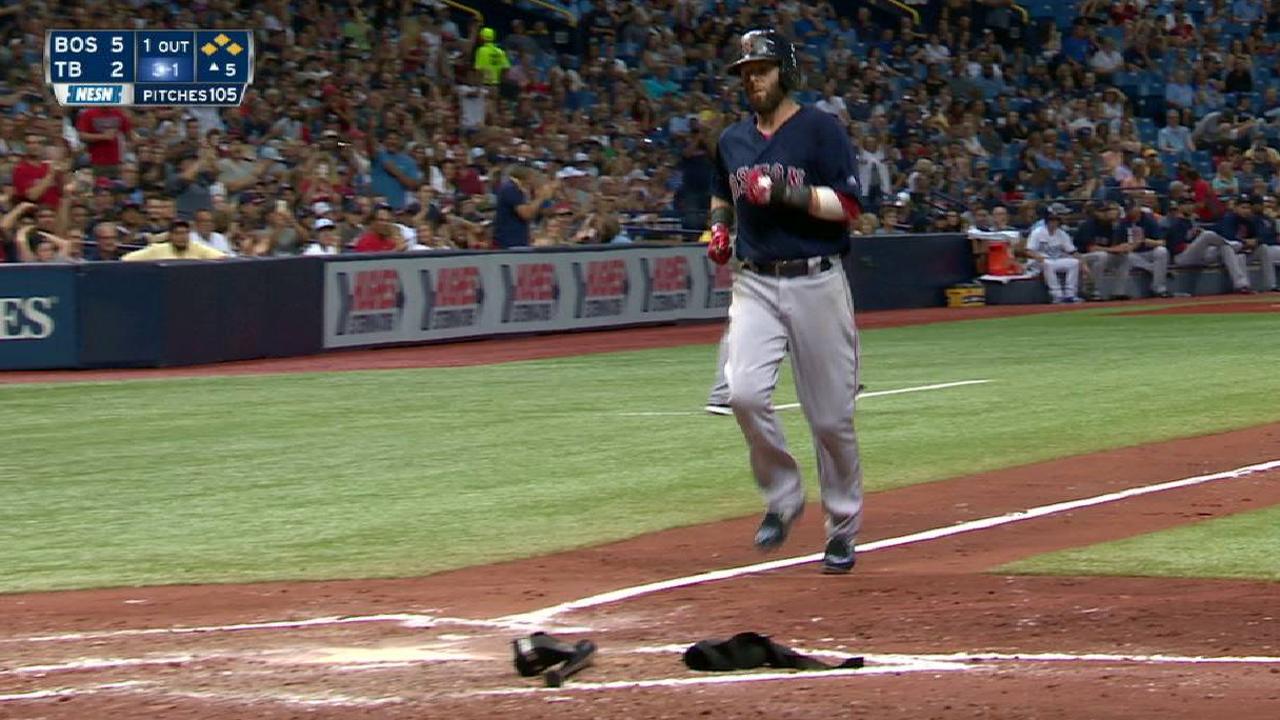 Steven Souza Jr. led off the Rays' seventh with his 17th home run of the season to cut the lead to 7-3. Hanley Ramirez countered with his 13th homer of the season, a solo shot in the ninth.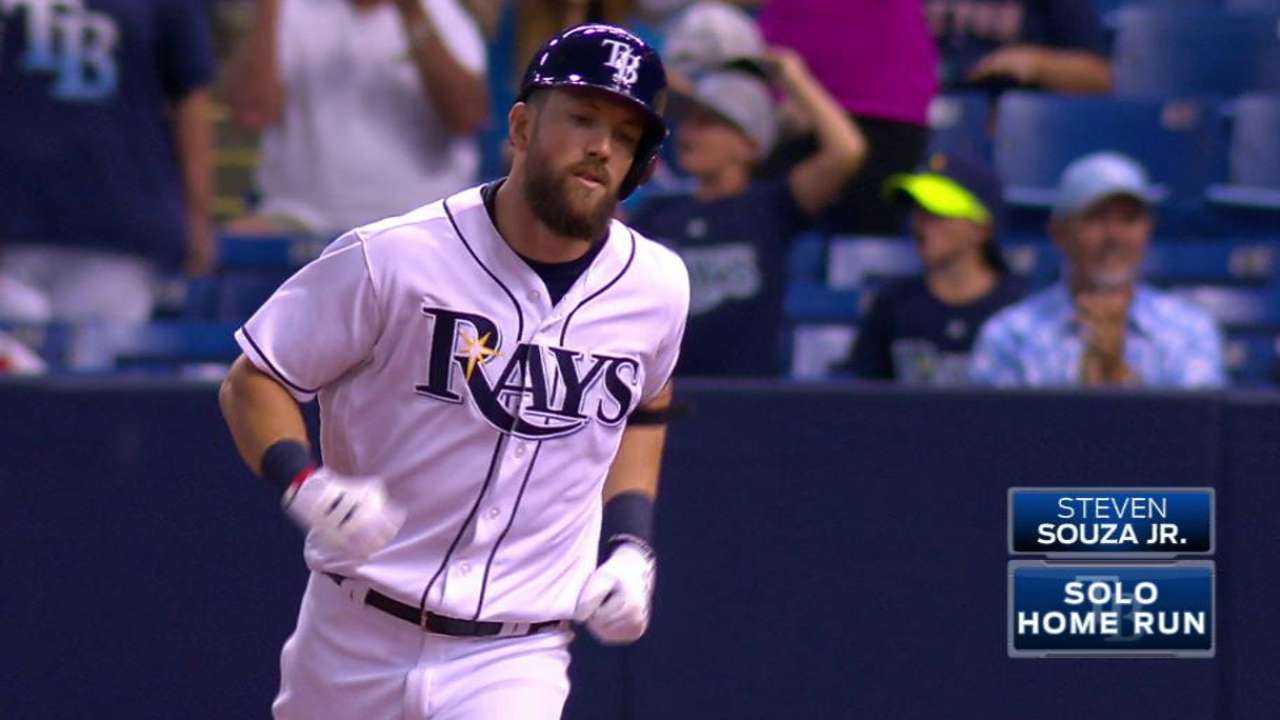 Odorizzi allowed seven runs on eight hits and three walks while striking out five in 4 1/3 innings to take his fourth loss of the season. He's been unable to complete six innings in six of his last eight starts.
"I really don't know what to say about Odo other than he just didn't have it," Rays manager Kevin Cash said. "It was kind of strange how it played out, because I thought his first inning of work was maybe the best his stuff had looked in a while, and even into the second. … I've got faith in Odo. He'll figure it out. … I think more or less, it was just an off night for Odo."
MOMENTS THAT MATTERED
Red Sox execute: The Rays were threatening in the bottom of the second when a heads-up play by the Red Sox's defense deflated the situation. Ramos led off the inning with a walk and moved to third on a Miller double. One out later, Mallex Smith put down a bunt. First baseman Mitch Moreland fielded the ball and snapped a throw to third baseman Deven Marrero, who tagged out Ramos, who had ventured too far off the bag. Then Marrero caught Miller in a rundown that finished off the double play, effectively snuffing a rally. The Red Sox then scored four in the third.
"It seemed like we had a quick change of momentum there in the [second]," Cash said. "We're second and third with no outs and we can't capitalize to get anything in. And then we're down 4-0."
Pedroia separates: Mookie Betts had an RBI double off Odorizzi to get the Red Sox started in the third. He then scored on Andrew Benintendi's single to right. Pedroia stepped to the plate and re-routed a 1-0 cutter 386 feet to left-center field for his third home run of the season. Pedroia's barreled blast had an exit velocity of 101.1 mph with a 28-degree launch angle according to Statcast™, but more importantly, it gave the Red Sox separation at 4-0.
"There's no one way to get [Pedroia] out," Cash said. "He makes adjustments constantly. Odo struck him out his first at-bat. I'm sure Petey saw a pitch that he was kind of looking for and said, 'If he throws it again, I'm going to be ready for it,' and he was."
• Miller reaches 4 times in return
QUOTABLE
"The fact that it's the All-Star break. I just need a restart. Get some time away and get back to throwing the ball in the second half like I did last year. I'm kind of in a familiar spot. [I had a] really terrible first half last year. It's unfortunate. But I was able to rebound last year and I need to do the same thing."
-- Odorizzi
SOUND SMART WITH YOUR FRIENDS
• Odorizzi has yielded home runs in a club-record 13 consecutive appearances since May 1, and 17 total home runs over that span.
• In his last 50 games, Bradley is slashing .321/.408/.571 with 10 homers.
SOUZA TIES CAREER HIGH
Souza snapped an 0-for-11 slump with a fifth-inning single, then had his 17th home run in the seventh, tying his career high). He's averaged 12.75 at-bats/home run in his last four games, compared to 30 at-bats/home run through his first 42 games.
WHAT'S NEXT
Red Sox: Sinkerballer Rick Porcello (4-10, 5.01), who has looked sharper in recent starts after a tough beginning to the season, takes the ball for Saturday's 4:10 p.m. ET game vs. the Rays at Tropicana Field. Porcello has pitched well at the Trop in his career, going 5-2 with a 2.89 ERA in nine starts.
Rays: Alex Cobb (6-6, 4.01) will get the nod against Boston on Saturday afternoon. The right-hander is 4-3 with a 3.84 ERA in 11 career starts against the Red Sox.
Watch every out-of-market regular-season game live on MLB.TV.
Bill Chastain has covered the Rays for MLB.com since 2004.

Ian Browne has covered the Red Sox for MLB.com since 2002. Follow him on Twitter @IanMBrowne and Facebook.

This story was not subject to the approval of Major League Baseball or its clubs.