Even in loss, Red Sox can celebrate Porcello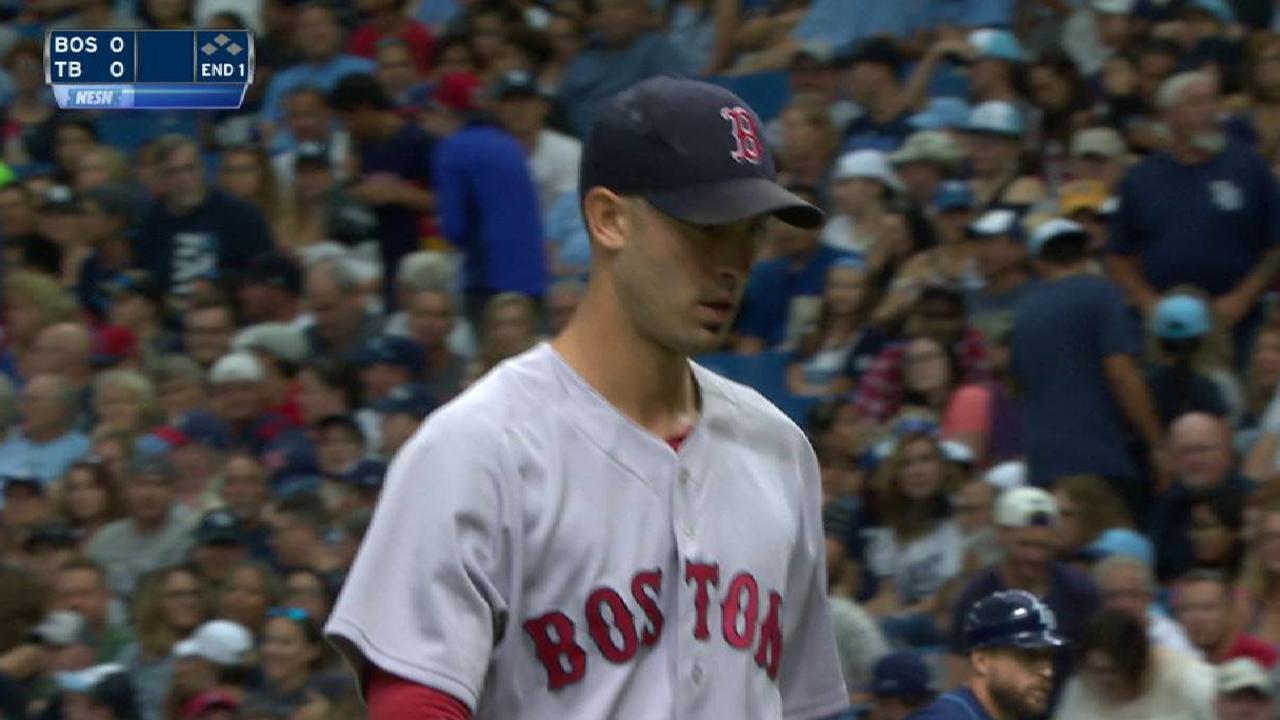 ST. PETERSBURG -- Rick Porcello's best performance of 2017 resulted in yet another loss, his 11th of the season. Though the 1-0 defeat to the Rays stung in the short-term, the big-picture implications of Porcello's recent resurgence is no small thing for the Red Sox.
In a rotation that already includes Chris Sale, David Price, the recently-hot Drew Pomeranz and the soon-to-be-returning Eduardo Rodriguez, a resurgent Porcello would allow manager John Farrell to send a solid starter to the mound during each turn through the rotation.
"He's on a pretty good run right now," Red Sox manager John Farrell said. "That's probably four of the last five where he's been consistent with his location to the bottom of the strike zone, which is key for him."
Over eight innings on Saturday, Porcello (4-11, 4.75 ERA) allowed six hits and walked none while striking out seven. The only run he allowed in his eighth career complete game was on a sacrifice fly.
This was the fourth consecutive strong start from Porcello, who has held opponents to a .228 average during that span. In his 15 prior starts, he was getting hit at a .316 clip.
"His location is much more consistent," Farrell said. "The shape to his curveball is there. He had four pitches today that he was throwing extremely well. Front-door sinker to left-handers on occasion, elevated by design. That was a strong effort on Rick's part."
In nine of Porcello's 11 losses, he has received zero runs of support.
But you won't hear Porcello complain about a trend like that. Instead, he continues to focus on trying to give the Red Sox more consistent results.
"Yeah, definitely, my last three or four have felt a lot better in overall aggressiveness and amount of hits," Porcello said. "And hard-hit balls have definitely decreased so that's a positive for sure."
Keys to the turnaround?
"It's hard to really say," Porcello said. "Some of it's mechanical, being aggressive, picking up the tempo, doing some different things. There's not one thing in particular, but I'm just getting into the flow of the game and trying to eliminate that big inning."
With the All-Star break coming up, Porcello looks forward to a brief recharge and a solid second half.
"I feel great," Porcello said. "Physically, my body feels good. Mentally, I'm ready to go out there and have a good second half for our ballclub."
Ian Browne has covered the Red Sox for MLB.com since 2002. Follow him on Twitter @IanMBrowne and Facebook. This story was not subject to the approval of Major League Baseball or its clubs.