Price trending upward as first half closes out
ST. PETERSBURG -- In the ballpark he called home for parts of seven years, David Price took a step closer to regaining the Cy Young Award-winning form he once had with the Rays.
The Red Sox dropped the series finale, 5-3, to the Rays on Sunday, but that can't be pinned on Price, who submitted his fourth consecutive quality start. He's put together a 2.52 ERA during that time and struck out 26 in 25 innings.
Even working back from the elbow injury that forced him to sit out the first several weeks of his season, Price has maintained a level of consistency.
"With the exception of one start in New York, he has been very good," said manager John Farrell, referencing the lone start during which Price allowed more than three runs. "Almost as if he has not skipped a beat. He's been powerful."
Price walked four in that game and allowed six runs, and the lefty used it as a reference point to speak of his improved command. He walked two Sunday and has given just five total free passes during his last four starts.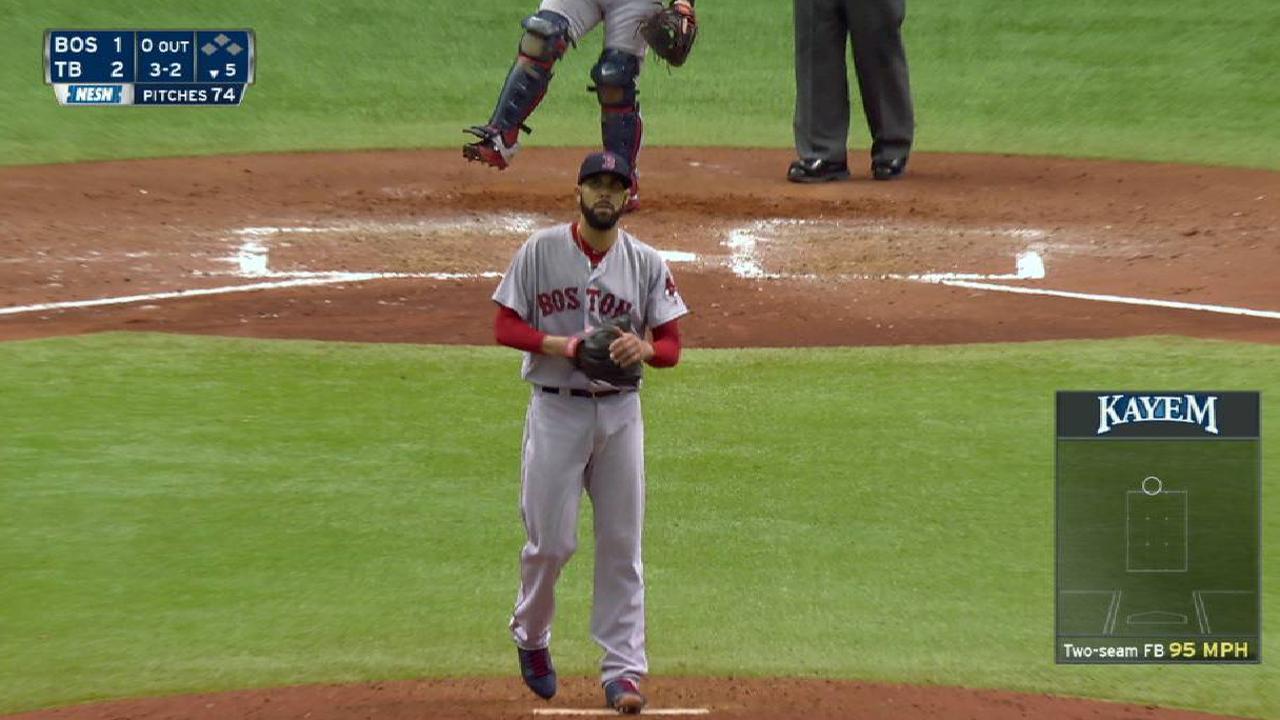 Not wasting pitches on walks allowed Price to eat more innings, which has been a specialty for the two-time American League innings-pitched leader. He hasn't thrown fewer than five frames in a start since June 2016.
"He's worked consistently into the second half and latter third of ballgames," Farrell said. "He's clearly doing his job to put us in a position to win. He could be sitting there with a much different record than he currently has."
Not that the recent string of quality outings is good enough for Price.
"[I] still can get better," he said. "Still can pitch deeper into baseball games, and that's what I'll focus on in my next start."
As Price and Rick Porcello (who allowed just one run in Saturday's complete-game loss) appear to be heating up, the Red Sox's rotation could be evolving into something to be feared. Led by Chris Sale, Boston's starters are already in the Majors' top five in innings pitched and strikeouts per nine innings.
Those lofty rankings came even with Price missing almost two months and Porcello pitching to an ERA greater than 5 at times. A Red Sox rotation with two former Cy Young Award winners and Sale pitching at the top of their game would spell trouble for the rest of the league.
"I still don't think we've played our best baseball yet," Price said. "And I think everyone in this clubhouse understands that. We'll get it going in the second half."
Connor Mount is a reporter for MLB.com based in St. Petersburg. This story was not subject to the approval of Major League Baseball or its clubs.