Red Sox turn to Sale for rubber game vs. Yanks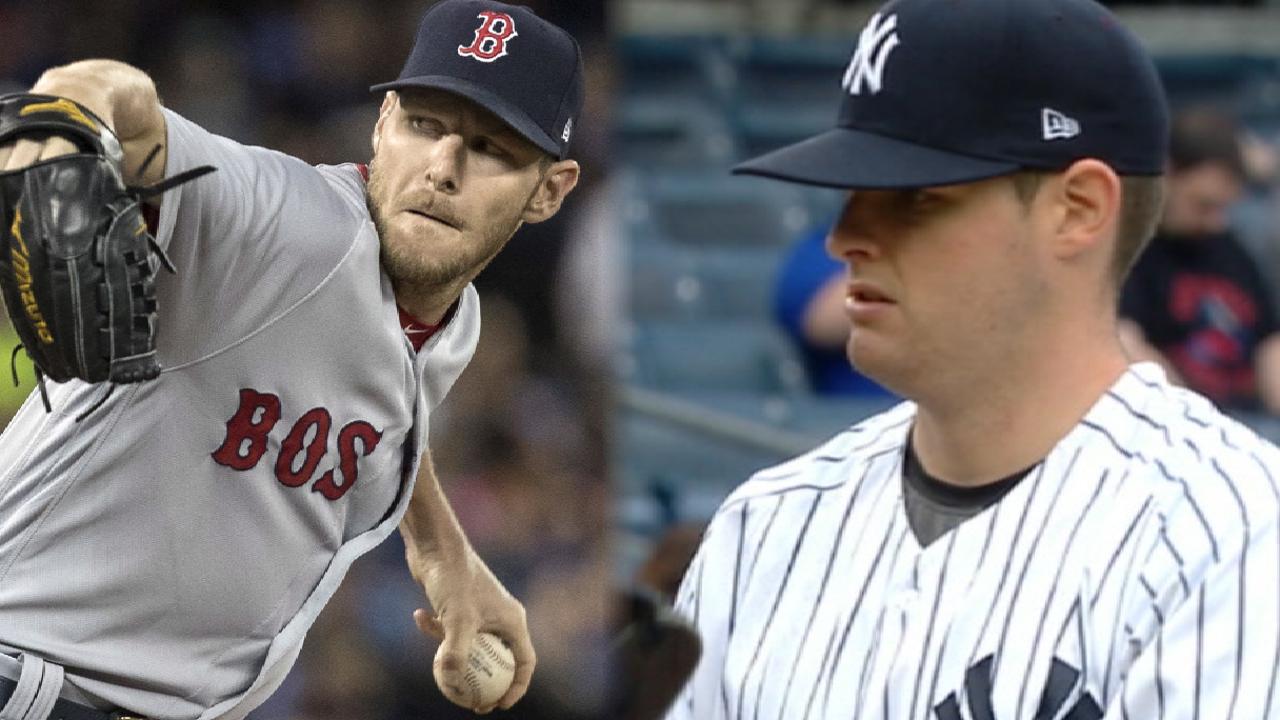 For the Yankees to win their weekend series vs. the Red Sox in Sunday night's rubber match, they'll have to do it against left-hander Chris Sale, who has not only been the Red Sox's ace this season, but he's also been arguably the best pitcher in the American League.
Rookie Jordan Montgomery is expected to take the mound for the Yankees, despite being hit in the head with a line drive while signing autographs during the Red Sox's batting practice before Saturday's game. Sunday's contest begins at 8:05 p.m. ET at Yankee Stadium.
The Red Sox hold a 4 1/2-game lead over the Yankees in the AL East after Saturday's win.
Sale (14-4, 2.57 ERA) pitched well in his first two outings against the Yankees this season, though the Red Sox have lost both games. The 28-year-old southpaw is 0-1 with a 1.15 ERA and 23 strikeouts in 15 2/3 innings this season against New York.
What makes Sale so dominant is he has two put-away pitches. Both his four-seam fastball and his slider rank in the top five of MLB in terms of strikeouts by pitch, according to Statcast. Of his MLB-leading 229 strikeouts, 104 have come via his four-seam fastball and 98 have come against his slider.
Sale has been so good this season that Red Sox manager John Farrell thinks he should be an AL MVP Award candidate.
"Great debate," Farrell said. "A lot of people say there's no way a starting pitcher can be. I'd refute that. And as dominant as he's been, with the exception of an outing or two, we're talking about a difference-maker in the standings. In the feel of the team, what he means to our team, yeah, he should be in that conversation."
The Yankees will need better pitching from Montgomery than they received on Saturday from Luis Severino, who allowed 10 runs (eight earned) in 4 1/3 innings.
Montgomery (7-6, 4.05 ERA) struggled in his only outing against the Red Sox, tossing four innings of three-run ball on July 14 at Fenway Park. The lefty is making the start in place of CC Sabathia, who was placed on the 10-day disabled list with right knee inflammation on Friday.
Things to know about this game
• Sale is 4-2 with a 1.17 ERA in 12 games (nine starts) lifetime vs. the Yankees.
• Yankees first baseman Chase Headley is hitting .300 (6-for-20) with two homers lifetime against Sale.
• Gary Sanchez's homer in Saturday's game was his first opposite-field home run of the season.
Matthew Martell is a reporter for MLB.com based in New York. This story was not subject to the approval of Major League Baseball or its clubs.