Remy feted by Red Sox for 30 years in booth
Broadcaster, battling cancer, vows to be back on TV next year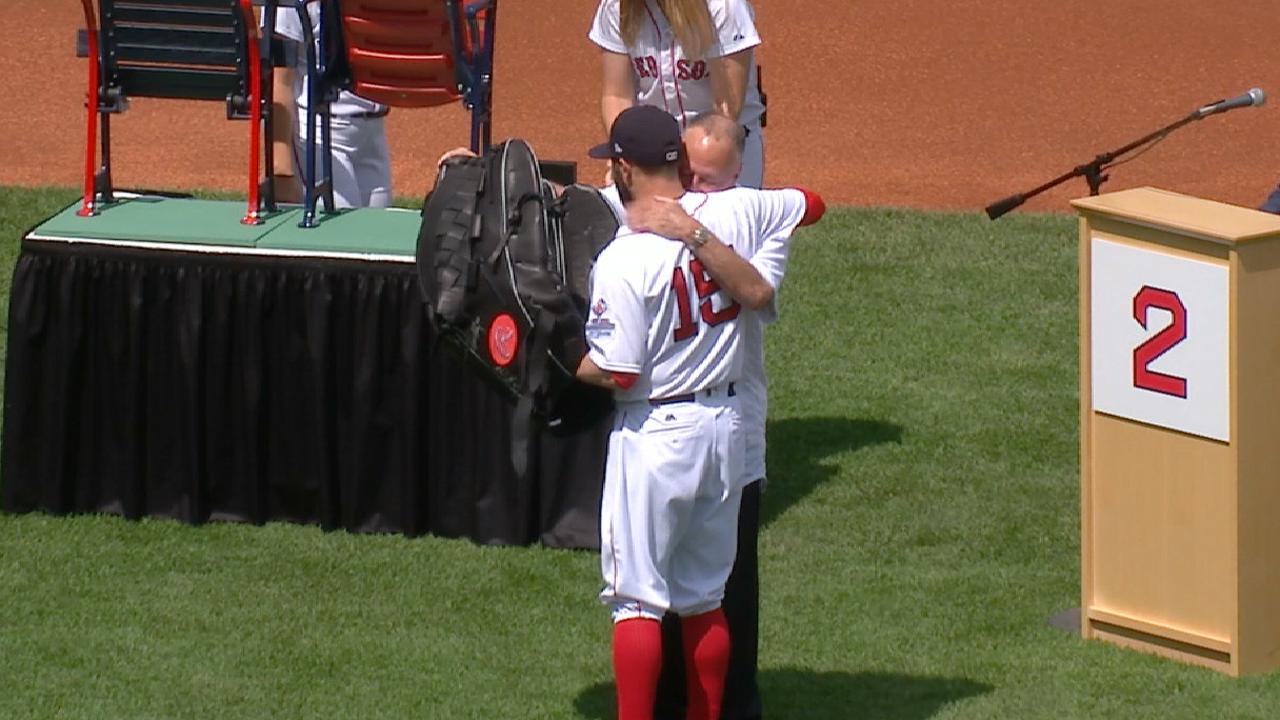 BOSTON -- An emotional Jerry Remy addressed his legions of fans at Fenway Park during a Sunday ceremony in celebration of his 30 years of broadcasting games for NESN, and he gave them a message they were thrilled to hear.
"I'm fully confident that I'll be back in that booth next year for Opening Day when the Red Sox lift a pennant for another year," said Remy.
The ceremony prior to Sunday's game against the Yankees took place seven weeks after Remy had surgery for lung cancer, and two days before he will begin chemotherapy treatments. This is the fifth time Remy has had lung cancer.
"Starting on Tuesday, I start a chapter of new therapy for cancer. It's a tough opponent. It's a sneaky opponent. It slides and goes wherever it wants to go. But I've got these people," said Remy, as he pointed to his doctors.
Moments later, Remy came up to the press box and spoke to the media.
"Today, I had my doctors on the field and have so much trust and belief in them that I'm totally confident that I'm going to beat it," Remy said.
The treatments will take place over a three-month span.
"I'm looking forward to starting, which sounds strange, but I am, because I want to get it by me and I want to get moving on with my life," said Remy. "I'm done for this year [on TV], but I want to be back here next year on Opening Day."
Red Sox manager John Farrell, who battled lymphoma two years ago, was glad that Remy would receive a warm reception from the Fenway faithful as he heads into this challenging stage of his recovery.
"I think it's vitally important. Jerry and I have had a conversation about the treatment he is going to go through here coming up. It is a daunting procedure," said Farrell. "I don't know how you can know about it until you get into it, that being chemo. Much like when he calls the game, the conversation we had was very open, candid and direct. I think today will be a big boost and he will recognize how much he means to people who watch us every day."
Remy enjoyed the reception, and seeing all the familiar faces.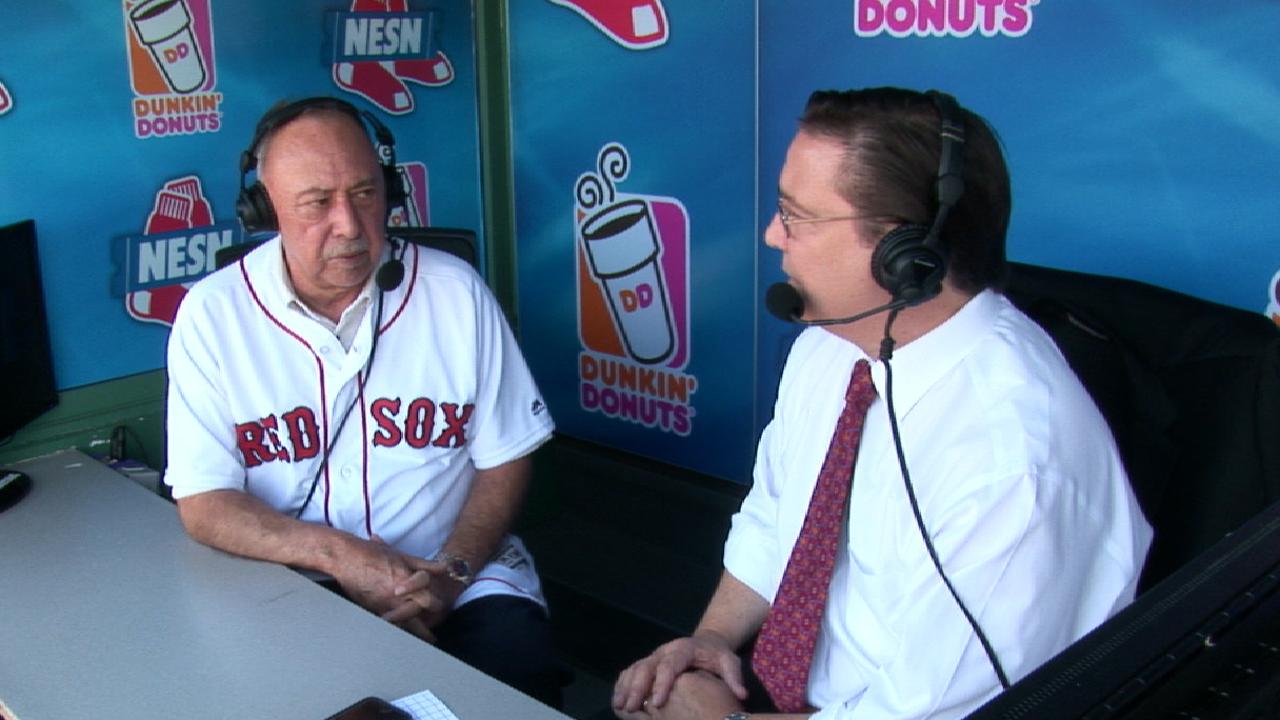 "Really good," said Remy. "There's something special about this place, there really is. The people are so great. To be able to spend 30 years of my career here as a broadcaster and almost 40 in the organization, to be received like that is just absolutely remarkable."
Until Sunday, when he made a cameo in the booth with broadcast partner Dave O'Brien, Remy hadn't watched an inning of Red Sox baseball since taking his medical leave.
"It's not because I lost interest, it's just because I feel guilty when I'm not here doing my job," said Remy. "So I kind of follow it through my phone, check the final scores, check the box scores, and that's how I've been following the club. I know one thing, they've had pretty exciting wins. It's kind of got the makings of something big that could be happening here."
How is Remy feeling these days?
"Actually the last couple weeks, pretty good," he said. "The first four weeks after the surgery, five weeks, I was feeling lousy. It was pretty serious surgery and I really started to turn a corner a couple of weeks ago. That's one of the reasons they held off with chemotherapy, because they wanted to give me a few more weeks to try to get a little bit stronger. So that's what I've done."
Remy is determined to make another comeback.
"I feel much, much better now than I did a couple of weeks ago, so it's a challenge in my life," Remy said. "My life has been full of challenges. I fully expect to beat this again and hopefully this treatment will wash it away for good, because I'm tired of it, I'm really tired of it. And I just want to go back to work."
Ian Browne has covered the Red Sox for MLB.com since 2002. Follow him on Twitter @IanMBrowne and Facebook. This story was not subject to the approval of Major League Baseball or its clubs.