Pedroia, Price make progress in rehab work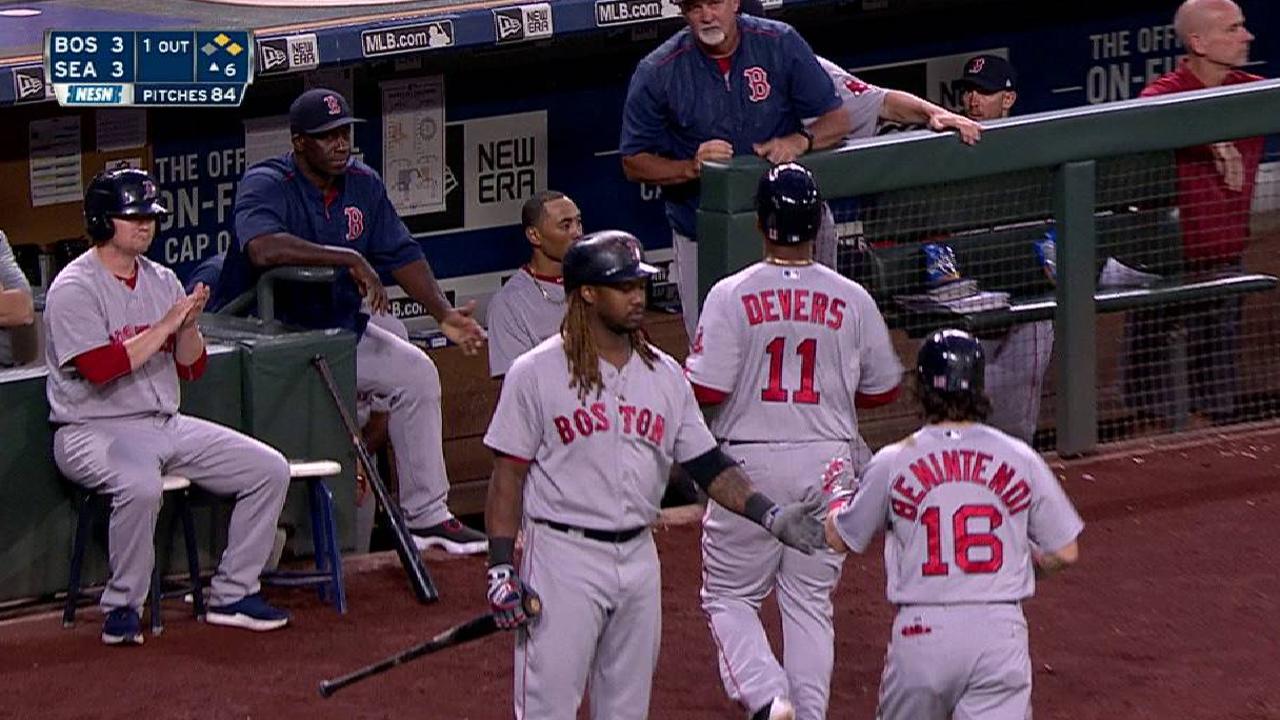 CLEVELAND -- While the Red Sox were getting ready to start a big four-game series in Cleveland, David Price and Dustin Pedroia made some progress in their respective rehabs back at Fenway Park.
The arm stiffness and soreness that had restricted Price from throwing for five straight days cleared enough that the lefty was able to play catch at 60 feet.
"That's where it felt like the last couple days [of not throwing] has allowed him to get ahead of that somewhat and put a ball back in his hand," said Red Sox manager John Farrell.
Price has been on the disabled list since July 28 with left elbow inflammation and he'll need to get on a steady throwing program that will lead to mound work in the near future for a comeback this season to be realistic.
As for Pedroia, he is getting closer to resuming baseball activities in his battle back from left knee inflammation that has limited him to just one game since July 28.
"He did some lateral work. He did run on the altered-G treadmill, which reduces some of the normal body weight," said Farrell. "So it was a productive day for him. He's in the phase right now where it is more change of direction, more ground-based, kind of loading up the knee with the work that he's going through.
"That's what we'll be in right now. It's going to replicate some of the movements of defensive work in the position obviously as a defender, as an infielder with the change of direction that is going to be involved. That's being done in a gradual build-up right now."
Worth noting
• First baseman Mitch Moreland was in the original lineup Monday, but then scratched due to some neck soreness from a collision at first base with Brett Gardner in Sunday's 5-1 win over the Yankees. On the play, Brock Holt made a diving stop but his throw to Moreland was a little past the bag, leading to the meet-up with Gardner. It was Holt who replaced Moreland at first for Monday's game.
"He took a forearm to the back, to the neck, the back of the head. He went through the whole concussion protocol," said Farrell. "He passed that. He's sore. Was able to get on a treadmill and run for 10-12 minutes. He passed all those tests, but we felt like with the recommendations from our medical staff we would give him a day to get over it."
• Lefty Drew Pomeranz, who left Friday night's start against the Yankees in the fourth inning with back spasms, threw a side session without incident on Monday. Pomeranz should be good to go for his start on Wednesday.
"Barring anything unforeseen coming in tomorrow, he'd be on track to start for Wednesday," said Farrell. "He felt good and threw all his pitches."
Ian Browne has covered the Red Sox for MLB.com since 2002. Follow him on Twitter @IanMBrowne and Facebook. This story was not subject to the approval of Major League Baseball or its clubs.