AL East lead cut to 2 1/2 as Sox's skid hits 4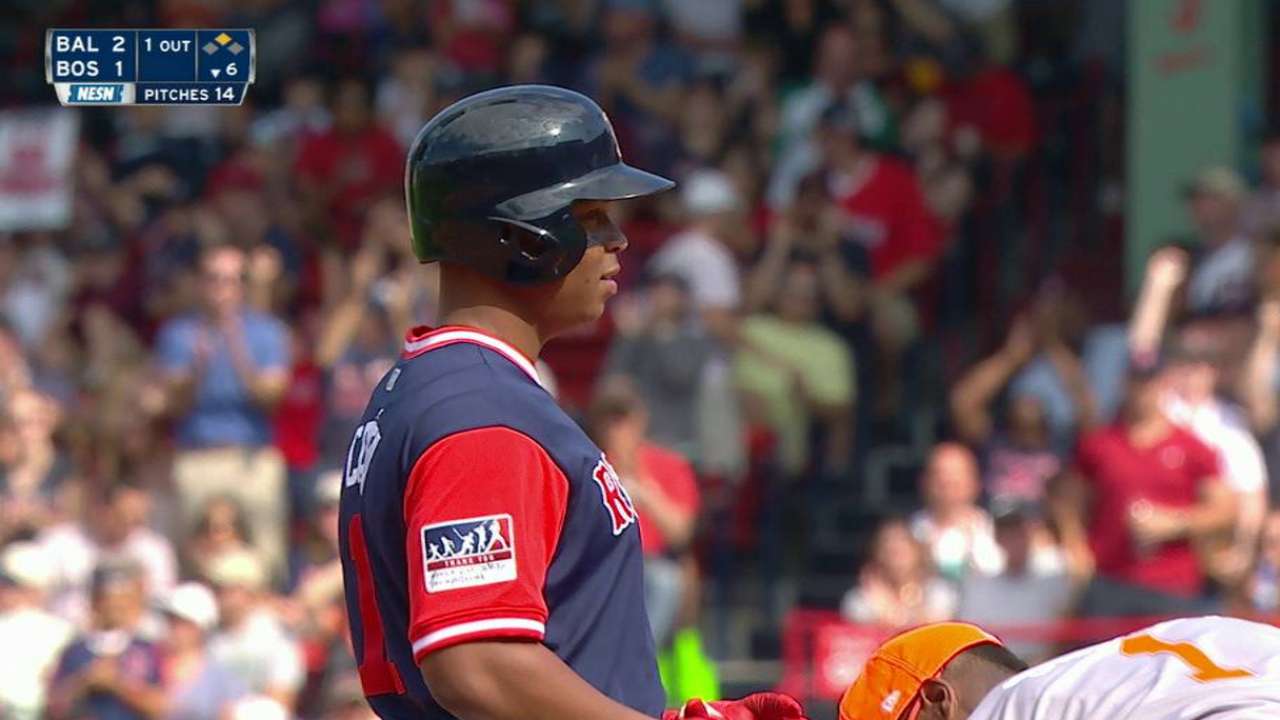 BOSTON -- After scoring 23 runs in the first two games, the Orioles squeaked out a 2-1 win over the Red Sox on Sunday afternoon at Fenway Park to complete a three-game sweep.
Allowing a single to Tim Beckham (aka "Swaggy T" for Players Weekend) to begin the game, Red Sox right-hander Doug Fister gave up back-to-back RBI doubles to Adam Jones (aka "Pappo") and Trey Mancini.
The Red Sox's lead in the American League East is down to 2 1/2 games after the Yankees picked up a 10-1 win over the Mariners. The O's are two games behind the Twins for the second AL Wild Card spot.
"I don't think we are having trouble," Red Sox right fielder Mookie Betts said. "A couple of days ago we weren't having this conversation. It is just a couple of rough days."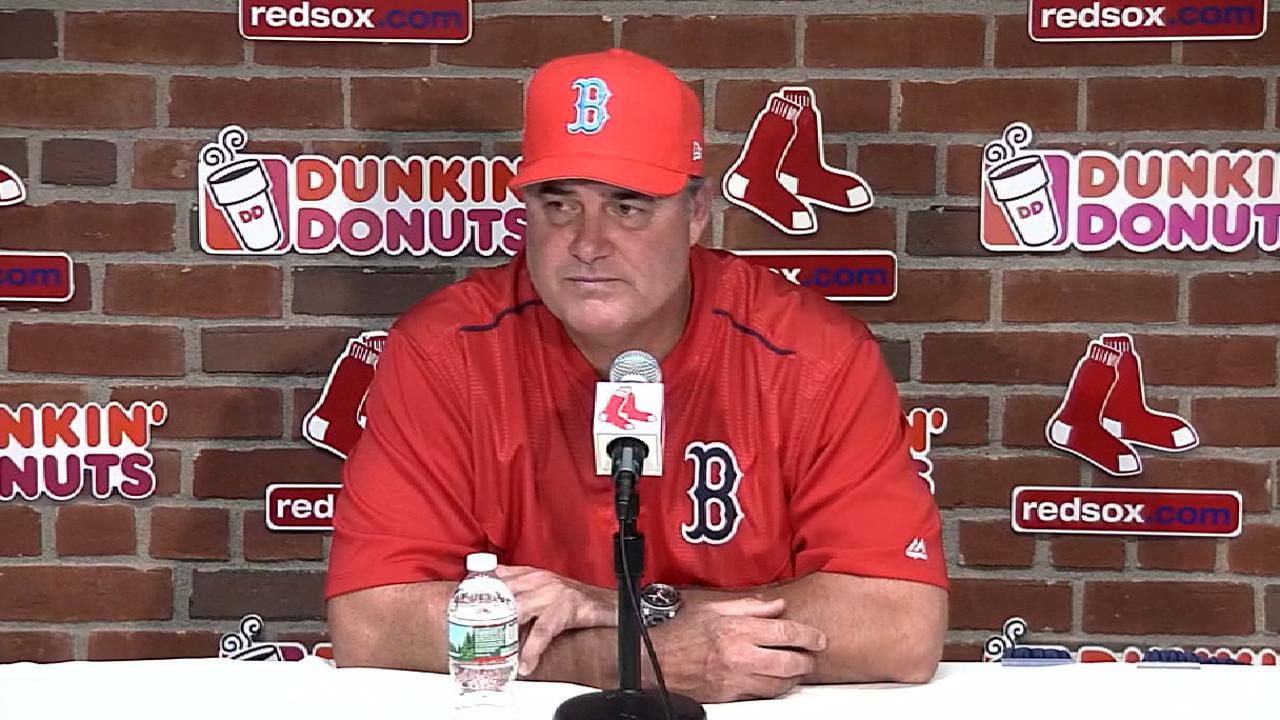 Boston had its chances against left-hander Wade Miley, but stranded nine runners through the first five innings. Chris Young was in the middle of it all. He ended the first and third by stranding runners on the corners and flied out to right field in the fifth with the bases loaded.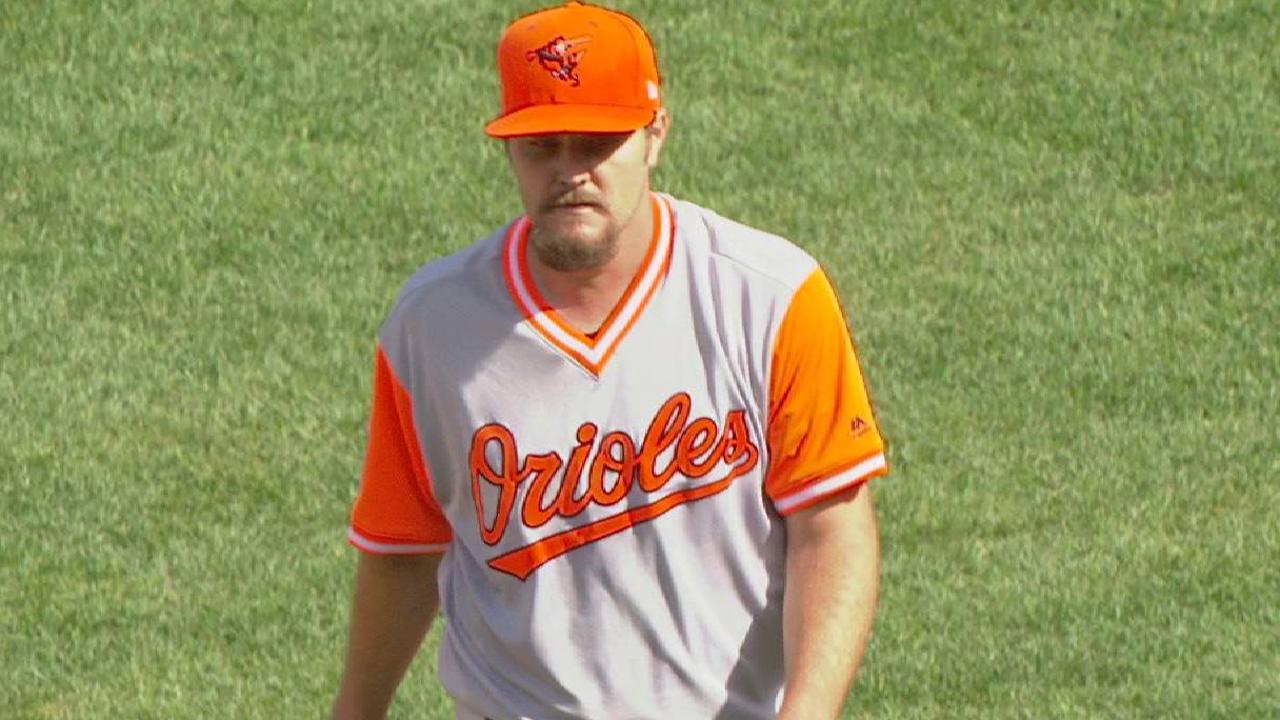 "More than anything, it was a day of frustration. We did a very good job of creating opportunities," Red Sox manager John Farrell said. " We didn't combine many and we had some big opportunities."
Miley allowed one run on seven hits in five-plus innings for his eighth win.
The Red Sox's woes with runners on base didn't end once Miley exited after a leadoff double by Xander Bogaerts in the sixth. After an RBI double by Rafael Devers cut the O's lead in half, reliever Miguel Castro ended the threat by striking out Betts with the bases loaded. Rajai Davis grounded into an inning-ending double play with runners on the corners in the seventh.
"We are in a dry patch. You look at the last four games, early leads given up to the opposition," Farrell said. "We have to turn the page on this game, we played solid, but a two-out base hit was elusive."
Fister settled in after the two-run first. One runner reached scoring position over the next six innings as he struck out seven over seven innings, but took the tough loss.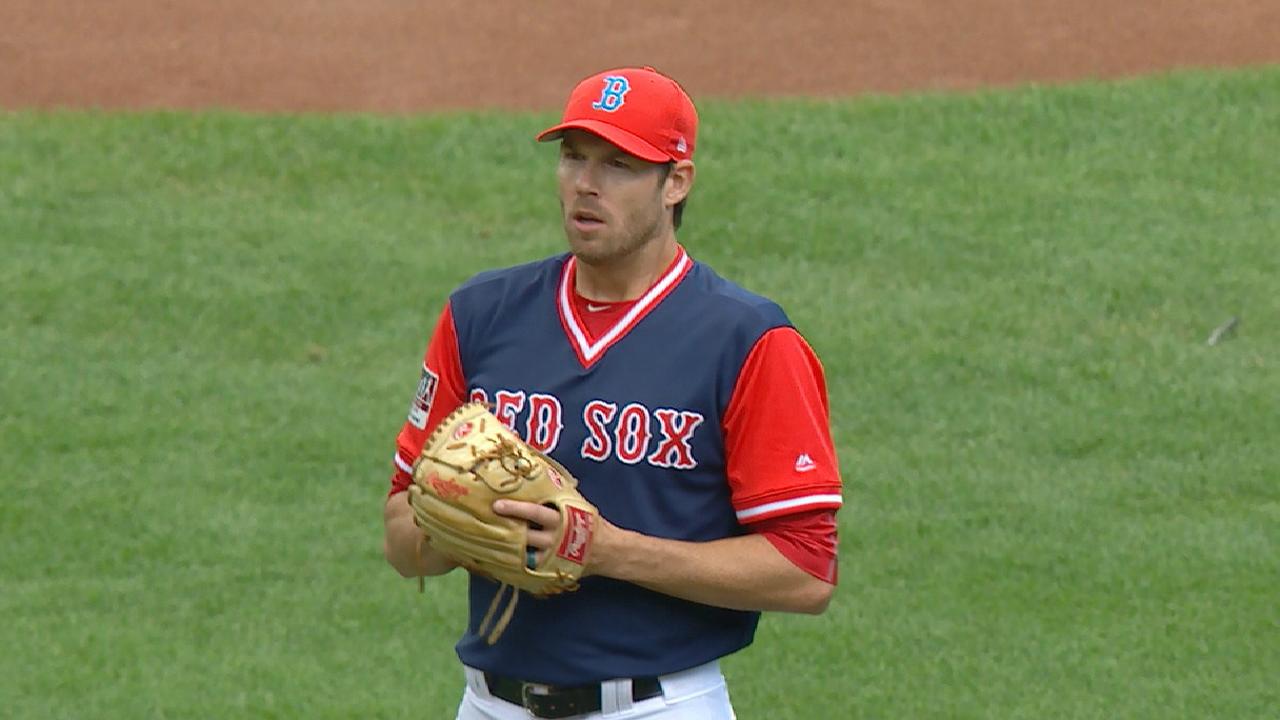 "Fister was impressive," Orioles manager Buck Showalter said. "He was coming off a good start. I knew he was going to be a challenge today. He's probably in one of the best conditions in baseball, and in day games, he really has an advantage."
MOMENTS THAT MATTERED
Sox squander chances, early and often: Once again, the Red Sox found themselves in an early hole after allowing two runs in the first. They immediately put themselves in a position to get right back at Baltimore in the bottom half, despite a leadoff popup by Eduardo Nunez. Andrew Benintendi singled and Betts followed with a double into the left-field corner that put runners on second and third with only one out. Then Hanley Ramirez struck out on three pitches and Young popped out to third base to end the threat. That proved a tone setter as Boston would strand runners in scoring position in the second, third and fifth.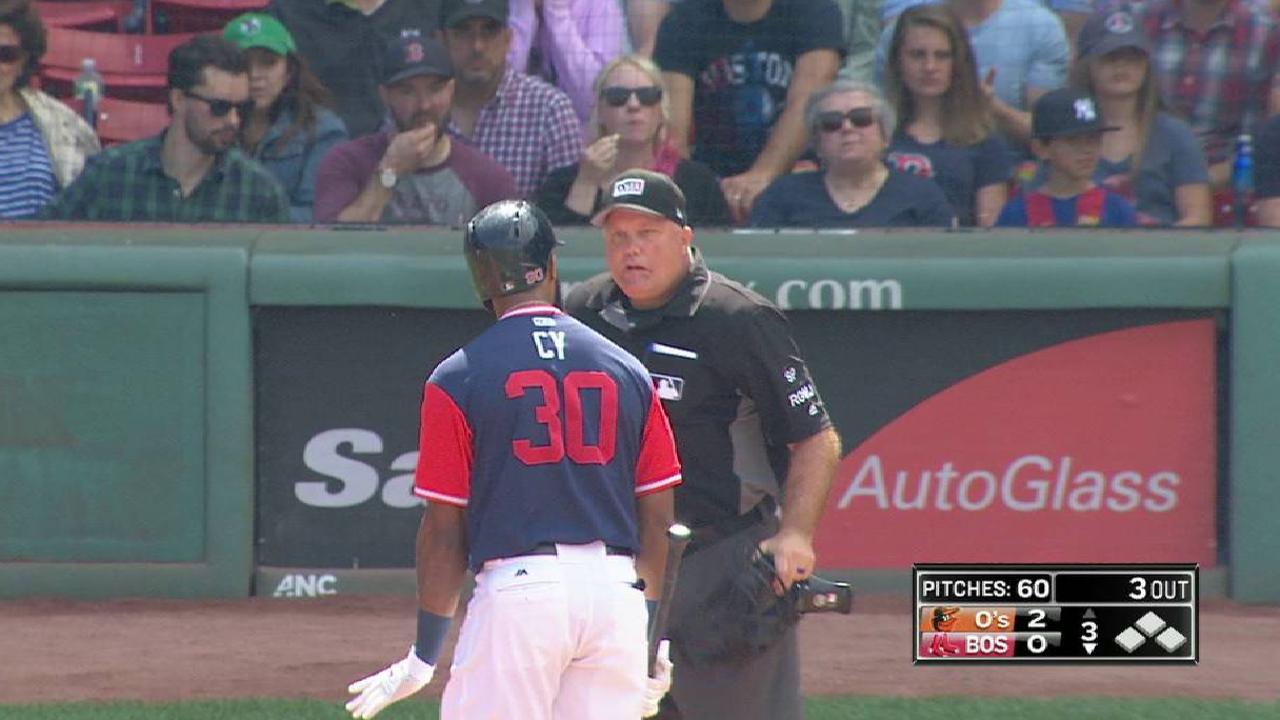 "I don't think anyone is trying to make up for two previous at-bats with one swing," Farrell said. " The key base hit was just elusive today." More >
O's skirt disaster: Bending while getting out of jams, the Orioles nearly broke in the sixth. Holding a 2-0 lead, Baltimore saw four pitchers attempt to stop the dam from breaking. Boston cut the lead in half when Devers' one-out double brought home Bogaerts. A couple of walks and a strikeout later and the hosts had the bases loaded with two outs. Showalter called upon Castro, the fourth pitcher of the inning, to face Betts. Castro got ahead 0-2, but a patient Betts ran it full before check swinging on a 96-mph heater to end the threat.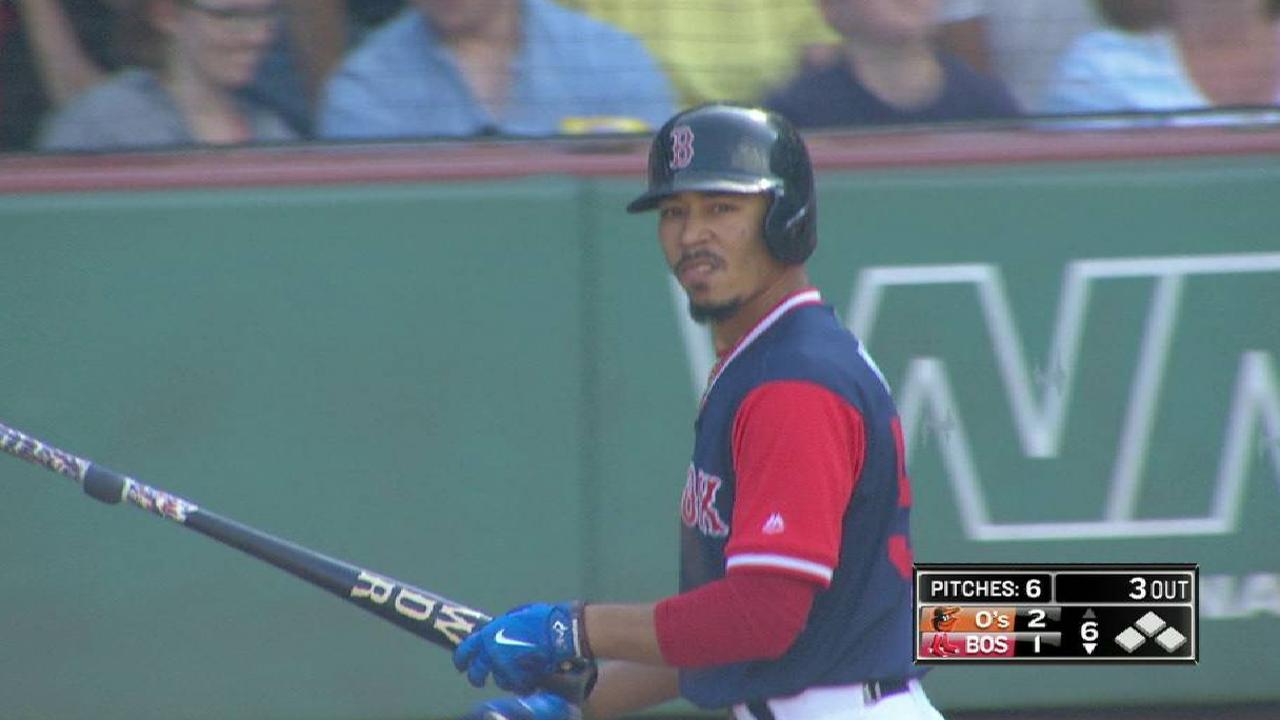 "That's a good lineup over there, no doubt about it," Miley said. "We went out and threw the ball well. If we continue to do this, things are going to go right for us." More >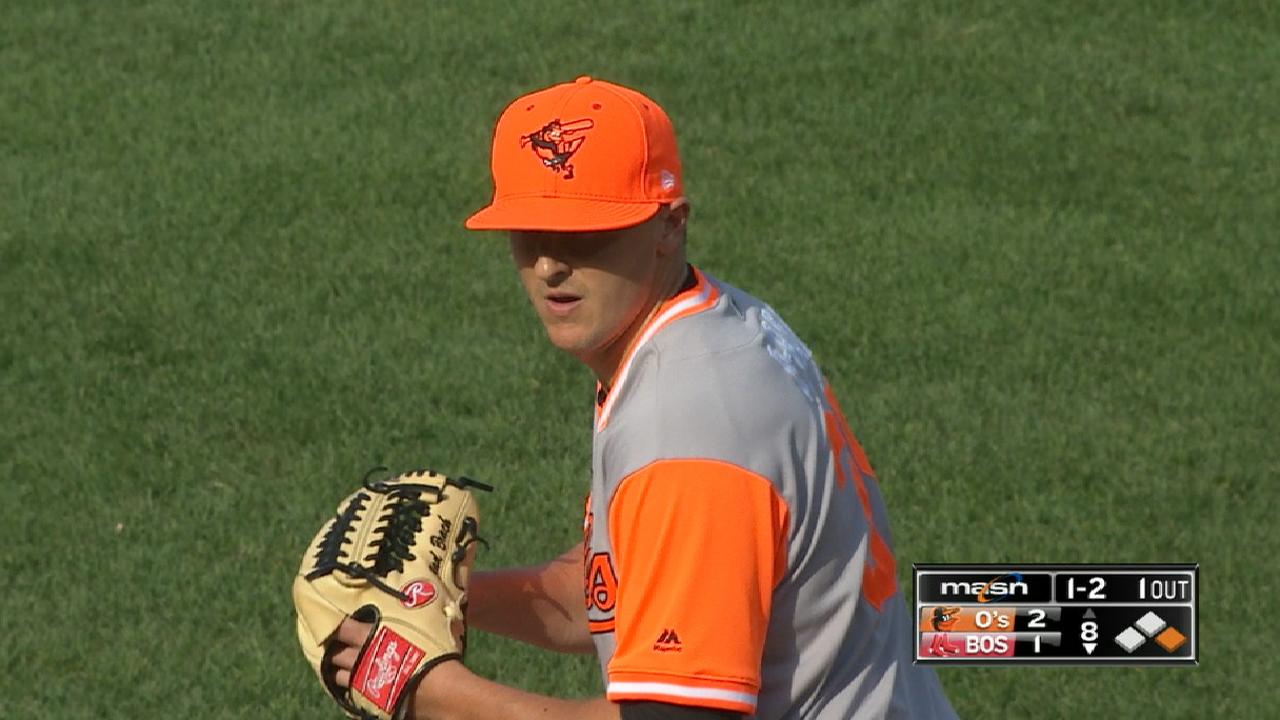 QUOTABLE
"It's late August. We're just trying to get ourselves to Sept. 1 in a solid position. We know what the atmosphere is like playing here. We just try to play our game and try to get to Sept. 1 in a position to make a move at somebody." -- Jones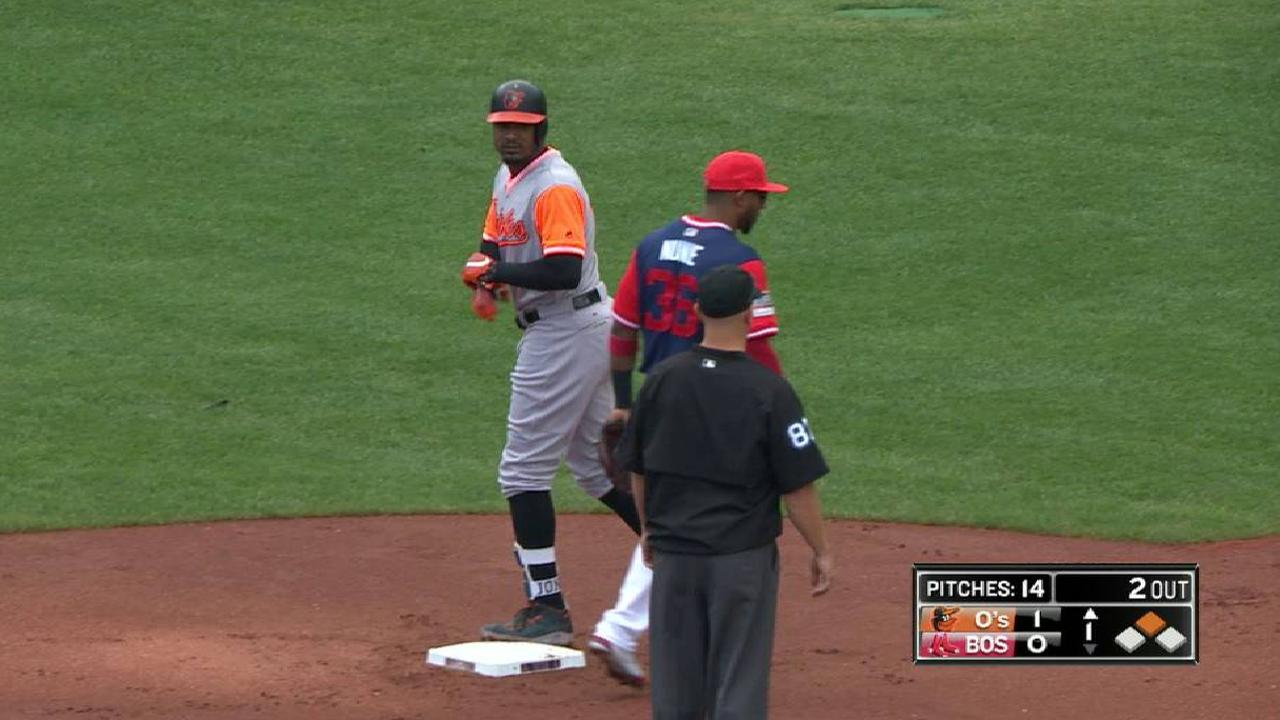 SOUND SMART WITH YOUR FRIENDS
The Red Sox were swept in a three-game series for the first time all season and have lost four straight games, tying their longest losing streak of the season.
WHAT'S NEXT
Orioles: Baltimore returns home to face fellow AL Wild Card-contending Seattle for three games at Camden Yards, with Chris Tillman on the hill Monday at 7:05 p.m. ET. After a quick bullpen assignment that lasted three appearances, Tillman returned to the rotation in his last outing, but walked six for the third time this season.
Red Sox: Boston begins a crucial seven-game road trip with Drew Pomeranz taking the hill Monday against the Blue Jays at 7:07 p.m. ET at Rogers Centre. The lefty has won a career-high seven straight decisions. He allowed two hits over 5 1/3 innings Wednesday to beat the Indians.
Watch every out-of-market regular-season game live on MLB.TV.
Quinn Roberts is a reporter for MLB.com based in Boston and covered the Red Sox on Sunday. Follow her on Twitter at @_qlr5001.

Craig Forde is a contributor to MLB.com based in Boston and covered the Orioles on Sunday.

This story was not subject to the approval of Major League Baseball or its clubs.