Nunez out at least a week with knee injury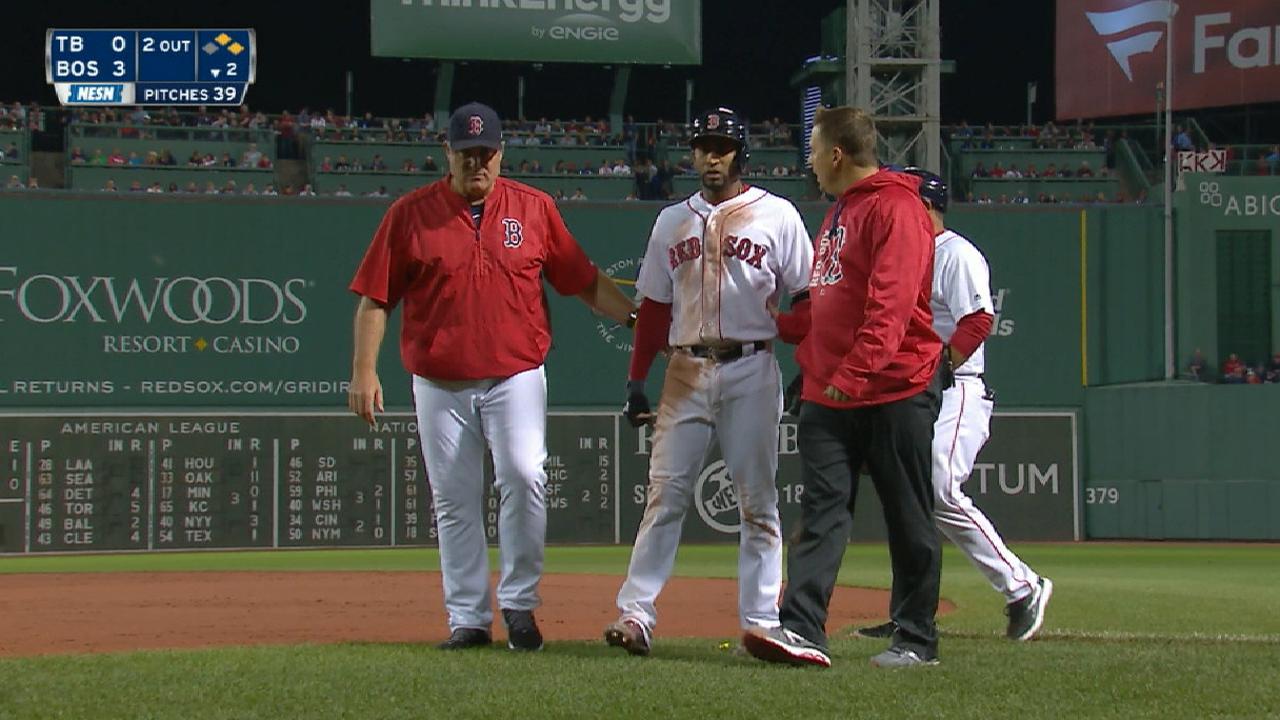 BOSTON -- The Red Sox will be without Eduardo Nunez for at least the next week, as the valuable infielder recovers from a PCL sprain in his right knee.
Nunez suffered the injury in an awkward landing while stealing second base on Saturday night.
"I feel better. Hopefully I'll be back soon," said Nunez. "I've never had this injury before. It [stinks], but it is what it is."
It's too soon for the Red Sox to have a precise timetable on how long Nunez will be out.
"Yeah, it's not MCL, it's not ACL related, but there's some sprain condition in the knee," said Red Sox manager John Farrell. "It's going to be a seven-to-10 day reevaluation period from the time of the injury, which was Saturday night. We'll miss him in the top part of the order, what he's meant to us, but we've got opportunity for other guys to step up and take on that added responsibility."
Nunez has been one of Boston's best hitters since he was acquired from the Giants on July 25. In 37 games, he is hitting .333, with eight homers and 27 RBIs.
Aside from his offensive production, one of the biggest values Nunez has to the Red Sox is that he can rove around the infield so Dustin Pedroia, Xander Bogaerts and Rafael Devers can get rest from needed. Until Nunez returns, Brock Holt, Tzu-Wei Lin and Deven Marrero could get more opportunities off the bench.
The Red Sox entered Tuesday leading the Yankees by three games in the American League East with 19 games to go in the season.
"This time of year, you don't want to miss any games," said Nunez. "The good news is that it's nothing more serious. We are trying to be safe, so I can come back and help the team. When I come back, I want to be able to run well. That is a big tool for me. We're just trying to be safe. I don't want to come back too soon."
Worth noting
• Left-hander David Price will pitch three innings in a simulated game on Wednesday at Fenway Park. Once Price gets through that session, the Red Sox will start to outline his best role for the club down the stretch. Price hasn't pitched since July 22, and he would be able to rejoin the roster sooner if he transitions to the bullpen. This is the second time he's been on the disabled list with elbow woes this season.
Ian Browne has covered the Red Sox for MLB.com since 2002. Follow him on Twitter @IanMBrowne and Facebook. This story was not subject to the approval of Major League Baseball or its clubs.