Loss -- and knee -- painful for Pedroia
Following ALDS elimination, second baseman considering possible procedure in offseason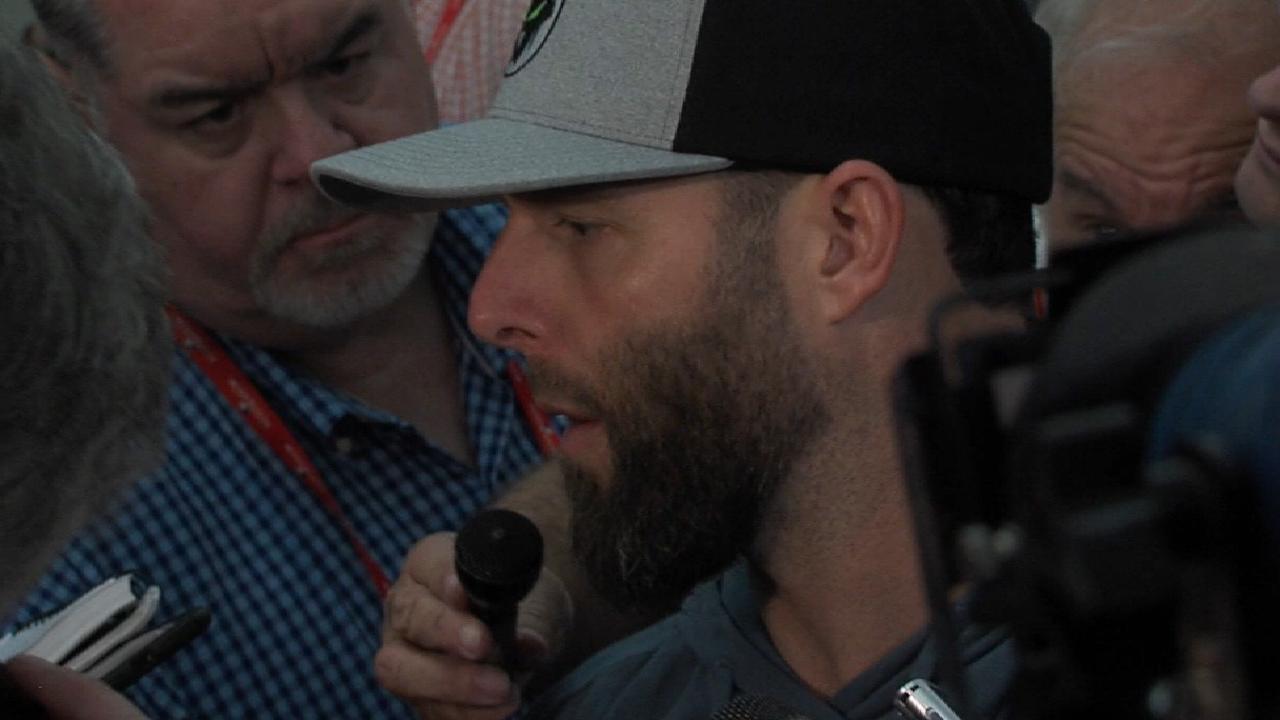 BOSTON -- The emotion of the moment -- and the season -- temporarily got to Dustin Pedroia, Boston's veteran leader, when he struck out looking on a close pitch in the second inning of Monday's 5-4 elimination loss to the Astros in Game 4 of the American League Division Series presented by Doosan.
Pedroia was irate, and manager John Farrell swiftly rushed out to the plate to take over the argument with home plate umpire Marg Wagner. Farrell was ejected, and Pedroia stayed in the game.
More than three hours later, Pedroia was at the plate, representing the final hope to keep his team's season alive.
It was not to be, as Pedroia hit a routine grounder that Jose Altuve scooped up and threw to first to put Houston in the AL Championship Series presented by Camping World and end the 2017 baseball season for Boston.
The ending of Pedroia's 11th full season in Boston was abrupt, and it ended months in which he played through significant discomfort in his left knee, creating some questions about whether he will be ready for the start of 2018.
"You deal with a lot of stuff all year to get to this point," said Pedroia. "When it ends, it stinks, man. It's just tough. Tough to deal with. That's really all I can say."
Heading into the offseason, Pedroia has never faced more uncertainty from a health standpoint. He had surgery on his left knee after the 2016 season, and it didn't fix the problem.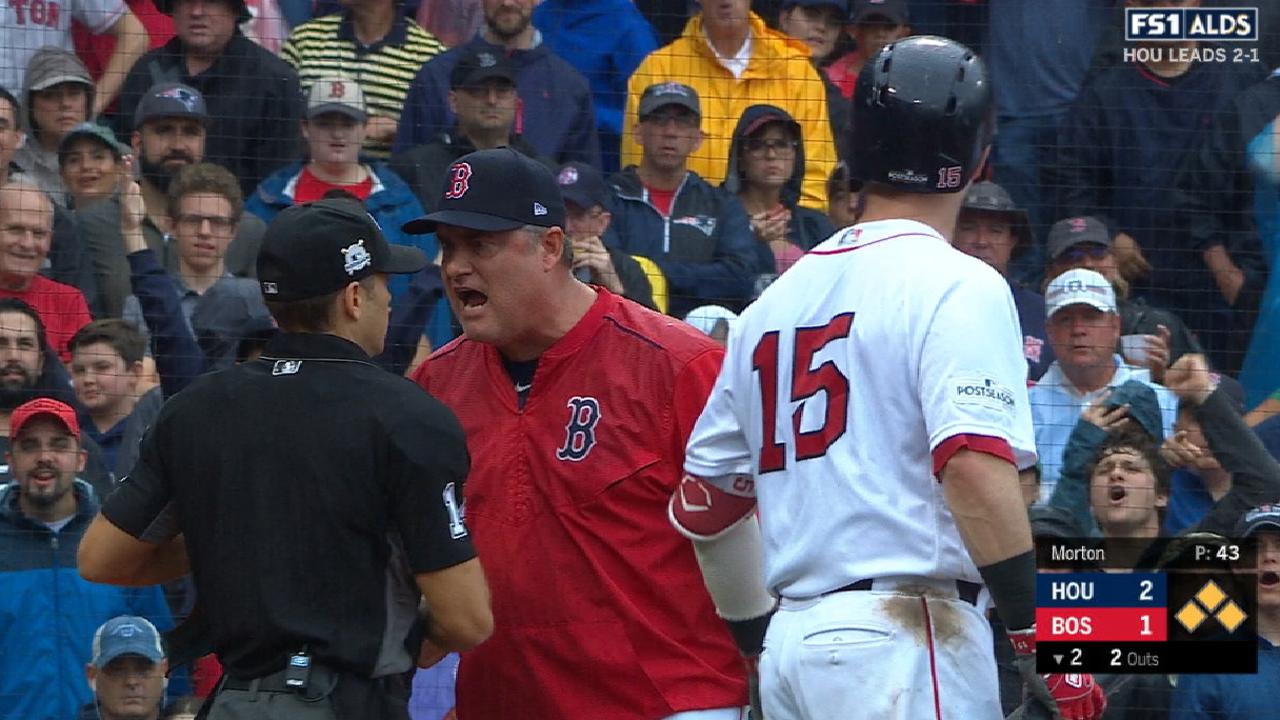 There's a chance Pedroia will need a more invasive procedure to get back to full health, but that could create questions about his availability for the start of 2018.
"I've got to go get checked out [Tuesday] and go from there," said Pedroia. "I'm going to go talk to the doctors about that. Obviously, we had to try and find a way to do what we did so I could be out there. But if you were to get it fixed, the recovery is a long time, so I have a lot of things to weigh in with the doctors and figure it out."
This was the first season Pedroia has played without longtime teammate David Ortiz, who retired following last season. Pedroia took on more of a leadership role this year on a team filled with young talent.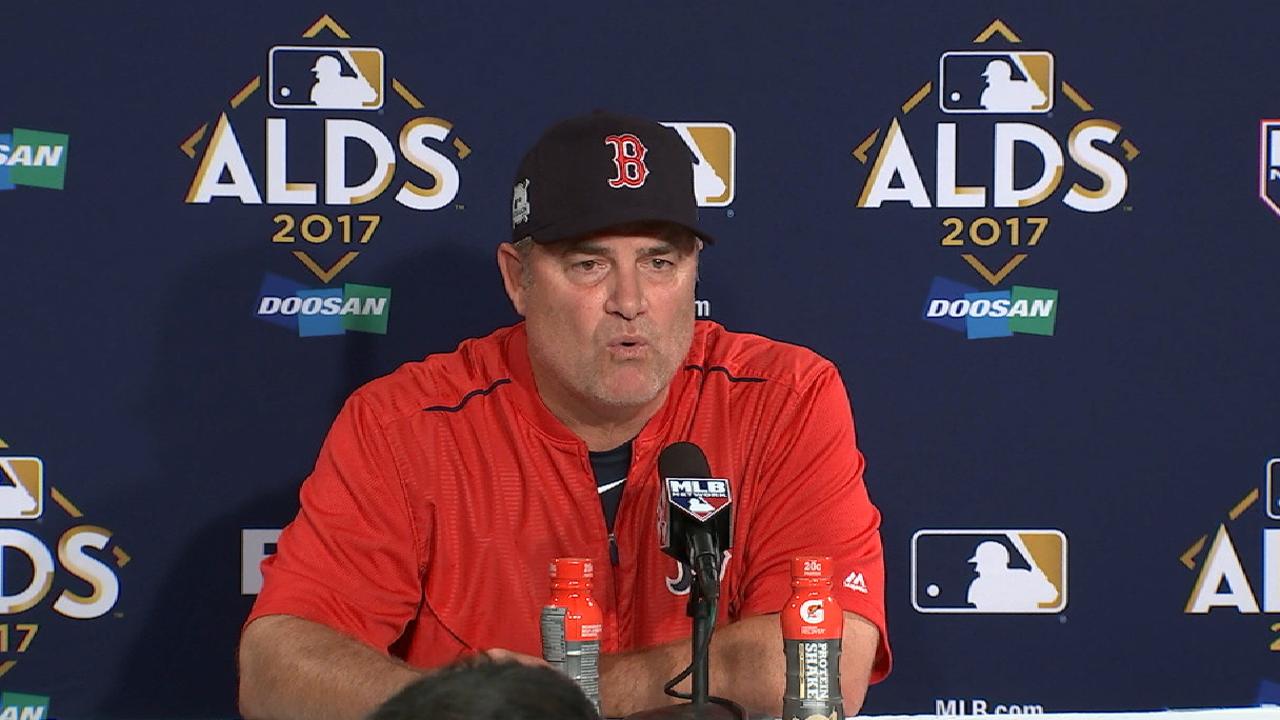 Before the offseason could set in, Farrell did what he could to make sure his veteran leader stayed in the game.
"I went out to get Pedey away from Mark Wegner," Farrell said. "Obviously, it was a key moment. Pedey obviously disagreed with the call that was made. I did not argue balls and strikes, and yet that was a little surprising when I was ejected at that point."
Pedroia made a nice diving play at second base, but he didn't impact the game offensively, going 0-for-5. He hit .125 for the series and was clearly hampered by his left leg. The 34-year-old, who is under contract through 2021, was limited to 105 games during the regular season, slashing .293/.369/.392 with seven homers and 62 RBIs.
"You know, we dealt with a lot the whole year, injury-wise, but that's the cards you're dealt," Pedroia said. "You still have to find a way to play well, and they just played better than us. And it stings."
Ian Browne has covered the Red Sox for MLB.com since 2002. Follow him on Twitter @IanMBrowne and Facebook. This story was not subject to the approval of Major League Baseball or its clubs.