Betts wins second straight Gold Glove Award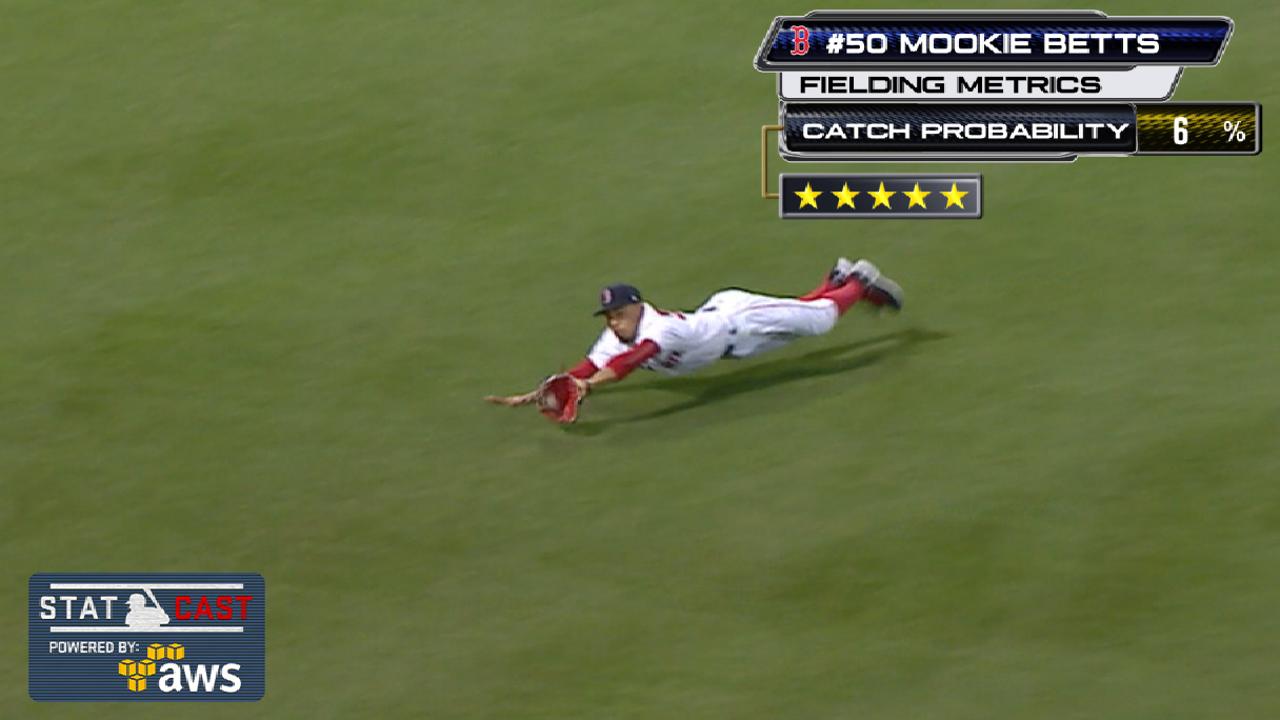 BOSTON -- Master of the spectacular catch and the strong throw, Mookie Betts joined some select company by winning the Rawlings Gold Glove Award for American League right fielders for the second consecutive season.
Betts and Dwight Evans are now the only right fielders in Red Sox history to win multiple Gold Gloves. The only outfielders in Red Sox history to win multiple Gold Gloves? Evans, Betts, Fred Lynn and Hall of Famer Carl Yastrzemski.
• VOTE NOW: Esurance MLB Awards' Best Defensive Player
Evans is the standard-setter for Boston with eight Gold Gloves. Betts will be entering his age 25 season in 2018 and has the athleticism, instincts and work ethic to build a similar collection of Gold Gloves as Evans.
One of the things that make the defensive prowess of Betts so impressive is that he came up as a middle infielder before converting to the outfield in 2014. He also plays his home games at Fenway Park, which has arguably the most challenging right field in the game to cover.
According to FanGraphs, Betts led Major League right fielders in ultimate zone rating (20.5) and runs saved (31). Betts had eight assists and would have had more if not for opposing coaches and baserunners knowing how perilous it is to run against him.
Game after game, Betts reported to his post, playing more innings (1,389 1/3) than any Major League outfielder for the second straight season.
This is the 45th Gold Glove Award in Red Sox history, earned by 21 different players.
The Gold Glove Award honors the best defenders at each position in each league. Major League managers and coaches, voting only within their league and unable to vote for players on their own teams, account for 75 percent of the selection process; the sabermetrics community accounts for the other 25 percent.
• Past AL Gold Glove Award winners
The Red Sox had four finalists, but Betts was the club's only Gold Glover for the second straight season.
.987 FPCT = #GoldGlove Life pic.twitter.com/KIEA9Nr3gg

— Red Sox (@RedSox) November 8, 2017
Second baseman Dustin Pedroia fell short in his quest for a fifth Gold Glove Award, but he is one of only three players in MLB to be selected as a finalist at his position for the seventh straight year. Minnesota's Brian Dozier was this year's winner at second.
Considering that Pedroia was hampered all season by a left knee injury that limited him to 105 games, it was impressive that he was even a finalist. In 366 total chances, Pedroia made just two errors.
First baseman Mitch Moreland, who spent the 2017 season with the Red Sox, was vying for his second consecutive Gold Glove. But the award went to Eric Hosmer, the longtime Royal who is also a free agent.
Ace lefty Chris Sale was Boston's fourth finalist, as he often helped himself out of jams with a nice play on defense. In his career, Sale has made just three errors. He has been errorless the last two seasons, covering 61 total chances. Blue Jays right-hander Marcus Stroman wound up as the winner.
Ian Browne has covered the Red Sox for MLB.com since 2002. Follow him on Twitter @IanMBrowne and Facebook. This story was not subject to the approval of Major League Baseball or its clubs.