Napoli to wait a few days before working out at first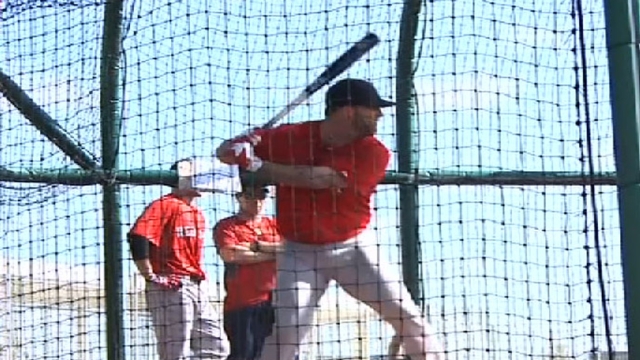 FORT MYERS, Fla. -- Mike Napoli is looking forward to soaking up the nuances of playing first base every day, but he's being held out of defensive drills for now.
The Red Sox are taking early precautions because of Napoli's hip condition, but the veteran should be cleared shortly after he undergoes his physical later this week.
"He's still restricted from any kind of impact or pounding," said manager John Farrell. "So right now it's a matter of him taking batting practice, keeping his arm in shape. He'll go through another MRI later this week for another update and a recheck.
"Provided everything goes as we anticipate at this point, then we'll start to introduce more baseball activities, including the defensive side, which in talking to him, he's looking forward to the reps there to gain comfort at the position. Everything is pointing towards later in the weekend or early next week that he'll be in that position."
Farrell is confident that Napoli, primarily a catcher, can make a smooth transition to first.
"What he's shown prior to signing [with Boston] is that he's got athleticism, he's got good hands and we feel he's going to be fine at first base," Farrell said.