With Drew still out, Iglesias making strides offensively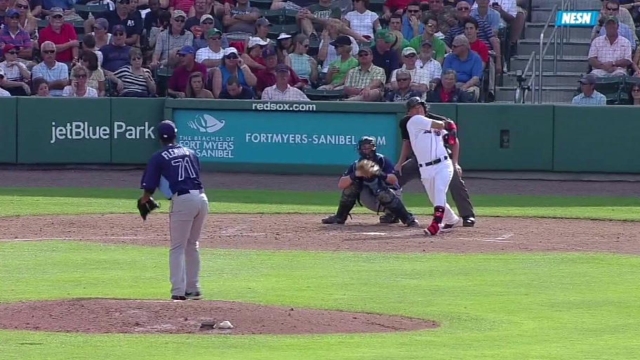 FORT MYERS, Fla. -- A full week after Stephen Drew suffered a concussion, the Red Sox shortstop was set to undergo required follow-up tests Thursday while still dealing with symptoms.
"We were hopeful in anticpaitng he'd have the work day today based on the improvements he was making, but there's still some of those concussion symptoms present," manager John Farrell said.
Even though Drew wasn't 100 percent, it was necessary for him to undergo the testing because of Major League rules, Farrell said.
[He] still felt some symptoms even before he left the ballpark today and he's still got some of the concussion symptoms that we talked about," said Farrell. "They're not clearing up the way we first anticipated, so we just got to remain patient with this and give him the appropriate time."
When could Drew possibly return?
"Well, you really never know," said Farrell. "These are so case by case. Certainly we're hopeful that it's not. Based on the impact at the time, it didn't seem to be a direct blow, but yet we're certainly not taking this lightly and we'll go through every precautionary step that we need to."
With Drew out, attention falls to Jose Iglesias, who batted ninth and went 1-for-3 in the Red Sox's 7-3 win over the Twins on Thursday afternoon at Hammond Stadium. He doubled to left for his fourth two-bagger and fifth extra-base hit of Spring Training with one out and none on in the second inning, sparking a four-run rally against Mike Pelfrey. Farrell said that competition is "the best thing that can happen to anybody," and Igelsias' added strength appears to be helping him at the plate.
"I don't know that you can pinpoint as the reason why maybe the offensive side hasn't developed as quick as the defensive side," Farrell said. "I just know that the way he's swung the bat this spring, I think he's started to figure some things out with his set up at the plate, which has translated into a much more free and a much more aggressive approach, or ability to swing the bat. And I think more than anything, because he's a little bit more upright in the set up, he's seeing the ball better."
Still, Iglesias' future with the team -- if that's where his future lies -- remains murky. Iglesias may not have handled being sent to Triple-A well in the past, and that's something he's likely going to have to deal with again soon, assuming Drew's recovery from the concussion and continued health.
"This is a guy who believes in himself," Farrell said. "He's confident, he feels like he should be playing in the Major Leagues now. The greatest challenge any player has is when do their personal goals align with the team goals. When it doesn't in that moment, there's disappointment. You understand that and you respect it, but it's out of their control. Then it's a matter of, 'OK, I've got to go about taking care of business that we can control every day.' That's their routine and how they prepare for tonight.
"He has Major League ability. I'm sure there's going to come a time when he's a very good Major League player."
Evan Drellich is a reporter for MLB.com. Follow him on Twitter @EvanDrellich. This story was not subject to the approval of Major League Baseball or its clubs.