Bard, Dempster remember how to wiggle out of jams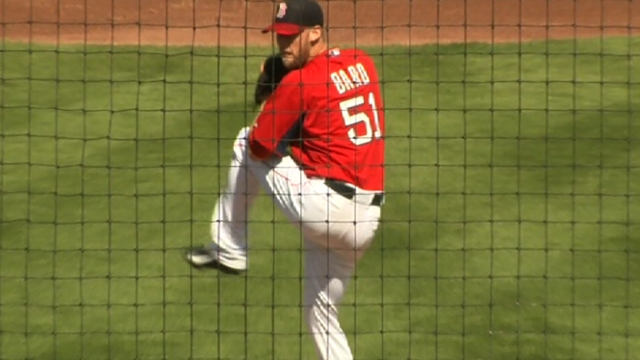 FORT MYERS, Fla. -- Right-handers Ryan Dempster and Daniel Bard both would have rather never gotten into jams, but in Spring Training, pitching through them can be a helpful refresher for the regular season.
Neither was complaining Thursday afternoon after the Red Sox's 7-3 win over the Twins at Hammond Stadium.
Bard's fourth Grapefruit League appearance came in the sixth inning with Boston leading 5-1. Chris Parmelee walked on a pitch that Red Sox manager John Farrell second-guessed and Joe Benson singled.
"The one thing you might say, the 3-2 pitch, he ended up going to a breaking ball to walk a guy when he was throwing a good fastball," Farrell said. "That's part of Spring Training, getting the mind in shape as much as the body."
Things worked out, as Bard retired the next three -- albeit the hitters probably won't be on Minnesota's Opening Day roster.
"I think it forces you to bear down a little bit, which is probably a little more like what you're going to see during the season," Bard said. "Whether you create the jam or somebody else does, that's just how it goes. I think it's great to get some of those."
In four scoreless Grapefruit League appearances, Bard has allowed just two hits and posted six strikeouts.
"That's three solid ones in a row from him," said Farrell.
After focusing on his fastball in his previous appearance, Dempster used his entire repertoire during a four-inning outing Thursday. The veteran tossed 73 pitches (43 for strikes), gave up one run on three hits, one walk and struck out three. In a combined 12 2/3 innings, he's allowed three runs.
Dempster had runners on second and third with one out in the second inning, and he escaped with a pair of strikeouts. Dempster stranded a runner at second in his last inning, letting up his lone earned run on a homer.
"When you go away from the season and the season ends, you lose sight of those situations a little bit, so when you get back into 'em, it kind of gives you an understanding of trying to manage an inning and how to maybe get a strikeout when you can," Dempster said. "Those kinds of situations are fun, because you're going to get lots of those during the year. You just have to go out there and make your pitches."
Evan Drellich is a reporter for MLB.com. Follow him on Twitter @EvanDrellich. This story was not subject to the approval of Major League Baseball or its clubs.