Ciriaco scratched, but Papi progressing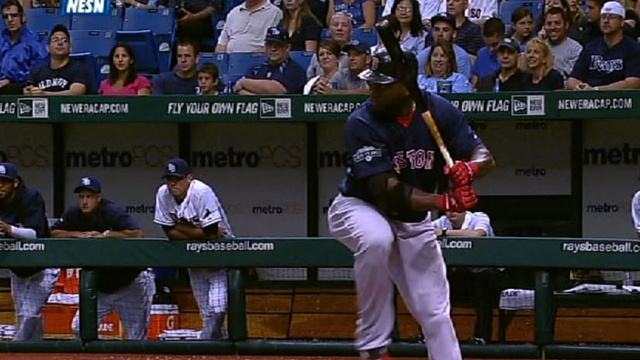 FORT MYERS, Fla. -- Infielder Pedro Ciriaco was scratched from the Red Sox lineup Friday night before their second game of the day, a 5-0 win over the Twins, due to back spasms, adding to a list of ailing Sox players.
"We'll check him when he comes in tomorrow," Sox manager John Farrell said. "Hopefully, this isn't a long-term or multi-day deal. It just locked up on him during BP."
Earlier in the day, in a 3-3 road tie with Baltimore, Mitch Maier suffered a sprain wrist on a diving catch. He will be out at least a couple of days.
"Scans when he got back here to the ballpark didn't reveal any kind of fracture or anything like that," Farrell said. "We'll continue to monitor him, it's going to be a couple of days the way he rolled his wrist on that diving catch earlier today."
There was positive news regarding David Ortiz's right heel inflammation.
"Feels better," manager John Farrell told reporters on Friday morning. "Symptoms have decreased. So, the prescribed down days and the medication are having the effect we'd anticipated. Optimistically, we're looking at hopefully getting him back to taking BP on Monday. That would be at the end of that seven-day [shutdown] period."
Left-hander Franklin Morales was diagnosed with a bulging disc in his back when he visited a doctor in Boston this week. Morales was treated with an epidural shot and is out indefinitely.
Stephen Drew had a positive result in an exertion test Friday as he tries to come back from a concussion.
"Went through the impact testing on the bike with exertion," Farrell said. "There was no increased symptoms and it didn't -- with the raised heart rate -- it didn't intensify the symptoms that he's currently feeling any worse. Right now, that's deemed as a positive. We'll continue to stay the course, but he's still a ways away from getting back on the field, but the one thing you're looking at in those tests is if it increases his symptoms, but in this case, it did not."
Craig Breslow (left shoulder) said on Friday that the day before, the last time he threw, "was the best throwing day I had." He's not aware of a timetable, though.
"No, I think it's probably as I tolerate these different stages, we can kind of lay out the next steps," Breslow said. "I'd like to think that there's ultimately a timetable that they probably have, but for me, I work best if I think, 'Oh, what do I have to do today?'"
Evan Drellich is a reporter for MLB.com. Follow him on Twitter @EvanDrellich. This story was not subject to the approval of Major League Baseball or its clubs.