Farrell searching for DH as Ortiz remains sidelined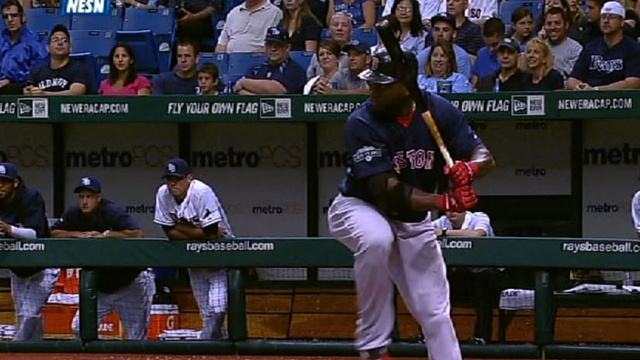 BRADENTON, Fla. -- David Ortiz did not take batting practice on Monday, at one point a hope for the Red Sox designated hitter who's battling right heel inflammation.
"I haven't been able to play and do what I'm supposed to do. It's not fun," Ortiz told reporters in Fort Myers. "Just trying to deal with it. The setback is what pretty much frustrates me the most, because you think you're doing the right thing to get better. It's like walking backwards. That's the part of this game I don't like. We're approaching it different and hopefully we get to the point we don't have to worry about it anymore."
Ortiz said his left heel hasn't been the primary problem. The right heel was always the more bothersome one, but an MRI revealed both heels had inflammation.
"It's fine," Ortiz said of the left heel. "It's just compensating for the [right] one. Once I stopped doing things it started feeling better right away. The [right] one is getting there. It's just a matter of time."
Manager John Farrell didn't seem overly alarmed about Ortiz's inability to take batting practice on Monday. Farrell said the concern is that Ortiz will need a few more days than originally thought after the week-long shutdown period Ortiz was instructed to take.
"When he was shut down, there was that five to seven day period where we're going to take a look and see how the medication took hold, how the anti-inflammatory and the other treatments were bringing that along," Farrell said. "To what extent there's progress being made, some, but not to the point obviously where he's ready to take some swings in the cage."
The question of just how the Sox fill Ortiz's spot in the early-going of the season persists. Farrell said experience as a DH in some capacity is important to him and indicated that Jarrod Saltalamacchia isn't a consistent option since he's the primary catcher.
On Boston's current roster, outfielder Jonny Gomes has the most Major League experience as a DH other than Ortiz. Gomes has played 322 games as a DH, while Mike Napoli (49), Ryan Lavarnway (25), Mike Carp (24), Saltalamacchia (24) and Lyle Overbay (13) have limited experience in the spot.
"How a guy keeps himself -- particularly in the cold weather -- stays warm, stays in the flow of the game," Farrell said of his criteria. "I will say that guys that would be in consideration probably have had some at-bats in that role, whether it's in the Minor Leagues or the Major Leagues, so there's some initial routine that they would have. Again, we've got some decisions to make here in the last nine to 10 days."
Evan Drellich is a reporter for MLB.com. Follow him on Twitter @EvanDrellich. This story was not subject to the approval of Major League Baseball or its clubs.