As camp winds down, Sox seeking pitching depth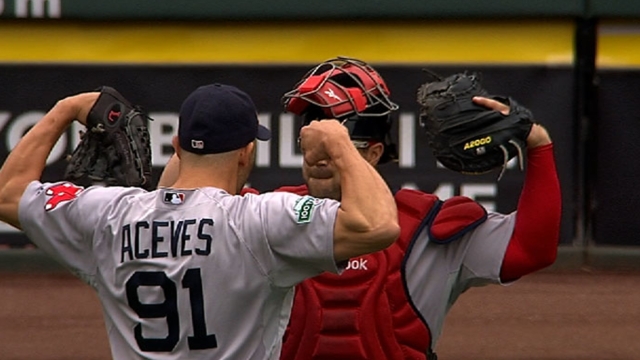 BRADENTON, Fla. -- Pitchers -- and veteran pitchers in particular -- will be released as Spring Training winds down, and some will surely be available by trade, too. The Red Sox will be watching.
"That's something that has been discussed," manager John Farrell said after a 4-3 road loss to the Pirates on Monday afternoon. "We recognize where we're at as far as our starting depth is concerned, particularly with guys that have experience."
Alfredo Aceves and Franklin Morales are the two pitchers who came to camp that profiled as depth starters, the Nos. 6 and 7 in the rotation if needed. Aceves' issues with negative attention aside, he alone isn't enough to give the Red Sox security in case of injury.
Morales (bulging disk) threw out to 60 feet on Monday and will attempt the same in a couple of days, but it's unclear if he'll make it into a Grapefruit League game before the season starts, said Farrell.
"Franklin's injury affects [the pitching depth]," Farrell said. "Alfredo is a guy that we know that we can stretch out and continue to do so and has Major League starting experience, but overall, I think that's an area we're looking to add to."
Clayton Mortensen and Steven Wright are the only pitchers who have made Grapefruit League starts for the Red Sox this spring beyond the regular five starters, Aceves and Morales.
Right-handers Rubby De La Rosa and Allen Webster are both on the 40-man roster, but both are young and have already been assigned to Triple-A Pawtucket.
Evan Drellich is a reporter for MLB.com. Follow him on Twitter @EvanDrellich. This story was not subject to the approval of Major League Baseball or its clubs.