Aceves' effort against Toronto has dominant feel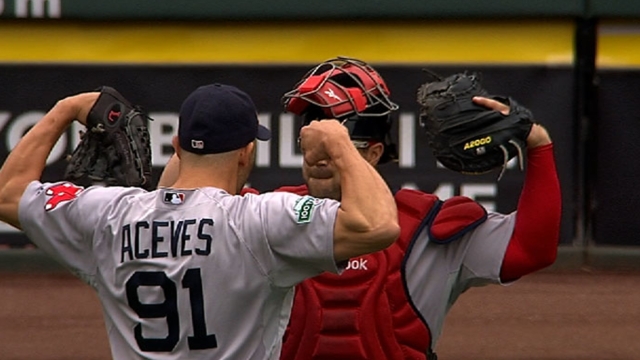 DUNEDIN, Fla. -- Friday was one of those dog days of Spring Training for Alfredo Aceves. His arm felt sluggish. He didn't feel like the ball had a lot of life coming out of his hands.
"Not good," Aceves said. "I was kind of sore because of Spring Training. I've been throwing a lot. Thank God, I got an opportunity to get through the game."
Sometimes the way a pitcher feels does not translate into the way he pitches. Aceves was on the good side of this equation against the Blue Jays.
The righty fired five scoreless innings, allowing two hits. Aceves walked two and struck out five.
"It all depends. Everything is involved. Good plays -- double plays," Aceves said.
If Aceves can return to what he was in 2011 (10-2, 2.61 ERA, 114 innings) the Red Sox would have one of the best swingmen in baseball.
"It's too far to think like that. At least not the same like last year," Aceves said. "I try to do less bad things. Then at the end of the day, God is going to give us the result."
Perhaps the reason Aceves struggled last year is because he spent most of the season in one role -- as a closer.
The beauty of Aceves is his ability to adapt on the fly, and pitch in every conceivable role on the staff. That's what he did in '11.
"His versatility, his durability, is invaluable," Red Sox manager John Farrell said. "He's a guy that if he doesn't start for a while, you can call on him and he can give you four or five innings without being in a regular rotation. And today, he shows the ability, like I said, to use his offspeed pitches behind in the count against some power lineups. He did a good job."
Though the Red Sox have stretched out Aceves this spring, he will open the season in the bullpen.
Ian Browne is a reporter for MLB.com. Read his blog, Brownie Points, and follow him on Twitter @IanMBrowne. This story was not subject to the approval of Major League Baseball or its clubs.